I very rarely sleep in a hammock. It's not because I don't like it, on the contrary, I find gently swinging beneath the trees to be both pleasant and comfortable. No, the reason I don't 'hang' on a regular basis is two-fold. Firstly, hammocks are inherently cold; that might sound odd if you've never experienced one because logic would argue that being above the floor must surely be warmer than lying on top of it. Sadly, logic's never slept in a hammock so its opinion is pure speculation and I have to say – quite wrong. The second problem with hammocks is trees. It's not the fact that you need trees in order to sleep in one because in reality, finding an overnight spot with suitable flora is no more difficult than finding somewhere to pitch a tent or rig a tarp. The problem is what lives in the trees especially during the summer months.

Obviously the issues of being cold and / or eaten alive by winged teeth can be overcome but my experience is that doing so, comes at a price and that price is additional weight and bulk. I hate carrying more than I feel I have to, so packing additional insulation and extra shelter simply to enable me to sleep in a hammock, is a bitter pill that I'm rarely willing to swallow. I suppose the story could end right there and I could continue to view the hammock as the preserve of over-weight middle aged men, sitting in the woods knitting para-cord and whittling spoons, or … I could try and find a lighter, less bulky way to incorporate a hammock into my minimal existence.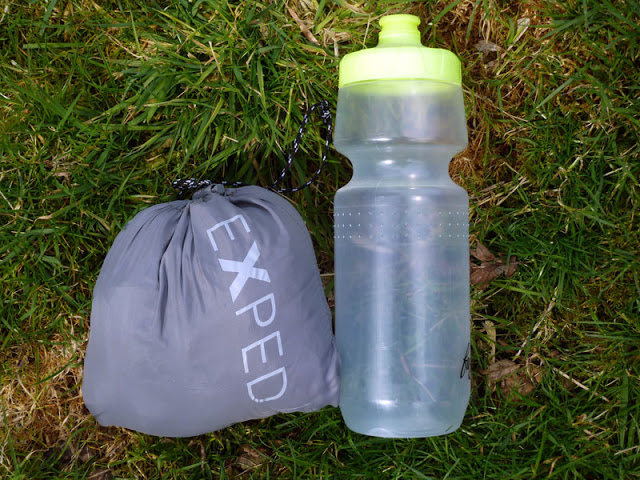 Hammock and suspension – as you cn see, 'tis very compact.


Having decided on the latter course of action, it seemed fitting that the first item requiring attention was the actual hammock. My 'big box of stuff' contains two hammocks already. They are both of a type often referred to as 'Jungle hammocks' which basically means they have a built-in bug net – yes, that's a good thing and in part negates my earlier moaning about the winged teeth. Trouble is, they're heavy and somewhat bulky. I recall both are around 800g and pack to the size of a small one man tent, so if I'm going to achieve my goal of a hammock 'set-up' that weighs no more than my bivvy kit, I need something lighter … considerably lighter. I wasn't quite sure what was out there and thought I might even need to make my own but an hour of internet browsing threw up a few likely candidates. I largely dismissed the US cottage manufacturers on the grounds of shipping costs and potential import duty, which left me with two readily available options. Quite obviously and like a moth to the flame, I was drawn to the lightest – in this case it was the Sea to Summit Ultralight hammock. Weighing just 155g, it was hard to ignore but another hour of "have you not finished on that computer yet" and I was starting to think it might not be the one. Light it may be but it appeared quite small and even my heady stature may have found it somewhat cramped. It's also made from a material I've never come across that appeared to be some kind of micro-netting. In cautious mood I refrained from pressing 'add to cart' and moved on.

Number two on the very short short list, was the Exped Travel Hammock-lite. It's a full 35g heavier than the S2S but it's that bit bigger and at 190g, it's still extremely light. The body of the hammock is made from what Exped call ' 40D Texped PA47 ripstop nylon'. It feels much softer and far less slippery than regular silnylon ripstop, so should hopefully feel pleasant against my soft, delicate, skin.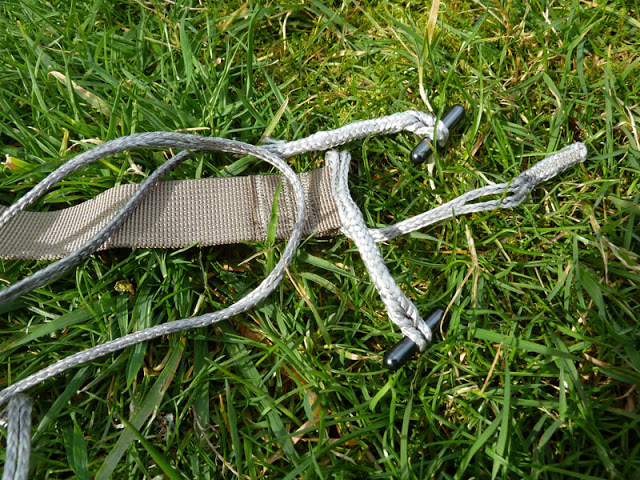 Suspension looks complicated … mainly because it isn't.

Any hammock is no more than a groundsheet without a way of hanging it up. Hammock suspension comes in many forms and is a hotly debated subject within the relevant circles. Each type has its exponents but ultimately the role of all, is to stop your arse from dragging on the ground. In the past, I've generally favoured a combination of webbing straps and D ring buckles. It's a system that is reasonably quick to deploy, offers lots of adjustment and is simple but, it's by no means the lightest.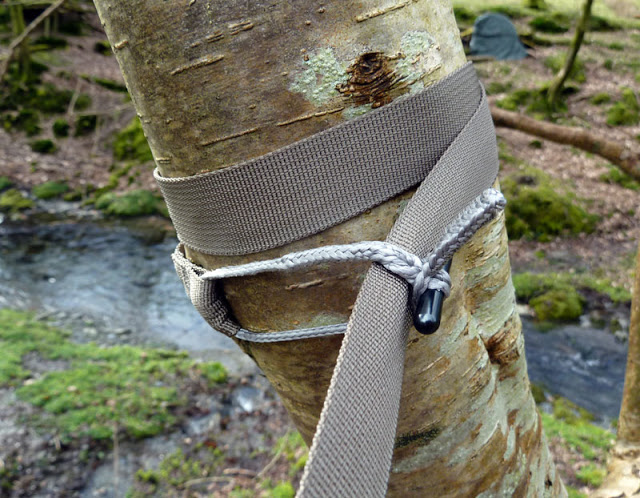 Strap round tree, toggle through slit in cord and you're sorted.

After some thought, I eventually decided that as well as the hammock, Exped could also supply the suspension in the form of their 'Extreme' system. At first glance it appears complicated but that's because it's actually very simple and your brain will be trying hard to add additional complexity. Basically, it's a webbing strap with a short Dymeena cord / aluminium toggle at one end and a similar but much longer set-up at the other. The strap goes round the tree and is locked into position by passing the aluminium toggle through a 'split' in the Dyneema cord. The hammock is then suspended from the Dyneema cord on the other end of the strap by another aluminium toggle passing through slits in the cord … trust me, it makes much more sense when you see it for real.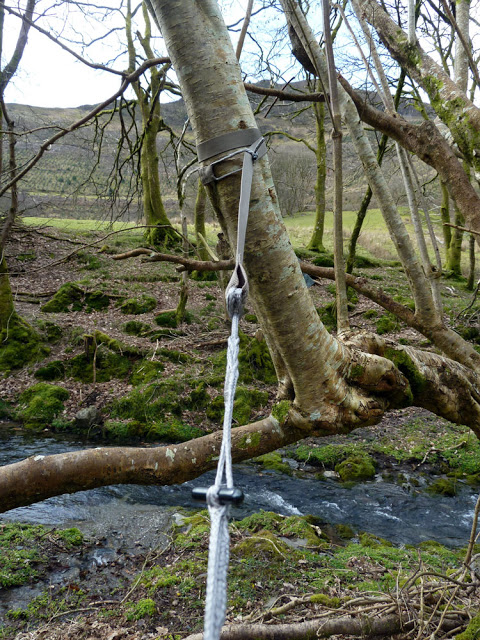 Another toggle at the business end keeps everything off the floor.

It is possible to suspend a hammock with something lighter but I don't consider 90g for a full set of suspension to be excessive. The webbing is wide enough as not to cause damage to any trees and I have complete faith in the properties of Dymeena to keep me off the floor. 280g is heavier than my lightest bivvy bag but is around half the weight of many. Pack-size is small and easily compressed so it takes up very little precious space. Obviously, this is just the foundation of a lightweight hammock set-up and there's still the issues of shelter and insulation to consider before the experiment could be deemed successful but I feel that we're moving in the right direction … more soon.