A while ago I fitted a Velocity Dually rim to the front of my Stooge. I coaxed a 2.4 X-King on and oohed and aahed at the extra volume the 45mm wide rim magically found hidden deep within the tyres carcass. I took a couple of pictures, wrote a few words and rode the thing until an appropriate 'proper' 3″ tyre could be sourced … at the time, anything other than the Surly Knard was at best speculation and at worst myth. Now, I've nothing against the Knard, I've ridden bikes fitted with them in the past and always found them okay … however, coming from someone who usually rides Race Kings 365 days a year, that might not be the best endorsement.

Fast forward a few weeks and a Gwyn the postie arrived at Bear Bones Towers and handed me a box containing a fabled Maxxis Chronicle. For anyone who has spent the last few months locked in the cupboard under the stairs … the Chronicle is a much anticipated 3″ 29+ tyre, which on paper should deliver 'better' performance than the Knard in the kind of conditions we frequently enjoy in the UK.

I had every intention of setting the tyre up tubeless but the valve had other ideas and no amount of tea drinking or swearing could convince it to play nicely and hold air for more than an hour at a time. I'm a little ashamed to admit that I buckled here, gave in to temptation and threw a tube in … oh, how I wish I'd never bothered. From the very first revolution I was plagued with punctures, granted everyone was thorn induced but the tyre seemed to possess some kind of magnetic property that made all thorns within 50 feet of the trail jump under the wheel and embed themselves wholeheartedly in the tyre. Maybe it's the open tread pattern or perhaps just bad luck but when you're riding with 17 other people and you're the only one outside the cafe with a rapidly deflating tyre, it kind of makes you think something's not quite right. Whatever the reason for my puncture misfortune, I can say that the Chronicle is the best advertisement for running tubeless that you're ever likely to come across … perhaps the Exo version would be better?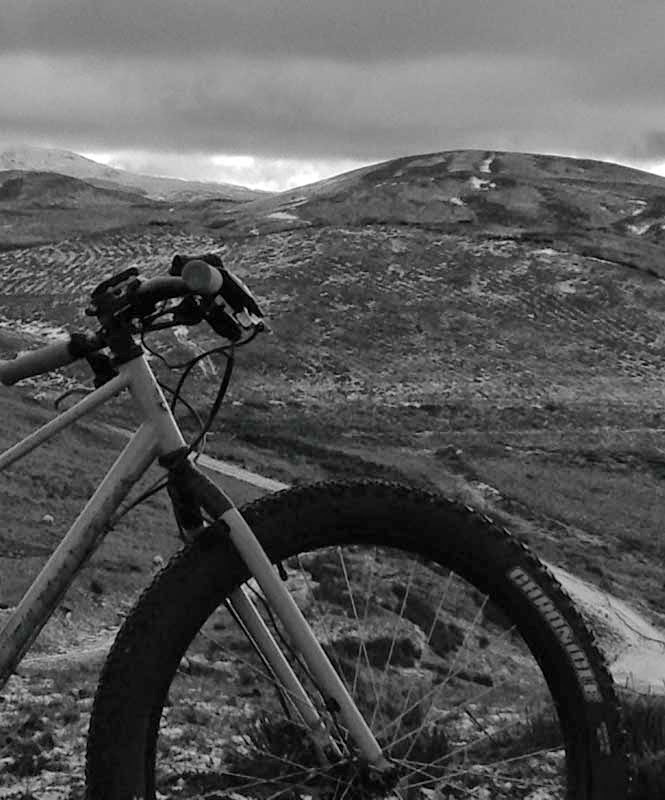 Chronicle – nearly half the height of a mountain.

On a happier note, you may be pleased to hear that once you have a valve that behaves itself, the Chronicle sets up as a tubeless tyre very easily. No need for a compressor or any sophisticated bits, a non-leaky valve, a few feet of Gorilla tape and some sealant should see your tyre sat happily on the rim with just the merest whiff from the track pump.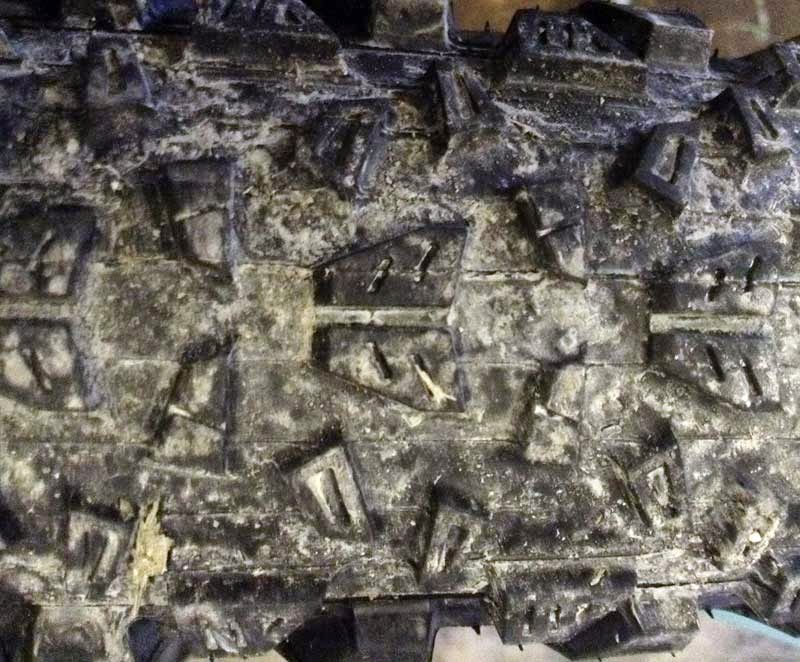 Fast in the middle and grippier towards the edges.

Once fitted, the Chronicle produces a very nice and rounded profile … very unlike Maxxis of old, with their 'falling off the edge of the world' square profiles. Fitted to the Dually @18psi the outside to outside width is 75mm – big but maybe still narrow enough to fit within the majority of rigid 29er forks? We should remember here that we're more interested in the volume rather than just how wide the thing is and it doesn't disappoint, there's an awful lot of trail smoothing squidge underneath that tread. Point the thing down a rocky track and it's very easy to forget that you're aboard a rigid bike, even rocks of a size that would usually have you pulling at the brake levers or searching for a more accommodating line can be taken with a surprisingly high disregard for personal safety.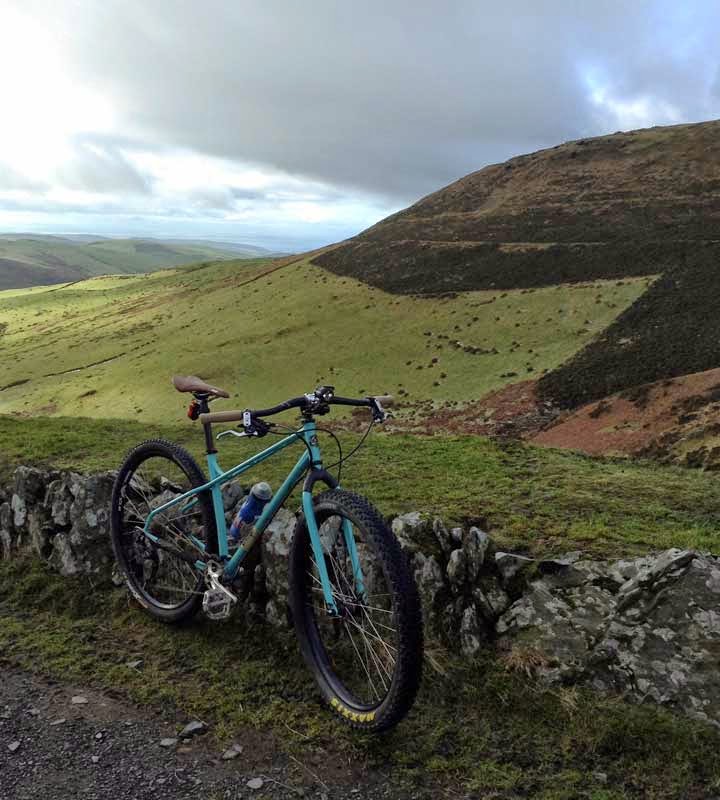 They actually look bigger in real life.
Anyone who believes that Surlys Knard is a tyre only to be ridden on those 2 weeks of the year when the ground dries out, might have been hoping the Chronicles tread would resemble that of a tractor, well I'm sorry it doesn't. Actually, I'm not sorry, I'm glad. Maxxis have equipped the Chronicle with a tread that can cope with 90% of conditions, rather than producing a slow, draggy 'one trick pony' that only really makes sense for a very small percentage of the time. The centre section of the tread features directional ramped blocks to ease the burden of pushing a kilo of rubber around. These then merge into angled blocks with recessed centres (the recesses increase the number of 'cutting edges') and the outer shoulders are propped up by some far more pronounced knobs to help keep everything the right way up through the twisty bits. The tread's not steppy, there's no gaps between each tread segment just a seamless transition from upright to 'oh my God' angles of lean. It's certainly not a 'mud tyre' but the well thought out tread design allied to a big footprint and low pressure provides plenty of grip while allowing it to roll better than something this big should.
When your tyre already weighs more than you really want it to, the last thing you need is any mud hopping on board for a free ride and weighing you down further. So far, mud shedding isn't something I've experienced any problems with. Maybe it's the shallow, widely spaced tread, the flex of the big carcass or perhaps it's because mid-Wales doesn't tend to have too much sticky mud / clay? … whatever the reason, so far the tyre has always returned home without half a kilo of organic excess baggage clinging to it. Obviously, if you ride where ground conditions are different, you may experience something less pleasing.
Right at this moment the only two 29+ tyres available are the Chronicle and the Knard. Others are due but quite when they'll materialise is anyones guess. Will they be better than the Chronicle? I doubt it, not unless the manufactures can attain a similar performance while shaving 200g from the weight and bring it in to the market for less than £60. Maxxis have done a very good job with the Chronicle, most of the time you forget it's there, it just works. It isn't a tyre for 'this' or 'that', it's a far less specific beast, a true trail tyre that's more than capable of dealing with UK conditions … just watch out for the thorns!