Although highly prized, Cuben, carbon and titanium won't be featuring here. Instead, we're going to concentrate on gear with a price tag that doesn't induce a sharp intake of breath through pursed lips and clenched teeth. While we won't be looking at handmade ultralight exotica, we also won't be looking at items some may describe as 'cheap and cheerful' and others would simply describe as 'shite'. Buying barely serviceable junk will ultimately cost you much more than any perceived initial saving. No, anything featured under the 'Budget bikepacker' heading must obviously represent good value for money but it must also work properly. There may be compromises in weight and pack-size but not in functionality … We're going to start proceedings with two items from Scottish company Lomo.

What is it that signifies to the world that you're a 'bikepacker'? The long-distance vacant stare perhaps? Maybe the faint aroma of litter tray brought on by a week in the same jersey? It's neither of those. The thing that proclaims 'bikepacker' to the innocent bystander is your luggage. Adorn any bike with bags and straps and it'll instantly be transformed into a bikepackers bike and if you're riding it, then it stands to reason that you must be a bikepacker. As a rule of thumb, good luggage isn't cheap and just as importantly, cheap luggage isn't good. Generally, you get what you pay for but sometimes you don't – sometimes you actually get more.

The Lomo frame bag is 'one size fits most' but unlike many modern universal frame bags, it's triangular. However, the dissimilarities don't end there. Rather than the usual X-Pac or Cordura, this bag's made from a tough PVC material and in place of traditional stitching, the seams are RF welded which makes the thing waterproof – not water resistant but waterproof. Access to the main compartment is through a 'waterproof' zip which is also covered by a substantial storm-flap. A second zip / flap on the non-driveside keeps the elements out of a smaller pocket which is about the right size for a phone, keys, cash, etc.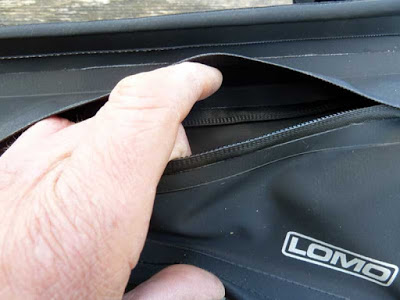 Waterproof zips hidden beneath substantial storm-flaps.
Given the universal nature, it's no surprise to find the outside of the bag is fitted with 'slots' and supplied with velcro straps. There's ten potential attachment points and five straps, so as long as it fits within the dimensions of your frame, you shouldn't have any problem securing it regardless of cable stops and the like.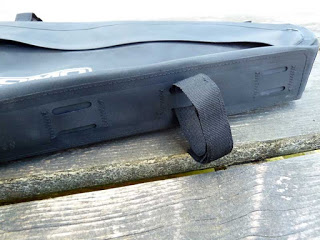 Strap arrangement offers plenty of fitting options.
Lomo don't list a capacity, which is fine because it's difficult to imagine what six, ten or thirteen litres looks like. Much better to actually tell you what fits inside … 400ml Ti mug containing 8g stove, windshield, etc, 150ml fuel, 2l Platypuss soft bottle (empty), Tarp pole and pegs, tube, pump, mini-tool, battery pack, marigolds (pair, yellow), knife, spoon, coffee sachets x 6, flapjack x 2, OMM wind shirt and a Happy Shopper chocolate bar. As you can see, it's possible to fit quite a bit of stuff inside and quite importantly, stuff that can be hard to place and difficult to home.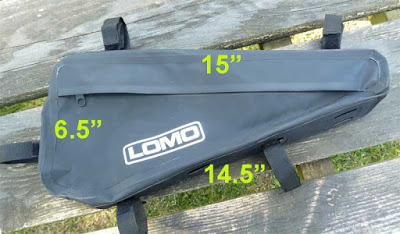 One size fits most … yes, the logos are reflective too.
I've fitted the bag to numerous bikes and while it quite obviously doesn't fill the frame like a custom bag, I've yet to find one that it won't work with. As you might expect, on smaller frames, it pretty much fills the triangle completely and on larger frames (18″ +), there's more space between bag and tubes … I do wonder whether those blessed with an inside leg of 31″ or more might be able to use the bag with their bottles (or at least one) in place. Buying luggage can be an expensive pastime and it's surprisingly easy to lighten your wallet by a couple of hundred quid. At £23 the Lomo bag is certainly cheap but in no way is the price a reflection of quality. A fully waterproof frame bag for less than £25 … not so much cheap and cheerful, more cheap and ecstatic.

LOMO Frame bag – £23


I'm a big fan of tarps. I've wasted many words about their use over the years and when someone poses the question 'why a tarp?', the internet can generally be relied upon to provide multiple answers. People will give all kinds of reasons as to why they prefer tarp over tent but for me, it's about user input. I like to think of tarps as, the thinking man's shelter. Anyone who's ever used a tarp will know all too well, that a tarp erected without the aid of 'thinking' can very quickly and all too easily, resemble something more akin to a blanket than a shelter.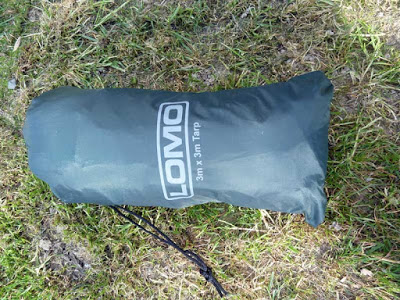 3m x 3m and 30cm x 12cm packed.
No matter how keen the tarp-curious, there's a hurdle which must be overcome first and it's the issue of cost. Tarps often aren't cheap. When an identical sum of money will buy a complete, ready to pitch tent or what appears to be no more than a flat piece of material, choosing the tarp will often appear less than sensible … but maybe that's just changed? At just £25, the Lomo tarp is a very affordable way for anyone to discover just what it is, that makes tarps so appealing. Measuring 3m x 3m, the tarp offers a lot of coverage. Depending how you set it up, it could easily provide a roof for four people or form a more structured shelter for two.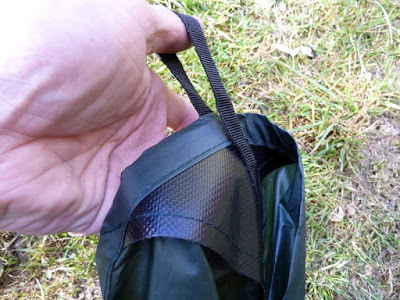 Reinforced tie-outs … you're not ripping these off.
I don't know for certain but I suspect the material is PU coated Polyester. While it may not be as light as Silicone coated nylon, it is very durable and reassuringly waterproof. There's a total of 19 tie-out points – 16 round the edge and an additional 3 running down the centre-line. I'm glad to say, there's no nasty eyelets here, just good solid webbing with a strong reinforcement patch sewn in at the stress points. You can't deny that it adds somewhat to the weight but you'd be more likely to pull a well placed peg out of the ground before tearing one of these off. The tarp comes supplied with 4 steel pegs and 2 lines, so you'll need to add additional pegs and ideally some extra line to provide you with the full range of pitching options a tarp this shape and size can produce … however, seeing as how 99% of tarps arrive with nothing, that's not really a problem. On my scales, the tarp as supplied weighs 748g. In tarp terms that's not particularly light but when you're looking at budget shelters, it's extremely light … especially when you consider that this is potentially a shelter for four.

If you're contemplating a tarp but don't want to spend a fortune discovering whether it's for you, the Lomo's an ideal place to start. It's also perfect for those already committed to the way of the tarp should they want to share the experience with kids, friends or the dog. There are (very) similar tarps on the market but they're going to set you back at least an additional tenner – money which I'm sure you could spend elsewhere.

LOMO 3m x 3m tarp – £25