I know it's probably wrong to get excited or even just a touch giddy about something as mundane as a dry bag but when AlpKit first mentioned that they were going to produce a tapered dry bag with 'daisy chain' attachment loops, people did indeed get a little excited.
Code named 'Kuttlefish' the new dry bag was designed to fit neatly inside AlpKits Koala rear pack and luckily, just about every other saddle-pack regardless of manufacturer. The addition of a webbing 'daisy chain' also opened up the option of using it as a standalone bag in its own right.
Square peg fits square hole.

The bags are made from the same material as AlpKits standard Airlok Xtra bags (although I have heard people say that the material feels slightly different – maybe that's just something between material batches?) and feature the same side loops which have become something of an AlpKit trademark. The 13L capacity is just right, not too big and not too small … you should be able to fit in everything required, while removing the temptation to take those extra bits you really don't need, just because you can.

So far, I've tried the bag in three different rear packs / harnesses and it's fitted each one without problem. The tapered shape really does make packing much easier and helps reduce any dead-space at the pointy end. The bag is probably tougher and more robust than many people would usually use inside a rear pack but from the perspective of someone who managed to put a tear in his brand new quilt while leaning his bike against a fence, I see that as a plus point and any weight penalty is easily off-set against peace of mind.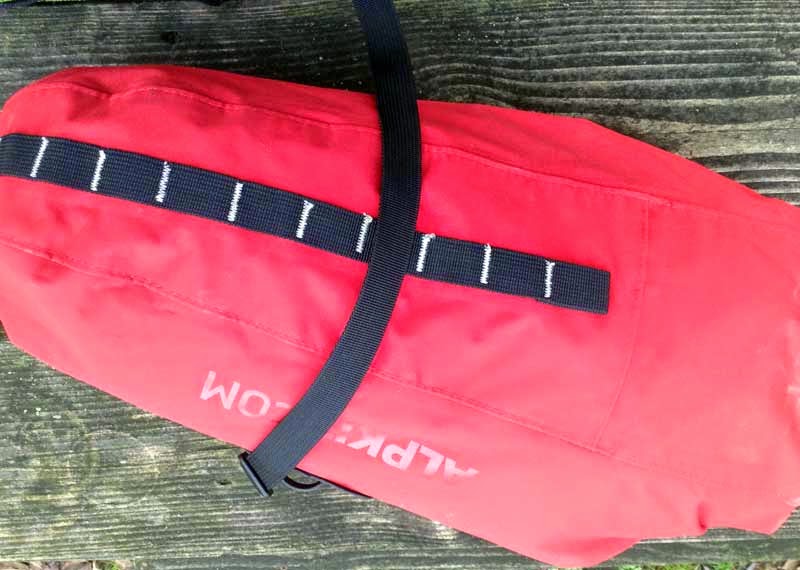 Daisy chain and webbing strap. It won't fall off but it will wobble.

The bag is supplied with a pair of webbing straps that when cunningly fed through the 'daisy chain' loops, give the option of mounting the dry bag directly to your bike in combination with your seatpost and saddle rails. When you compare the cost of this bag to a saddle pack that idea sounds very tempting and in practice the theory does work but there are limitations.

Firstly, the dry bag has no rigid structure, so unless you can provide some with the contents (think folded / rolled sleeping mat as an example) expect things to get a bit floppy. This tends to get worse the tighter you pull the main strap … the straps are only 20mm wide so will try to 'cut' the bag and contents in half, resulting in the unsupported end of the bag taking on the appearance of a nodding dog.

The other thing to remember is … it's only a dry bag. It may be a very well constructed dry bag, made from quality materials but it's no match for the water, mud and grit that's going to get thrown at it. Abrasion (and the odd rodent) is the enemy of bikepacking luggage, even packs designed and built to withstand the onslaught will develop holes and scuffs … sometimes faster than you might imagine. Even without the addition of natures finest grinding paste, the simple action of the bag swinging will likely shorten its lifespan considerably. Only you can decide whether the monitory saving over a dedicated pack is worth it … but no moaning if it develops holes or starts to leak, you've been warned.

If you already use some type of saddle-pack or harness then the AlpKit tapered dry bag is a real winner and should be at the top of your shopping list. If you're looking for a inexpensive alternative to a saddle-pack then it's worth considering but just remember that it isn't a cheap saddle pack, it's a dry bag with extras … so you can't expect it to perform like one.

£15 inc' P+P direct from AlpKit.