Rightly or wrongly, I kind of assume that other people assume that I only ever use meths stoves. The real truth is, I'll happily burn any kind of fuel in my continual quest for another brew. I feel there's a time and a place for every type of stove and conditions combined with your own priorities will usually govern when and where that is.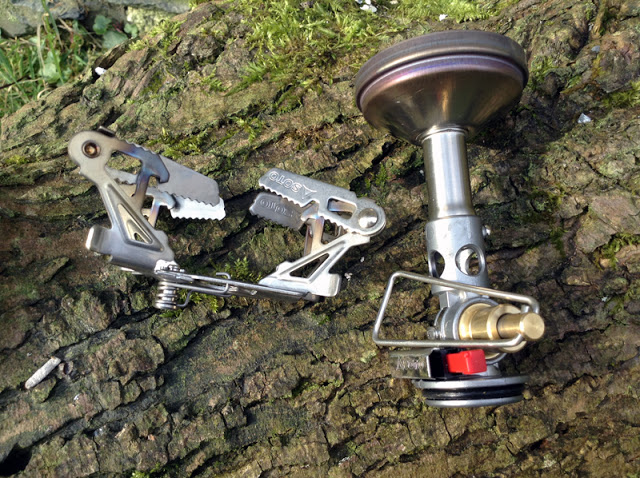 Wind Master with detachable pot support removed.
Gas stoves are a firm favourite amongst lovers of the great outdoors and the ubiquitous Jet-boil or copy as is often the case these days, have a large following and many adoring fans. They tend to be both efficient and also capable of performing their role when faced with opposition from a stiff breeze. I've got one. It spends most of its time living in a kitchen cupboard but on occasion it does accompany me on 'car camping' trips. I've never once considered taking it bikepacking because when I compare it to what I usually favour, it's bulky, heavy and yet still doesn't really allow me to expand my culinary horizons beyond boiling water. It's quite obvious that besides wanting cake, I also like the idea of eating it. I'd like a gas stove with good fuel efficiency, that still works well when ravaged by the wind and will also allow me to fully flex my culinary muscles while being neither big or heavy. Does such a thing exist? Is it even possible to produce something with all those seemingly conflicting attributes? Well, Japanese company SOTO think so and their Wind Master stove appears to be the embodiment of my previously fanciful wish list.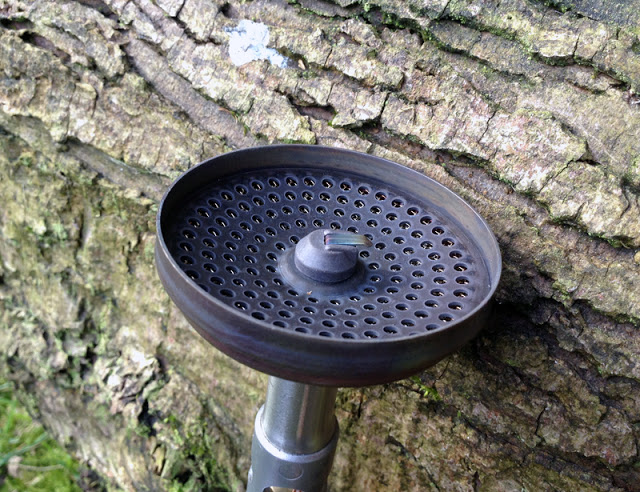 Recessed burner and the ring round the outside which help it work in windy conditions.
As the name suggests, the Wind Master is designed to work in the type of conditions preferred by sea farers rather than hill goers. The burner head is concave in shape and features a raised ring around its other edge. That combination helps shield the flame from the effects of wind but the pot supports play a part in this too and are set so the pot sits much lower and closer to the burner than is usual. There's actually very little flame exposed to the wind, so it's obviously less effected when things turn blustery. I usually always use a windshield of some description regardless of stove type but when time came to try the Wind Master, I didn't. Conversely, I picked a day when gusts were hitting 40mph plus and I purposefully set the stove up out in the open with no natural windbreak.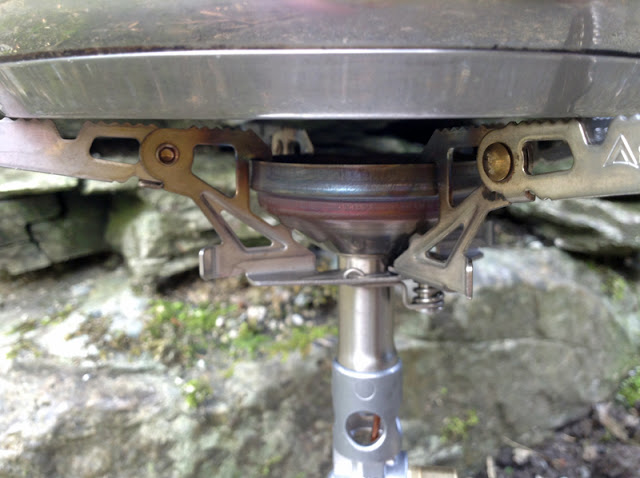 Pot supports hold the pan very close to the burner which again aids performance when things get blowy.
Having already tried the stove indoors, I had some kind of baseline to work with. I knew that it would boil 400ml of water in a 450ml mug in about 3 minutes while keeping the flame focused on the base of the mug rather than turning it higher, sending flames up the side and thus wasting fuel. I ventured outside and 7 minutes and 28 seconds later, I had boiling water. I readily admit that I was a little bit disappointed so I decided to try a couple if other stoves under the same conditions to see how the competition fared. The first was a BRS micro stove. It's re-branded and sold under many different names and at 25g it's also very light and compact. They produce quite a narrow concentrated flame which makes them well suited to smaller diameter mugs and pots but after 18 minutes, I simply gave up on it. The water was certainly hot but without the addition of a windshield the stove was losing too much heat to the wind to transform merely hot to boiling. Even turned right up, the flame was struggling against the wind and was even blown out on one occasion. Next to come under my critical gaze was a generic remote feed stove. Once again, it's origin is China and all that changes is the name. This did fair somewhat better and was able to provide boiling water but it did take around quarter of an hour. With my new data, it was now quite apparent that I'd misjudged the SOTO and it had in fact performed superbly under the harsh conditions.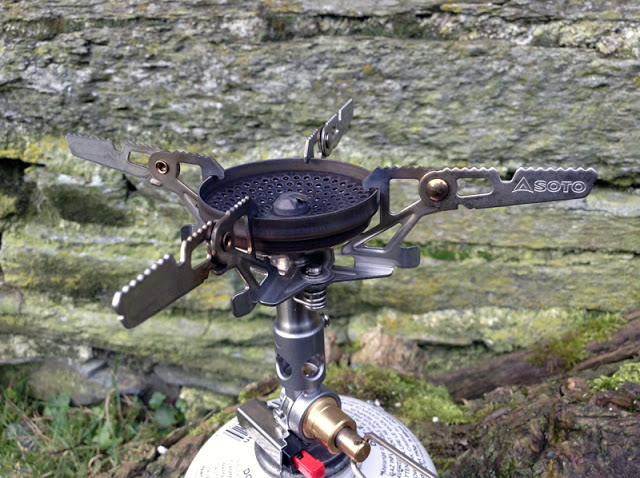 The 4 arm pot support provides a nice wide base for just about any size of pan.
What about the other elements that made up my wish list then? At 85g it certainly isn't the lightest gas stove available but that weight is comparable to others of a similar output and it's a weight I'd certainly be prepared to carry. Weight is only part of the story though and pack-size is often equally just as important. Folded into it's little bag, the SOTO measures approximately 90mm x 50mm so will fit inside a standard 450ml mug albeit with only a few mm to spare. Something I don't ever recall seeing elsewhere are detachable pot support arms. The pot support on the Wind Master is separate from the stove and simply clips onto the burner. I think it certainly helps to make the stove more compact when packed but it also allows you to swap between a three and four armed support. The stove arrives with the larger four arm version which folds out to provide a very stable 140mm wide support; it's more than enough for something like a 10″ frying pan and therefor allows what I'd call 'proper cooking'. Many stoves that provide a wide support can sadly fail to accommodate taller / narrower pots but in this case anything down to a very skinny 50mm diameter can sit safely on top. If you do want to use the three armed support then I'm afraid you'll need to buy that separately, although, apart from a reduction in size, I'm not too sure I can see any great real world advantage in doing so but I've not tried one, so will reserve judgement.
Aside from the piezo ignition – which I will say is nicely tucked out of the way to avoid damage, the Wind Master also has a 'Micro Regulator'. I can't tell you very much about it because it's inside the stove but SOTO say that it helps to provide a much more consistent output in cold conditions. They go as far as to say that at -5c the Wind Master can be twice as fast as a stove without a regulator – it's something which certainly adds to its bad weather credentials.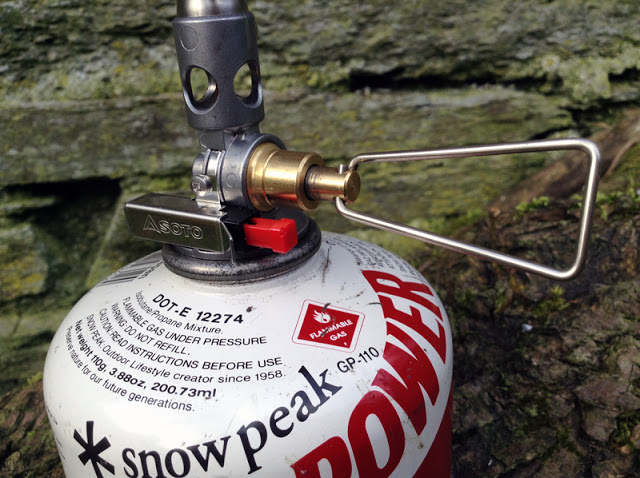 Mission control – ignition, regulator and the thing that turns it on and off.
Like other SOTO products I've tried, the Wind Master feels like a high quality item. Nothing about it appears cheap or makes you think it was built down to a price. It's certainly something that gives you confidence that it won't let you down when you most need it. If I had one criticism, it would be that the control lever could do with a touch more resistance but I'm nit-picking there because there's nothing actually wrong with it and it works perfectly. If you're looking for a stove that's reasonably light, will allow you to use various sized pots or pans and will continue to perform in the worst of conditions, I think the Wind Master should certainly be on your list of possible options.
Available from various outlets for around £45 – £50.