Me, I'm a fan of simple. The unkind amongst you are now likely thinking, 'simple is as simple does' and who knows, maybe you're right but in my mind, simplicity is the key to both form and function. It's why I like rigid bikes – what could be simpler than two triangles welded together and a wheel poked in either end? The rigid bike is both an aesthetically pleasing design and an engineering masterpiece … but if they're so simple, why are they often so different?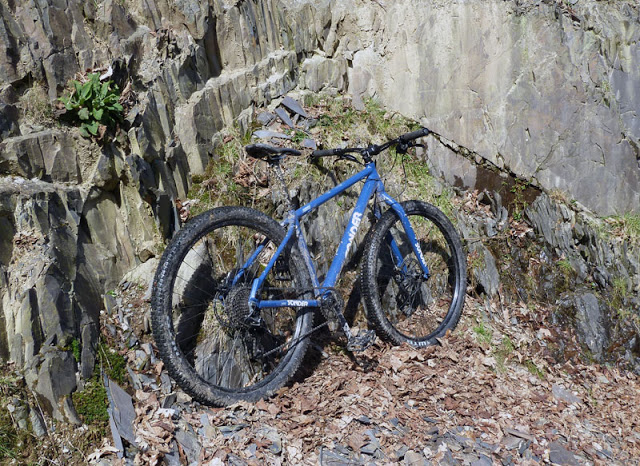 The first thing to remember is, simple is not the same as basic. There may not be any (to some) sexy linkages, valves and springs and a rigid bike can't provide endless hours of dull conversation about spring rates or shim stacks but that doesn't mean it's basic. The devil is in the detail; many of which go largely unnoticed but are the reason two similar looking bikes can behave quite differently and the reason why one might feel 'better' than another. There's the obvious practical design touches, like bottle mounts and cable routing but how about tube profile, butting, bottom bracket drop or head-tube length? It's all on show for the discerning eye but we're usually too concerned with the really important question of whether we should choose a blue one or a red one to notice.

The Sonder Frontier is a simple bike especially in rigid form and even the addition of a suspension fork doesn't alter that fact much. A bike is its frame, the things bolted to it may have some bearing on its character but until the frame is changed, its identity remains. The Frontier might be available 'off the shelf' in a number of different guises but the frame is a constant throughout. Buying one spec' doesn't mean that you can't transform it into another should the mood take you – which in a very round about sort of way leads me on to this … I'll stick my neck on the line here and say, the Sonder Frontier will likely be bought by one of two types of rider. The first will be someone who already has a garage / shed / kitchen containing a number of different bikes. Their reason for buying a Frontier will be that, they want something more suited to the rigours of bikepacking, which they feel their current collection lacks. The other potential buyers will be those who for whatever reason, only want one bike. They'd like something versatile that can turn its hand to most of the various discipline's that sit beneath the vast mountainbike umbrella – Pennine Bridleway one weekend, Coed-y-Brenin the next. Satisfying those two seemingly opposing ideals seems like a big ask but the simple and almost modular nature of the Frontier, seems to cope admirably.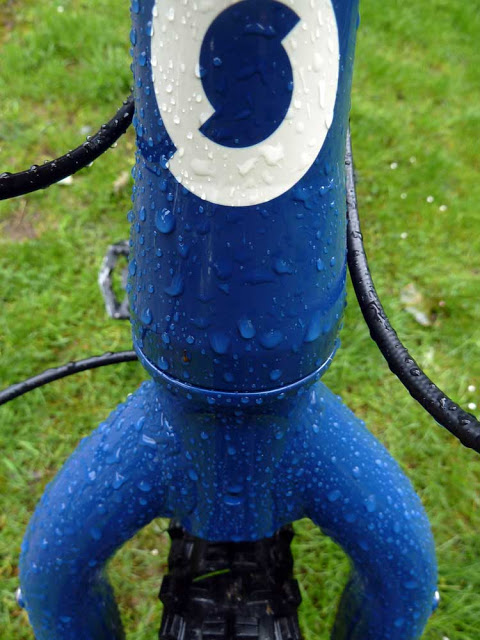 Aluminium forks but with a surprising steel feel.

I introduced you to my rigid, 29er test bike a while ago. I talked about the component spec', the different wheels available and I even said, it's available in three colours … so we won't go through all that again. However, one thing I did mention was the aluminium fork and the often unforgiving nature associated with such as thing. I had reservations and I think some of you might also have shared in my skepticism. Well, I'm here to tell you, we were wrong. Don't ask me how Sonder have managed to produce a large bladed aluminium fork that feels like it's made from steel because I don't know the answer … but somehow they have. Tyre volume probably helps a little but remember, this one's fitted with 2.4″ tyres, it's not the 'plus' version and the rocks of Wales and the Lakes will quickly punish any compliance shortcomings, regardless of tyre size or volume. One thing mentioned in the previous post that I'm less sure about is the Boost wheel spacing. I know the industry is moving in that direction and I understand the thinking behind it but I'm not convinced it's necessary in this case. The Frontier is 1 x something specific so there's no need for additional chain clearance. Both front and rear wheels are QR, which seems to negate any increase in wheel stiffness and as an aside, I'm sure it must limit the potential number of customers who might be looking to buy a 'frame only' and conduct their own transplant surgery? However, what I will say in Boost's defence is that, I never noticed it. Not once did I consider that I was rolling on anything other than good old 135mm / 100mm hubs … which leads me to think that unless you are thinking of buying a frame only, then it's of no real concern and perhaps we should simply consider it a nod towards 'future proofing'?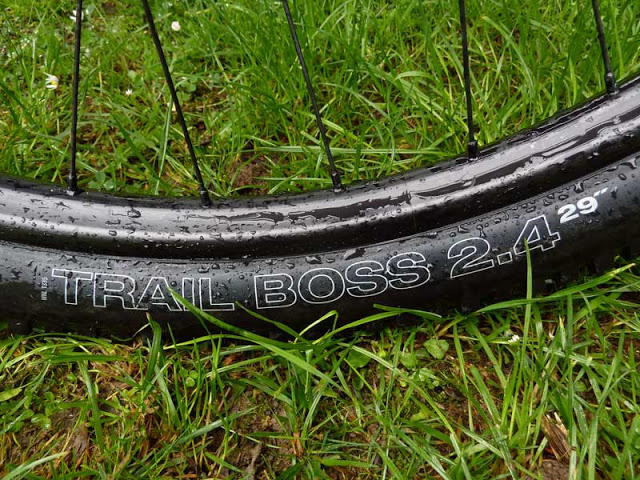 A 2.4″ on a wide rim – consider carefully whether you actually need anything bigger.

Something the Frontier does have is a large physical presence. That probably sounds odd but when lent against a convenient wall, post or fence, the Frontier looks a big bike but throw a leg over it and it err, shrinks. It's a trait I've noticed amongst a few bikes lately and something I'm becoming more accustomed to but it still seems like magic. I put it down to those details where the devil resides that I mentioned previously. This alchemy produces a real feeling of sitting in rather than on the bike. While doing my best to avoid sounding like some contradictory mountainbike journo', I would also say that whatever dark forces are employed to achieve this, must be the same ones that make the bike feel both stable and agile (I did just really write that didn't I?). It's a weird thing – point it down a hill leaving caution behind and virtually nothing will knock it off line or at least, nothing will until you decide it will. A small shift of body-weight or a touch more pressure through one pedal than the other and you're now heading in a new direction – no drama, no 'oh my god' moments and best of all, very little effort required on our behalf.

Living where I live, I tend to value a bikes technical climbing prowess above most things. The trails and tracks I ride aren't manicured and pampered, they're rough, rocky, slippery and very rarely are they flat. As you can no doubt imagine, I soon lose interest in any bike that doesn't climb well. I'm sure that the same 'in' rather than 'on' feeling that allows rapid descending also has a lot to do with the Frontier's climbing prowess. Even steep loose climbs present little challenge to rear tyre grip and any occasional slip or spin can largely be anticipated and corrected with minimal input. If the track steepens, the front wheel remains firmly planted. You don't find yourself having to lean forward or contort into some awkward MBUK front cover pose to keep the front wheel from lifting skyward. Perhaps now would be a good time to just remind you that, the Frontier isn't an E-bike. You're still required to pedal it to the top of a hill and gravity will have a firm grasp of your shorts every inch of the way but should you fail to reach the top, the fault will lie with you, not the bike … you know, just so we're clear.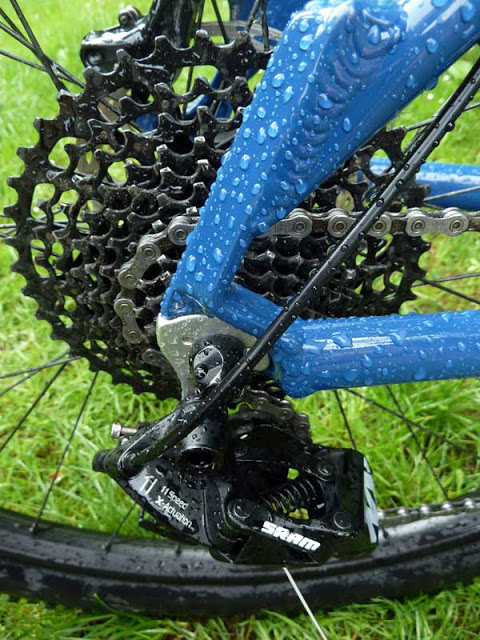 Not generally a SRAM fan but the NX1 drivetrain was faultless.

I said on my previous post that the Frontier isn't a 'bikepacking bike'. If you buy it as a bike to hang that tag from, then you won't be disappointed but in realty, it's more than that. The Frontier might be considered a Jack of all trades but the clever bit is, it's able to master most of them. I didn't change anything from factory spec' on my test and regardless of the situation or terrain, I never felt like I'd taken a knife to a gun-fight. Whether it's a deliberate move or just a happy side effect of economy of scale, I know not but the reemergence of less specialised bikes and who knows, maybe even less Specialized bikes, seems like a positive thing.

The variables of wheel size and fork preference available allow enough choice to tailor the Frontier closer to your own ideal without any real compromises. In reality, maybe it won't matter which you choose because it'll have this frame … and that appears to be where the magic is.

Sonder