The Six Moon Designs Gatewood cape is one of those rare items that manages to fulfil two roles, In this case, it's both shelter and waterproofs … actually, I've very little interest in the 'cape' aspect. I'm sure it's great if you're walking, it's certainly big enough to keep you and your pack covered but trying to wear it while riding a bike might be pushing the bounds of what we can reasonably expect it to do … so, we're just going to concentrate on the shelter side of things.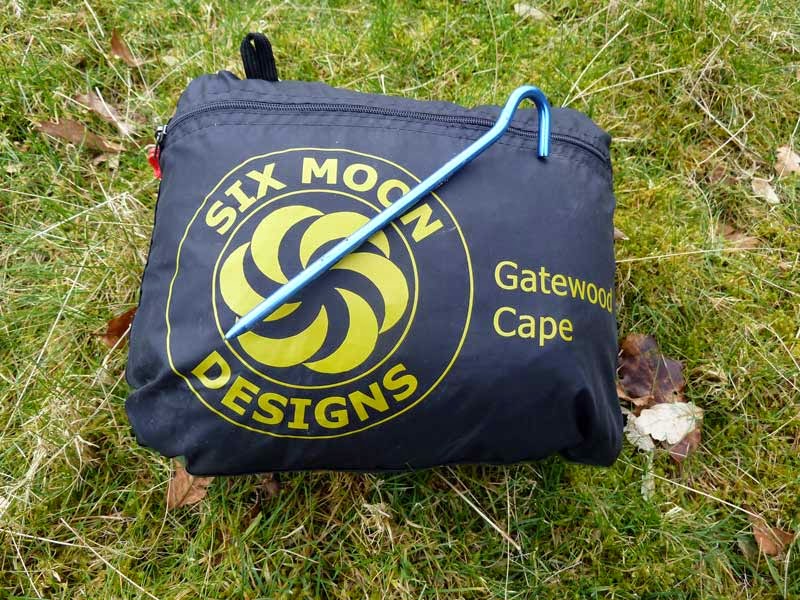 It'll compress to about half this size.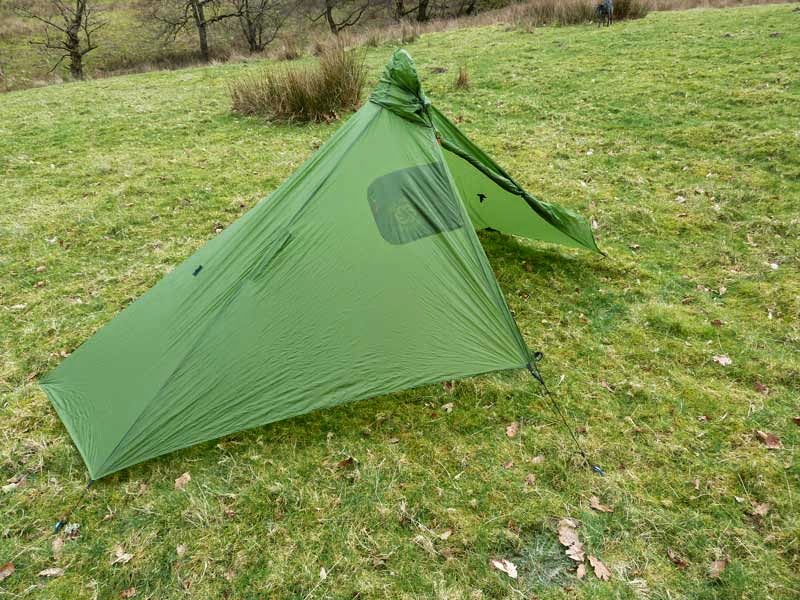 Even with the 'door' open there's still plenty of cover available.

The cape is a similar shape to a number of other shelters and although not a true pyramid or even half pyramid, for our purposes that's how best to think of it. What makes it a little different to most, is the amount of coverage it offers. A lot of half 'mids have a front opening that's well, open. They usually have a 'beak' that covers part of the opening but the Gatewood cape goes one step further and extends that beak so it very nearly goes all the way to the ground.



This extension increases the interior space dramatically and also means that you're protected from the weather on all sides. Access from outside to in, is via a 2 way zip. Once unzipped, the right hand 'door' panel can be tied back to keep it out of the way, sadly the left hand panel doesn't have a tie-back, otherwise you could open the entire front up on those clear rainless nights.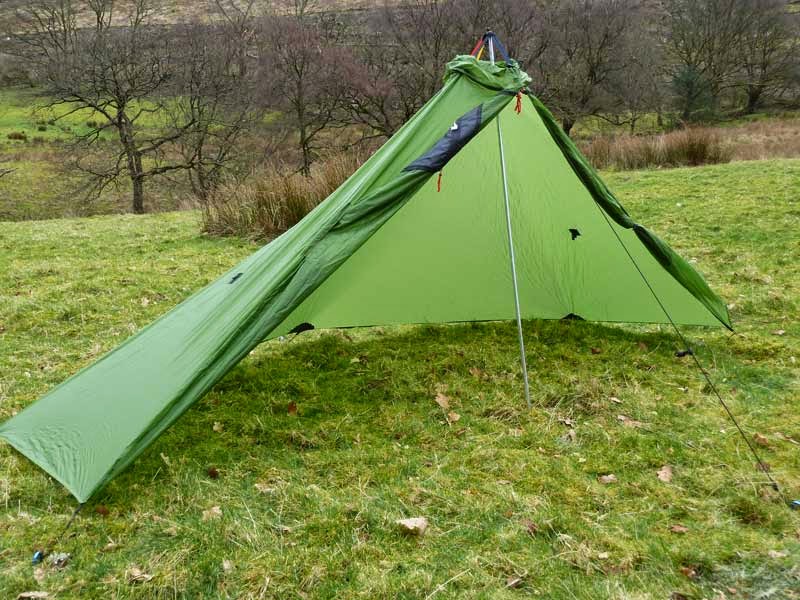 To do this will require a little DIY.

With the 'door' open, there's still plenty of room inside, even if it were raining there's enough space to sleep, cook (sensibly) and store gear without having to worry about getting wet.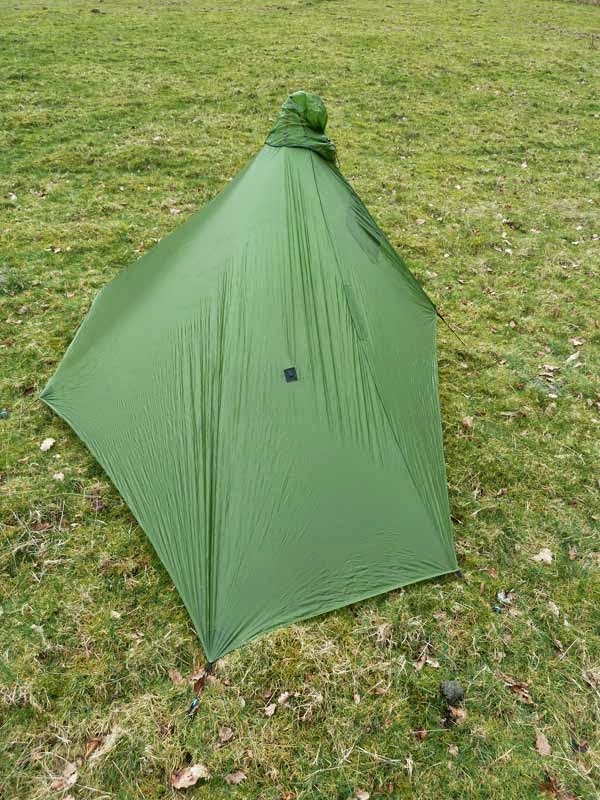 Surprisingly wide?

If you do close yourself in completely, the hood from the cape forms a vent. It can be fully closed off, left completely open or rigged to be somewhere in between. The gap along the bottom of the cape combined with the high vent should be enough to minimise condensation … but that is minimise rather than remove, if conditions are right, then a small amount really has to be expected.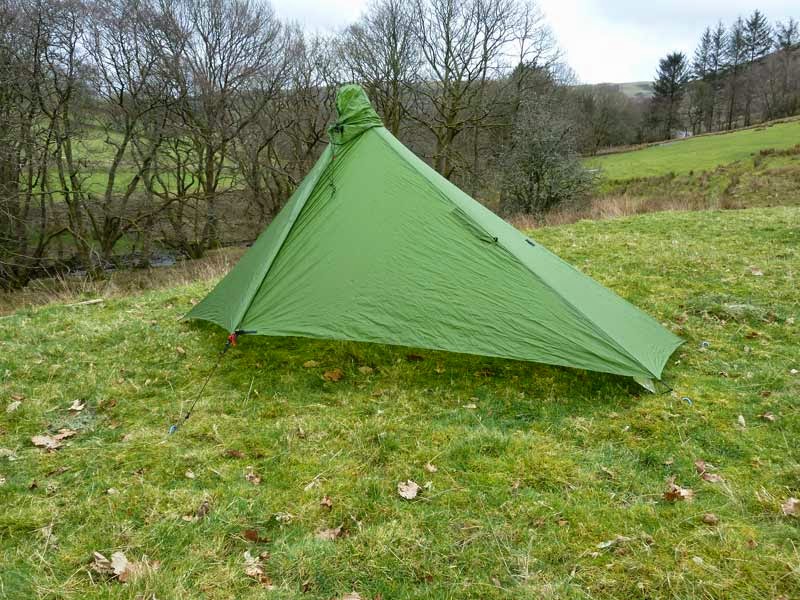 All zipped up, just waiting for the weather.

Six pegs and a single pole are required to set it up, there are 2 additional tie-out points on the side which I can foresee using in very windy weather or possibly to raise the end walls (with the aid of a stick) to create a little more internal space … not that I'll need it at 5'7″.


It's a vent, no it's a hood, oh no it's a vent.

As I said at the beginning, the Gatewood cape is similar to a number of other shelters but I'm hoping that there's enough differences to make it unique. Obviously, there's the whole morph from shelter to waterproof and back again trick but even without that, there appears to be enough little touches to distinguish it from anything else.

I'll report back once we've spent a few nights together, in the meantime you might like to visit Six Moon Designs.

PART 2