Any piece of equipment will inherently attract 'what' comments. What tyre? What tent? What saddle? and of course, what bivvy bag? There's never a definitive answer to these questions because we're individuals and each of us possess our own criteria. We all have likes, dislikes and views about what represents value for money. However, that doesn't prevent us from asking and nor does it stop our fellow travellers from heading the call and answering.  Quite obviously, some answers will prove more useful than others. Simply saying, "X equals the best one ever, end of thread" when X is the only one you've ever used is an equation that's no use to anyone. No, the best and most useful answers to 'what' questions are those borne from experience, a critical eye and an understanding that if you're seeking perfection, then you will always find yourself disappointed.
It's perhaps also worth mentioning the fact that some items need to be thought of as a 'system'. It's not a term I'm keen on but that doesn't stop it from being true. I like to think of it as 'unison' or 'harmony' – A stove is no good if it's too small to accommodate your pot without both tipping over, just as a bivvy bag is no use if so small that it crushes the insulation in your sleeping bag and prevents it from lofting – see, a system. Two or more items that compliment each other and work hand in hand to produce something that works.
John has tried quite a few bivvy bags over the years and has developed a very good idea of what his requirements are. This path has recently led him to the Sierra Designs Backcountry Bivvy 3000, a bivvy bag that he feels suits those of us who are …
light sleepers, side sleepers, people who prefer to sleep in the "recovery position" with a knee sticking out, fidgeting sleepers, sleepers who don't like the restrictions of a mummy sleeping bag or the drafts that you can get from a quilt. Maybe you're a sleeper who likes the comforts of home or a sleeper who enjoys the open air rather than being enclosed in a tent?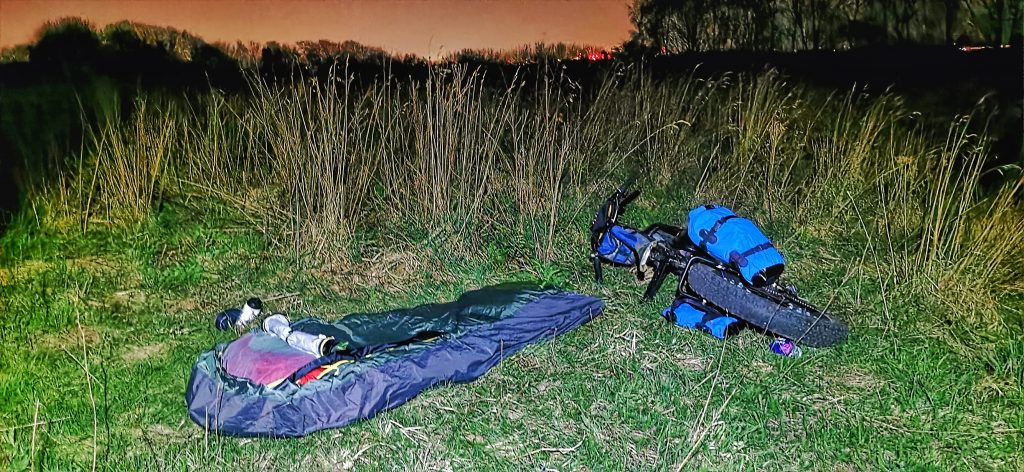 However, those things may only be true when the Backcountry bivvy is used in partnership with the backcountry bed sleeping bag and a wide and ever so luxurious sleeping mat – both of which John's written about before which you can read HERE but there's also no reason why the Backcountry bivvy can't be used with a different bag and mat by those who want a spacious, weatherproof shelter … so, over to John and his thoughts.
Over the years I've tried ultra light in it's many forms and if truth be told I've never really slept that well with any set up because of the compromises that 'going ultra light' forces you to accept.
As I've become older, I've also realised that rides like the Tour Divide or even the Dales Divide are not for me, Enjoy not endure is my motto and I'm sticking to it. It's smiles over miles, carry a little more weight, pack a few comforts but still cut out the less important items.
There's no denying that this set up is expensive and would represent a significant investment especially for those just setting out. It's light enough (long version 440g / regular 395g) as not to be a burden but in no way 'super light'. It compresses down well which aids packing but not to the degree that super lightweight kit does. I won't win any lightest bike awards with this combination but the one thing it does give me is a good 7 to 8 hours of sleep every night when I'm out and about. So, for me the additional extra weight and bulk is worth carrying for a good nights sleep and obviously, not feeling knackered for the rest of the trip is a bonus too. All materials appear robust and the seams are fully taped, so it is fully waterproof rather than just water-resistant.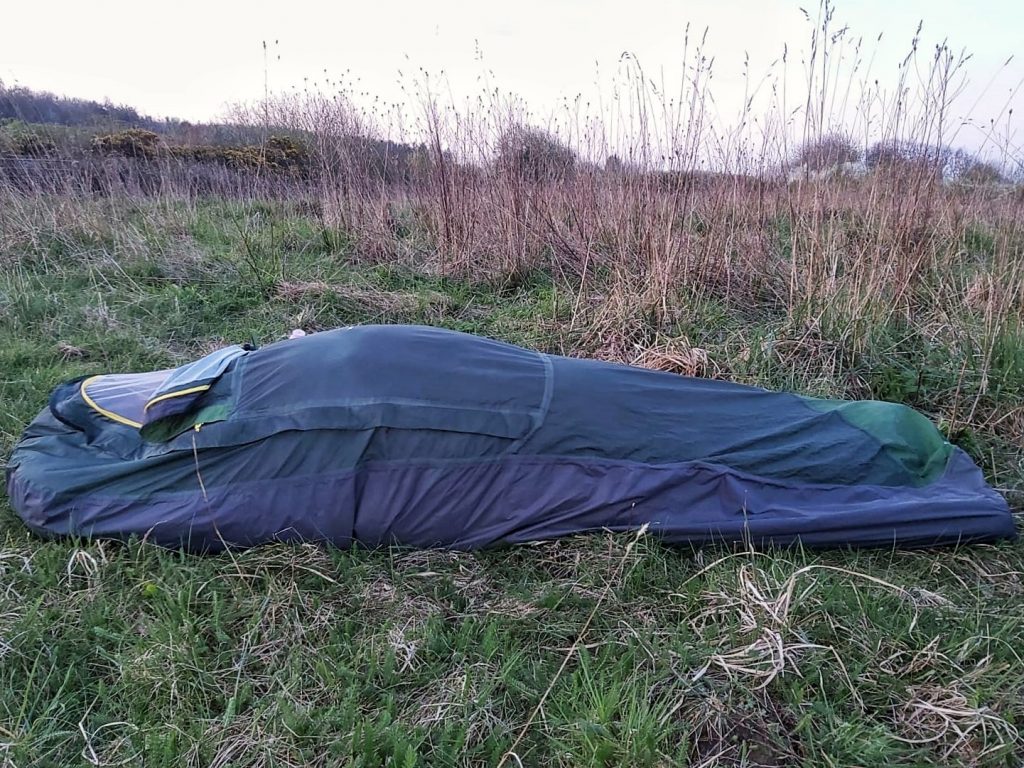 The Sierra Designs Backcountry Bivy 3000 is a pleasant and fairly subtle shade of green, it's nice and roomy and perfectly accommodates the Sierra Designs Back Country Bed 20 sleeping bag and the 3″ deep air mattress. I chose the long version not because I need it at 5ft 8″ but for the extra width that this size gives me – it fits my rectangular mattress perfectly – when sleeping on your side there is no sleeping bag compression or flat spots in the insulation of the sleeping bag as you can get in tight bivvy bags and therefore no cold spots. With your head inside the sleeping bag and resting on a comfy air pillow, the integral midge net is kept away from your face enough as not to touch it should you be a back sleeper – there is a guy-line point that can be utilised to lift the top of the bag higher should you wish. It has an additional flap over the midge net to protect you from the rain which I use rolled down. With the midge net deployed but the outer flap rolled down I've noticed a slight bit of condensation on the inside of the top of the bag ( usually when my bladder's woken me up in the middle of the night) but this has always gone by morning. I have read reports that others have suffered more condensation but once home and the bivvy turned inside out to air on the washing line, I've only ever noticed a little bit of condensation in the foot area – perhaps others are fully enclosing themselves rather than leaving the outer flap open? Personally, if the weather was poor I'd still use it opened up but add a small tarp to stop this happening.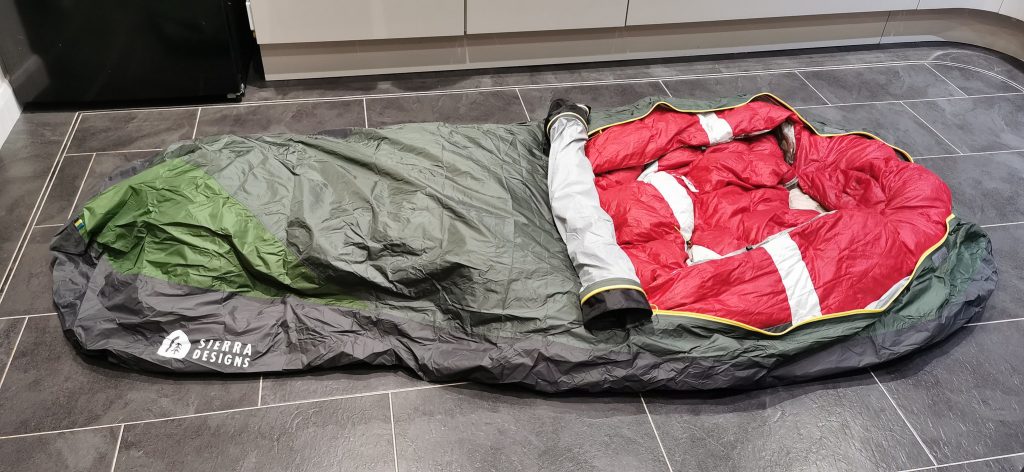 All in all, I think I may have finally found my perfect set up for 10 months of the year here in the UK. I'd require additional insulation for deepest winter but that may just be a matter of supplementing rather than using an entirely different sleeping bag. In warmer weather (remember that?) a lightweight one or two season bag used in the same bivvy and on the same mattress, should make for a great summer set up.
Available on-line. Expect to pay around £115 for the regular length and a little more for the long version.