I firmly believe that cycling off-road is safer than cycling on road. There may be trees, rocks and numerous other trail obstacles to contend with but unlike cars, they generally aren't travelling towards you at 50mph. As a bikepacker, I try and find the quiet places, the one's where most people don't go. I weave these threads of mountain track and lost byway into my journey but unfortunately they don't go on forever. Sooner or later, they need stitching together and that means taking to the road … usually dark, narrow road.



It might look like the above photograph depicts nothing but empty blackness but I've actually entitled it, 'gate at dusk'. It was taken with a torch illuminating the gate and if you look really hard, you can just make out the very faint shape of a wooden gate in the centre of the picture … perhaps that gate is a representation of a keen bikepacker hoping to make the Spar before it shuts at 10.00pm?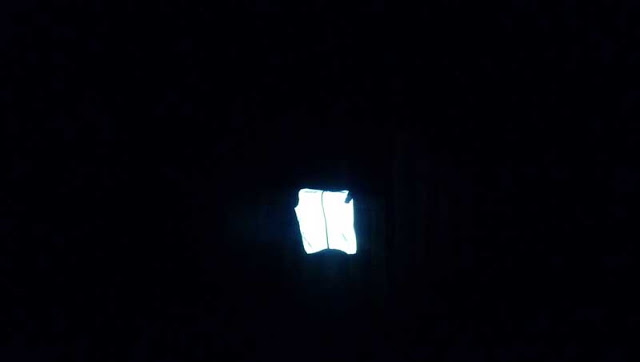 Same gate, same torch and the same camera but this composition is called, ' gate wearing Proviz gilet'. The Proviz Reflect 360 gilet isn't simply an additional layer to ward off an unwelcome chill – obviously, it will do that but what it could also do, is potentially save your life. The material used is something quite special and contains lots (think millions) of tiny glass beads which are rather good at reflecting light. By day this property goes largely unnoticed and the material appears nothing out of the ordinary except for a slightly metallic hue. However, shine a light towards it at night and it quite literally glows. In fact, it's so striking that even a driver simultaneously talking on their phone, drinking coffee and fiddling with the radio would have no excuse for failing to see you.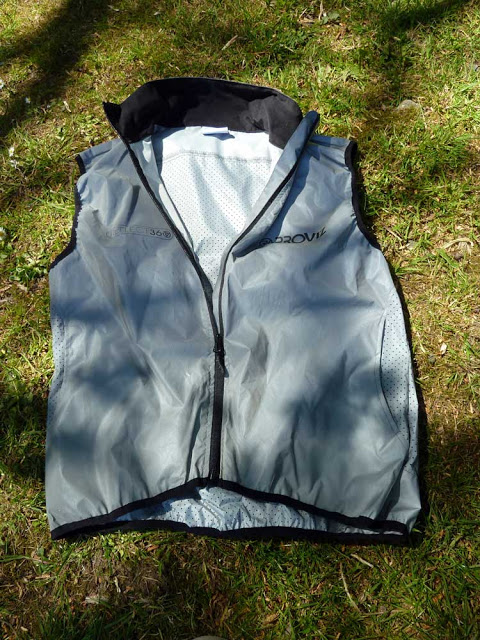 By day, just another gilet but that all changes with the arrival of dusk.

Aside from its reflective properties, the material is also waterproof and perhaps more importantly – windproof. Why more importantly? Simply because it's a gilet and as such, is unlikely to be your sole line of defence against the watery elements. Proviz don't make any claims about breathability, so neither will I, although I will say that, with no sleeves, a perforated back and a full length zip it's not going to be much of a problem, is it? I'm happy to report that 'fit' is reassuringly normal so there's no need to size up unless you foresee yourself wearing it over the top of multiple layers. Both the waist and the arm holes are lightly elasticated and there's also two generous 'hand warmer' pockets and a fleece lined collar which add practicality and comfort. Unlike some cycling attire which can feel flimsy at best, this feels more robust, like it'll shrug off the odd bramble, so I was quite surprised to discover that a medium only weighs 217g. Aside from the respectable weight, it'll also happily squash down to something you can readily fit in your pocket or other small space … which in a world of limited capacity is a big plus … The Reflect 360 is the base model in the range and it works superbly but if you want something lighter, more breathable or offering greater waterproofness, you might want to look at the 'plus' version. It costs a few pounds more but you might consider the refinements worth the additional outlay.

I know there'll be those who believe that the onus of a cyclist's safety should be placed firmly on the shoulders of the car driver. In a perfect world, I'm sure it's a stance many of us would agree with. Trouble is, it's not a perfect world and no amount of finger pointing can alter the fact that, regardless of where the blame lies, it'll be you picking yourself up off the floor, not the driver. With an rrp of less than £50, I really can't think of a good reason not to buy one. It's about as near as you'll get to having your very own car repelling force-field around you.

Proviz