Description
The 8g stove provides the lightweight traveller a simple way of boiling enough water for a brew or to rehydrate a meal. The jetting configuration is designed to work specifically with any 450ml mug, producing the highest possible output with the minimum amount of 'flame overspill' often encountered with meths stoves. If weight and pack size is a priority then the 8g stove should form the basis of your ultralight camp kitchen.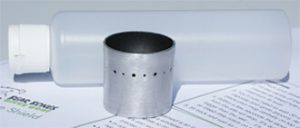 The 8g stove is supplied with a 100ml fuel bottle, tapered windshield template and instructions.
Specifications
Weight: 8g.
Dimensions: 32mm wide x 31mm high.
Maximum fuel capacity: 13ml.
Average total burn time from blooming: 5 mins 30 secs on 12ml fuel.
Intended pot diameter: 80mm (eg standard 450ml mug).
NB THIS PRODUCT IS MADE TO ORDER