Imagine the scene … it's a bright, sunny morning. You emerge from the confines of your cosy tarp, pulling your shorts up while still trying to get your left shoe on properly. Your bike's lying on its side a few feet away, you amble over, unclip a couple of straps, poke a hand inside your seatpack and rummage about looking for the means to produce something hot and caffeinated.

Plonking yourself down next to your stove, you idly twiddle the dial on your radio in the hope of tuning into something other than 'pop dross' until, by chance you hit upon some random, local radio news station. Without paying too much attention, you stir your early morning beverage with a twig until the radio blarts out "a new report from the department of wasting money and stating the obvious has found that teenagers who describe themselves as Goths are more miserable than those who don't". Just how much money had been squandered on discovering this startling fact wasn't disclosed but it did get me thinking … do people become Goths because they already have a miserable disposition or do they slowly slide into misery once they label themselves as a Goth? As the day progressed, no answer was forthcoming to this chicken and egg conundrum but in the pursuit of one, my mind started to think about such things as identity, individuality, uniformity and belonging.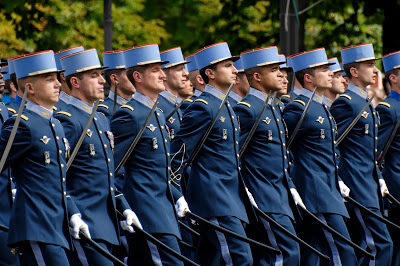 Humans are odd creatures, we want to revel in our status as individuals but at the same time we also want to be part of a pack or herd. From an early age we strive to demonstrate to the world how individual we are – the clothes we wear, the music we choose to listen to or what we do with the hair on our heads are all means of expressing our individuality and uniqueness.

However, given our natural tendency to flock together, it's really not surprising that while demonstrating our status as true individuals, we tend to do it from within the relative safety of a group of other like minded 'individuals' who we feel share our own views and ideals. I suppose it stands to reason that if these people share our views and interests then they're also likely to express them in a very similar way … and before you know it a 'uniform' exists and everyone begins to look and behave the same … any points for individuality have now been reduced to zero.

Cycling certainly hasn't escaped … roadies look the same, the middle aged blokes clogging up the trail centres on a Saturday afternoon do and ironically, even the anything goes, punk rock world of single speed has seemingly developed a uniform. As a cyclist, if you don't want to look like a cookie cutter replica of the person stood next to you, then you'll be glad to know there still remains a small haven for individuality … bikepacking. Why should it be that bikepacking has largely avoided the influence of fashion? I believe it's because as a bikepacker the number one priority for what you wear is practicality and we all know that there's no place for practical when you're dealing with fashion. What makes something practical or not, will largely depend on the perception and requirements of the user – having a jacket of the 'right' colour isn't much use if it won't keep the rain out for more than an hour and those 'must have' gloves possibly aren't the best option for a freezing January night … in fact, you might be far better served with a bin liner and some marigolds – welcome to the world of bikepacking where form follows function!

Given time, maybe a 'bikepacking uniform' will emerge but even if it does, I hope it'll be borne out of practicality gleaned through experience rather than pushed on us by marketeers who merely think they know what we want … oh, and cheer up Goth, it's not that bad is it?