Why would you want to run drop bars? asked the bemused bloke in the car park. My usual response in such situations is to fabricate some barely plausible and totally fictitious answer and see how long I can get away with it for … which probably goes some way to proving that there's no such thing as a stupid question, only stupid answers. However, I'd just left my sarcastic disposition with the girl at the till in the cafe, so feeling a little more generous than normal, I answered his question.

They're off-road drops, they aren't like your usual drop bars, generally these are much wider and have a far shallower drop. See how the ends flare out? … waving at handlebars with half a mug of tea.

Don't you get back ache?

No, they're set way higher than you would on a road or cx bike.

How do you brake?

By pulling the brake levers.

No, I didn't mean that. I meant how do you brake with the levers down there … pointing at levers down there.

Well, the brake levers are set so I can reach them when my hands are on the drops.

So don't you get back ache?

Sorry, I thought I'd explained that. The bars are set so the height of the drop is in a similar position to the height a flat bar would be.

Why don't you run flat bars then?

Because then they wouldn't be drops, these give you plenty of hand position options … picture a man moving his hands all round some handlebars while biting his tongue.

So you ride this thing off-road then?

Yeah.

Bet it's shit.

If you think that drops have no place clamped in the stem of a mountain bike, then I'm not going to waste any time trying to convince you otherwise … it would be a futile exercise for all parties, so you might as well stop reading now. However, if you're intrigued by the idea and can see some potential merit or are already a 'user', you may find the next few paragraphs of interest.

Although the number of 'off-road' drop bars is fairly small, there are options. The On-One Midge bar certainly wasn't the first but it became and for a long time remained the choice for many and for some, still is. It isn't without it's issues, I like many others find the hooks a little too short but when you consider the price, it's a great bar.

The WTB Dirt Drop and the Ragley Luxy are both personal favourites but went out of production, although the Dirt Drop is now available again and I believe a re-named / re-badged Luxy is on the cards sometime.

When the Salsa Woodchipper appeared a few years ago it ticked a lot of boxes, decent width, nice shape but unfortunately, it's not exactly cheap, particularly if you weren't already a convert and just fancied a dabble. There are other bars out there too but generally they're not that easy to find or are very similar to one of the above … perhaps there's room for another bar that incorporates the good bits from all the others?

Step forward the imaginatively and rather oddly named 'Digest' bar from Genetic. It shares traits with a few of the other off-road offerings but luckily, those design features are good ones. It's only available in 31.8mm clamp flavour but does come in a choice of widths. The width is measured at the centre of the bar at the front of the drop, pretty much where your brake levers go, you'll need to decide between 480mm and 440mm … however, these days we're all well aware that there's a direct correlation between bar width and penis size, so I can't think why you'd want to choose the narrower of the two sizes, although you may have your reasons.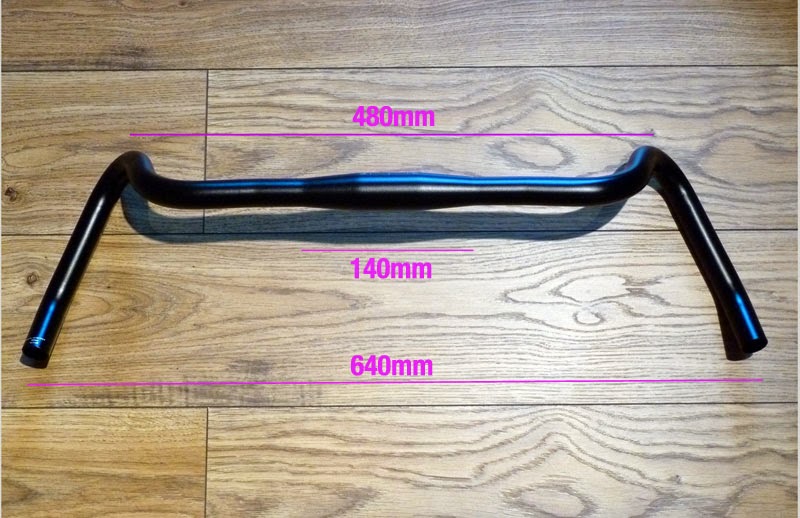 As you can see in the picture above, there's a good amount of flare resulting in a very usable overall width. The drop starts quite late along the top, which leaves plenty of room for lights, gps and squeaky horns … it also means that a decent sized dry bag should fit easily between the drops.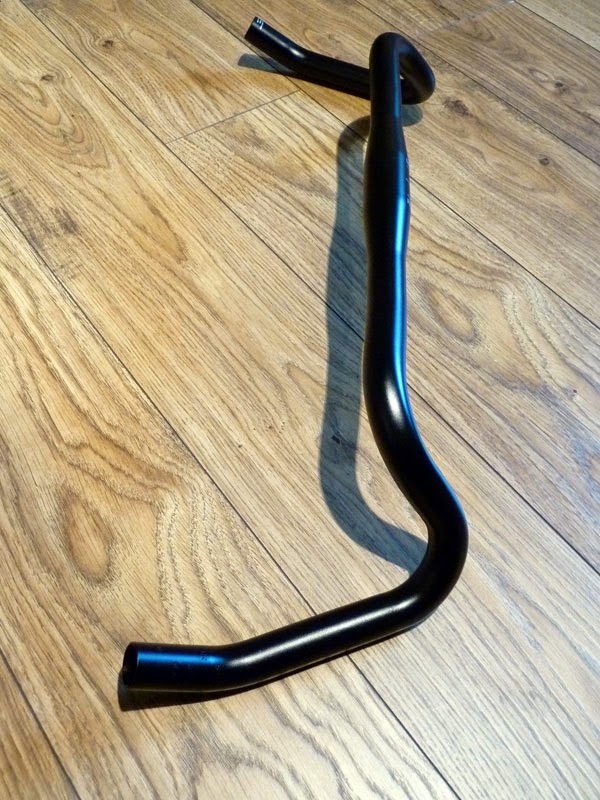 A total drop of 110mm and reach of 76mm brings it well in-line with other 'dirt drops' and coupled with the 21 degree flare distinguishes it as a bar for trails rather than tarmac. Those who enjoy removing pieces of skin from their knees will be relieved to know that the Digest is bar-end shifter compatible and a cable indent at the top of the drop extending across the first couple of inches of the top, should help you produce a beautiful smooth finish when taping time arrives.

At a penny under forty quid, it's still not a 'cheap' bar but it is significantly cheaper than the Woodchipper … which at this point in time is probably its closest rival.

Available from Keep Pedalling and across the internet.