In 1976 I had a dynamo fitted to my Raleigh Tomahawk, 39 years later I've got another one. My first dynamo was quite a different beast to the new one, efficiency wasn't really its strong point. In fact it's difficult to recall whether it generated any current at all or simply produced drag, that when accompanied by the buzzing sound of knurled metal wheel against rubber tyre, made you believe it had an important function. I think it's fair to say that things have come on a bit since the summer of '76 … although I still have a liking for bikes with odd sized wheels and weird handlebars.

Modern dynamos are now highly efficient, drag is negligible and goes largely unnoticed and when combined with the latest led technology, can supply enough light even for the darkest of nights.

In 1976 I also had a camera, it was a little thing that you opened the back up and put rolls of film in – no flash, no auto anything and no batteries. These days, I have a camera that not only takes pictures but video too, it also has maps on it and music and books and the internet and lots of other stuff we can't live without. Then there's the gps that I use to clarify just how lost I actually am, there's also my helmet light and if I had any signal I'd probably buy a mobile phone to complete the package. Unlike my Kodak of old, all my new toys require power, they all have batteries and those batteries run down surprisingly quickly.

Luckily, as well as powering lights, a dynamo can also supply the necessary to keep all manner of gadgets charged and ready for deployment but a little electrickery is required first. Although a bicycle dynamo is called a dynamo, it's actually an alternator because it supplies alternating (AC) current and that's not what we need. Our cameras, gps devices, and battery packs, etc need a nice even 5v DC supply, which leaves us with a missing part in our charging jigsaw. There's lots of gizmo's available that can rectify the dynamos AC to usable DC and also regulate it to the required level so we don't 'fry' our expensive electronics … some are relatively inexpensive, others induce a sharp intake of breath when you see the price. Some are small and easily hidden out of the way, then there's those that are just the wrong side of too big. Wires or more preciously the amount of wires can be another issue, more wires usually means more connections, which in turn often leads to more problems … and having lots of wires strewn over your bike doesn't do much for general aesthetics. Until late, I hadn't seen a solution that ticked all the boxes, if you wanted something compact, that didn't leave your cockpit looking like a plate of worms, it was going to get expensive … and in this case, I consider expensive to mean the unit costs more than the dynamo itself.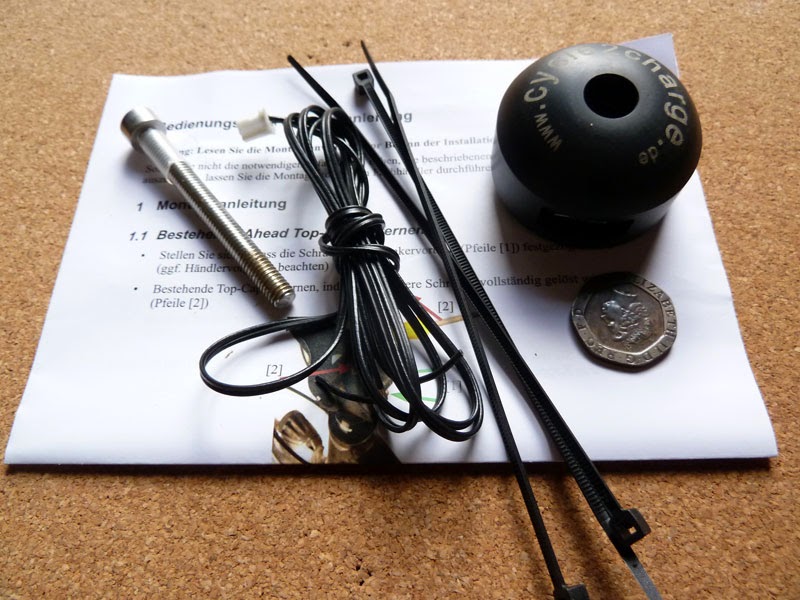 The 20p isn't included

I'm hoping that the Cycle2Charge unit will fulfill all the requirements the 'tight fisted, performance orientated, aesthetically aware' bikepacker could have … the very neat, stem top-cap design is similar to another manufactures but the Cycle2Charge is around 1/3 of the price. External wiring is kept to a minimum as the majority of what little wiring there is, lives inside the steerer tube. The top-cap fitting also means the unit won't take up any of your precious 'bar space', which can be a serious consideration when lights, gps, feed-bags, etc are all vying for a secure home.

The unit comes with everything required for fitting. There isn't much, which I take to be a good sign … a length of wire with the correct fitting attached, a long top-cap bolt, 3 cable ties for wire / fork leg interface and some instructions. The instructions are in German but given the ease of fitting, this really isn't an issue for those of us who can't understand them. The USB port is located on the side of the unit and can be positioned so your cable exists in whatever direction you prefer. One concern with all USB charging devices is the ingress of water and dirt when there isn't anything plugged in, the Cycle2Charge has a cunning trick up its sleeve here. There's actually an outer (the bit you see) and an inner (the delicate bit, you can't see), when you're not using the unit, you simply turn the outer so the cut-out isn't lined up with the USB socket, sealing off the vulnerable inner electronics from the elements … when you want to charge something, just turn it back so the holes line it – simple and hopefully very effective.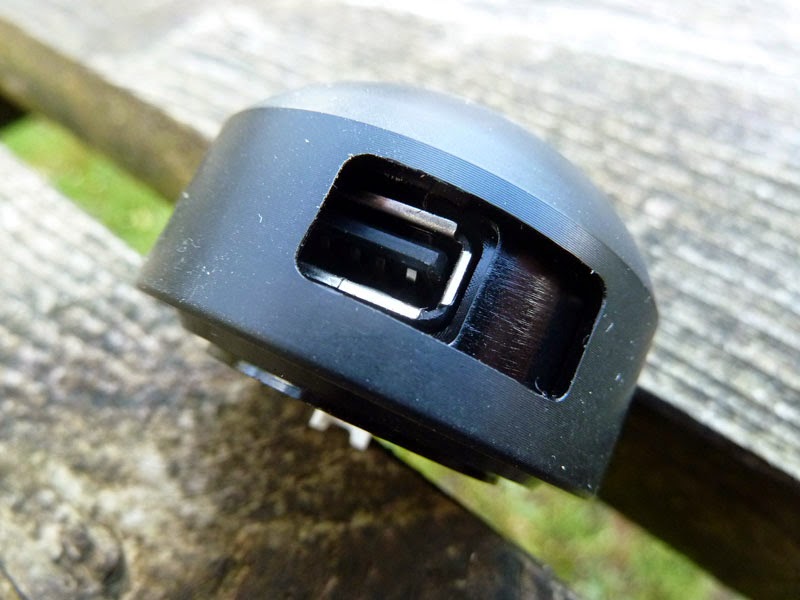 USB port half closed … well 1/3 closed.

In your hand the device feels weighty, not actually heavy but reassuringly robust … it certainly doesn't feel like it's going to crack or fall apart with the slightest knock. If it lives up to expectations then £48 delivered from Germany seems like a very reasonable price, I shall be back before you can say " C'mon, does it work? We want to know" with a full review.

Cycle2Charge

Part 2 can be found HERE