I was fortunate enough to catch the majority of a talk at the Alpkit BSO back in September. It was a talk hosted by Dave Barter and was about the largely forgotten, 'Year' cycling record. My late arrival landed me the worst seat in the house and I'll admit to spending the first five minutes trying to get comfortable on the one arse cheek that had a chair, however the discomfort was very soon forgotten. I watched and listened as Dave worked his magic with flip-chart and marker pen. Thirty minutes later, I thought I had a pretty good idea of what his forthcoming book would be like … I was wrong.
'The Year' is a book chronicling the history of cycling's hardest endurance record. It's a record which is very nearly as old as the bicycle itself and hinges on the simple premise of, how many miles can you ride in a single calendar year. Obviously, anytime the subject of records and record breaking is spoken or written about, figures, dates, times and numbers are going to feature heavily. During his presentation, Dave was able to shade these black and white facts and figures and bring them to life with the colourful characters that recorded them. 'The Year' goes much further – it isn't a book about times, dates and statistics, it's a book about people, genuinely aspirational people.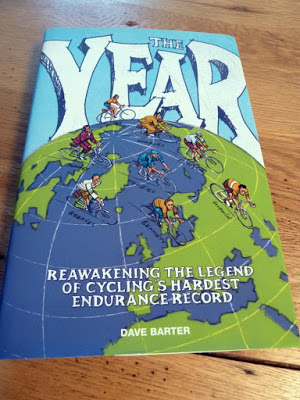 Can you spot the one armed, communist, vegetarian from Yorkshire?
You can't write a book about a cycling record and avoid mentioning distances and times, after all, they're the very crux of the subject but The Year takes them and very skilfully, weaves them into the true stories of the people behind the numbers. Professional racers of 2015 may be tough but many of the men and women who attempted the year record in the first third of the 20th century weren't pro-racers, they were 'just' cyclists. They were riders with a drive and passion that's actually hard for most of us to comprehend. The very thought of trying to prise myself from under a cosy duvet at 5am and ride 100 or even 200 miles no matter what the weather, isn't that appealing. Trying to imagine doing that each morning for an entire year, is something my brain point-blank refuses to do, yet that's exactly what they did do. Injury, blizzards, crashes and mechanical catastrophe were just hurdles to overcome, not reasons to stop riding.
This is one of those books that seemingly reads itself, you really do turn the pages instinctively. You might sit down with a brew and a digestive, thinking you'll see off half a dozen pages, then before you know it, you look up and discover it's way past your bedtime. I think, in part this has a lot to do with Dave's writing style but it's also the characters themselves – you really can't help but like them.
'The Year' doesn't contain many photographs (I'm going to assume those there are, involved some serious work to track down) but there's just enough to put faces to names and quite importantly, remind you of the machinery the riders used. It doesn't detract from the book in anyway, it has just the opposite effect and gives your imagination a broad canvas on which to paint its own vivid, full colour images.
Researching and compiling all the information contained within the book must have been a mammoth undertaking (actually I know it was, it says so inside) and within a few pages you begin to realise why so much time and trouble was lavished on it. In my mind, this isn't a book written to just tell a good story. This feels like a tribute, a tribute to those riders that history had very nearly and all but completely forgotten … I hope I'm right because it's certainly a fitting one.
The Year – available from Vertebrate and that other big on-line book shop whose name escapes me.