I don't wear padded shorts and in 20-odd years I never have and chances are, I probably never will. Perhaps I really do have an arse like a rhino? I don't know but I do know that I just don't get on with them. It's a shame really because when the Aussie Grit Apparel Flint shorts arrived for review, I knew that it was a review that I personally couldn't do. I needed someone else for the job, someone of similar proportions and someone who would put them through their paces … ladies and gentlemen, may I present Steve Large, the current TCW Double record holder, BB200 black badge hoarder and all-round top bloke.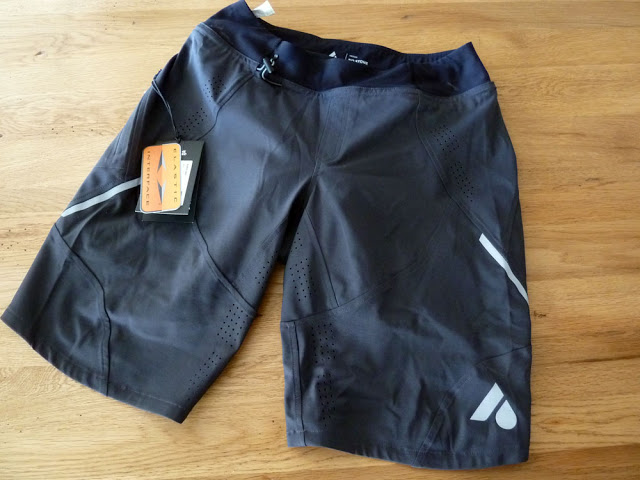 Subtle and understated.
Aussie Grit Apparel is a new high end bike clothing brand started by F1 driver Mark Webber, who, is well known for his love of a bit of biking. Apparently, he started the brand after finding that the cycle clothing on offer fell somewhat short of his expectations and was spoiling his enjoyment of the sport … when you consider the vast array of clothing on offer, improving upon what's already out there seems like quite a challenge.
These shorts are the companies 'Flint' shorts and appear to be aimed squarely at the mountain or gravel rider. Now, I'm going to get the potentially painful part out of the way first by telling you that these shorts retail at a not insignificant and slightly eyebrow raising £149. It's obvious that they're standing toe to toe with the highest of high-end cycling brands … However, initial inspection shows a lot of thought has gone into them. The 'outers' are a multi panelled design and if it's not a contradiction, they're best described as a close fitting baggy short. They come in a subtle charcoal grey colour and are made from a nylon/elastane mix. There's a small zipped pocket on the back of the right thigh, some discreet yet functional reflective splashes and plenty of ventilation 'holes'. They're a good looking pair of shorts – even my better half (who it's fair to say, sees me in lycra more than anything else), commented specifically about how good and "unbikey" they looked. The inners are an integral part with an "Elastic Interface Technology" pad, which according to the blurb is the original elastic pad used by the best cycling apparel brands worldwide. One of the particularly clever pieces of the design is the way they stay up without grippy bits – the wide waistband is elasticated but without being tight, and there is no need for any silicon grippers around the thigh or waist to stop them riding up or falling down. They do just seem to stay in position, no matter what you're doing.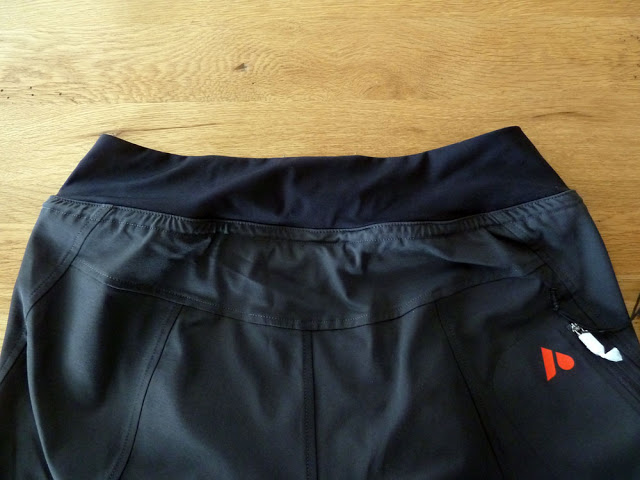 The 'waist band' – it really is quite clever.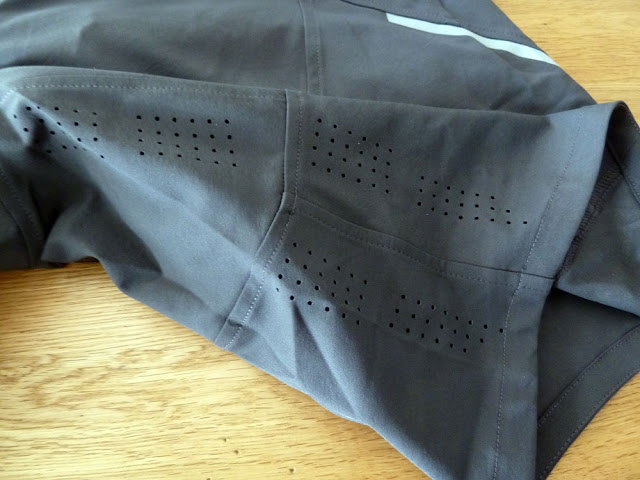 Plenty of vent holes in the outers.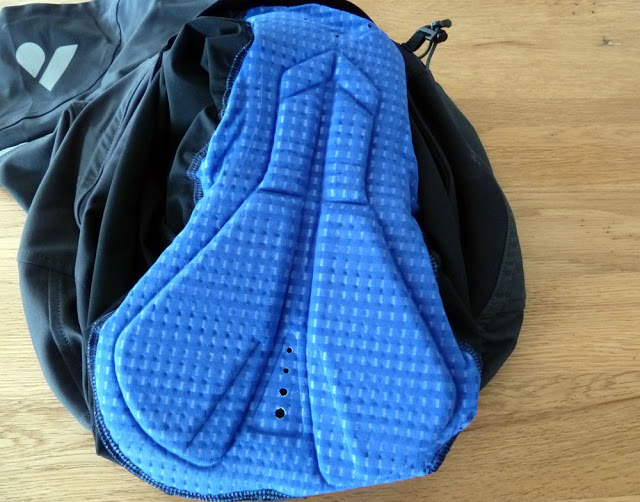 The pad in the inner – Steve seemed to approve.
My rather trim and athletic waist is about 31″ and the medium pair were a comfy fit – I normally wear medium sized clothes and these came in about right. They are 'just above the knee' length, and snug without being tight, and when you're in non-cycling mode feel like a normal pair of shorts.
So, what did I do in them and how did they measure up?
Most of the testing was conducted throughout our stunning summer, which most of you might remember consisted of back to back 26-30°c days. Commuting in them was warm – they are warmer than my usual lycra bib shorts, but as a double layer short that's to be expected. A "charity" ride on the tandem proved them to be acceptable in a social setting, and with sufficient padding to combat a Brooks saddle too. A true test came with my attempt of the 336km TransCambrian Way double – undertaken on a warm dry day (25°c), and a cool night. Worn for 28 hours straight, and riding for 27 of those, the pad proved thick enough to avoid hot or sore spots, thin enough that the bike was still in contact, and seemed to wick away sweat to keep my important bits dry. The shorts were close fitting enough so they didn't flap around, and the material soft enough that they didn't rub, chafe or rustle with each pedal stroke. Considering this ride would have highlighted a deficiency in any pair of shorts, they stood up well, and I was still sitting on the saddle at the end in relative comfort (it wasn't my bum that hurt).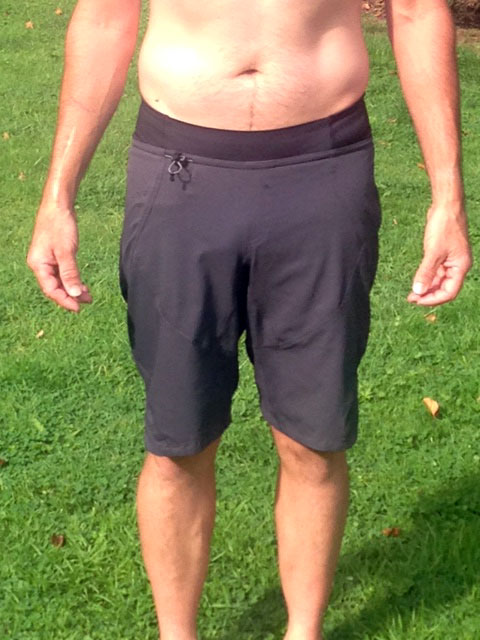 You can see how the waist band sits – and stop breathing in.
Given the once in a lifetime summer, I was still able to try them on a rather wet commute but found myself slightly less impressed – they quite quickly became soaked by the rain and seemed to hold on to the dampness and even in 20degree heat they quickly lost their warmth which I'd become use to.
Durability is the next challenge … The material feels soft, but is it hard wearing (which sounds like an impossible task given the thin feel of the material)? They were only used on "non abrasive" rides – no muddy bums or sandy cracks here. After 400 miles or so there is a small amount of piling / wear on the seat, however the stitching is top notch and I suspect they're not going to give way anytime soon.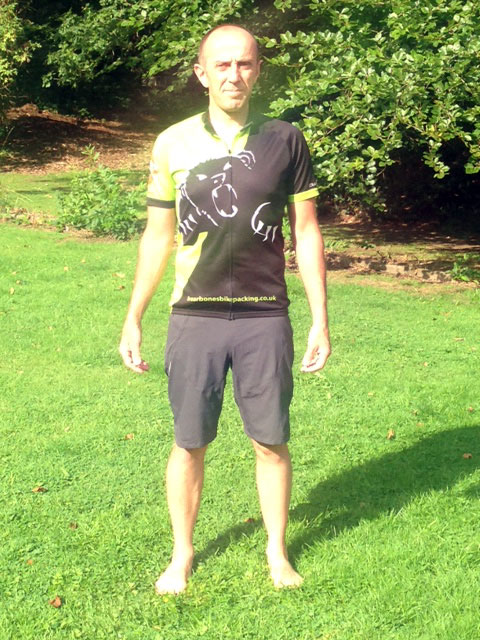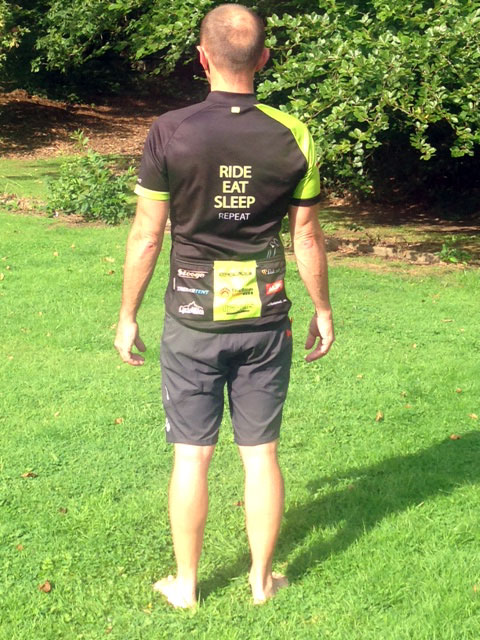 Perfectly fine for a trip to the pub with no giggling from the back.
Would I buy them? There's no denying that they're expensive. £149 is much more than I have ever spent on shorts. My normal 'go to' shorts are Endura bibshorts which cost around £90; they fit me well and last years but these look better (you can go out in public without women giggling and lids pointing) but are perhaps marginally less comfortable. They're warmer (which is both pro and con), and have a useful zipped phone pocket. As someone who accepts giggling and pointing as normal, and who "runs hot", I could probably only justify a purchase if I found them on sale, however if you don't 'run hot', like to look cool on or off the bike and you don't wince when the moths escape your wallet, they would be a worthy alternative to any of the offerings from other high end brands.
In summary, they are well designed (in Australia if that's important), well made from quality materials (in Vietnam if that's important). They look good, fit well but cost quite a lot … as they say, you pays your money, you make your choice.
Aussie Grit