I'm sure Morocco is somewhere many of us would like to spend time exploring, so perhaps it's no surprise that the Atlas Mountain Race has generated considerable interest amongst cycling's great unwashed. It's a seemingly exotic location yet it's within reach and quite accessible and best of all, it has camels. I caught up with Shona and Rich from Keep Pedalling upon their return and annoyed them until they agreed to answer some questions about their Atlas Mountain Race.

1/ Salsa Cutthroat. Under-biked, over-biked or just right?

Actually the Cutthroat was more than fine- it got us around with no mechanicals (except a pucture), we still had feeling in our hands and didn't feel beat up afterwards. Like any event you spend time discussing what other bikes would be better for certain sections – a fat bike for the dunes at the end, a hardtail mtb with suspension for some of the more techy sections. But overall a dropbar 29r with a fatter tyre (2.2 and 2″) was more than adequate.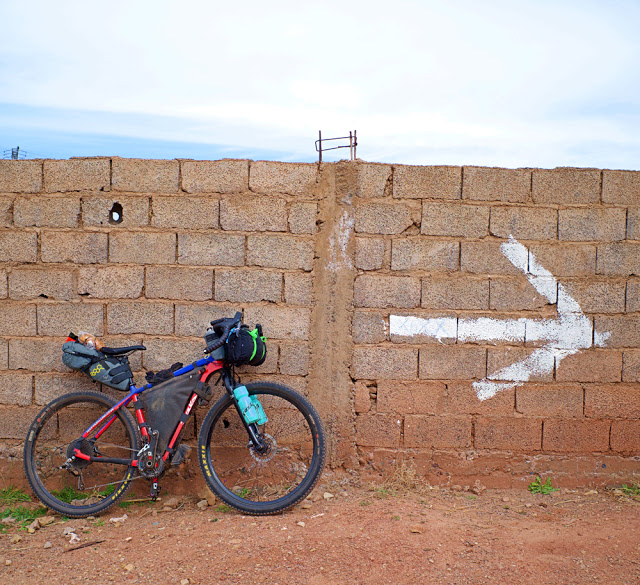 I assume it's that way?

2/ If someone wanted to 'tour' the route and perhaps see some of the sights, how long would you advise people give themselves to do it?

Two weeks would be a good amount of time. That would let you hit towns pretty regularly and re-stock plus give you some time in places like Tafraoute or on the coast to dump your stuff and go sightseeing (Blue Rocks, bit of scrambling on the sandstone or just chilling out).

3/ Bikepacking has largely remained a pursuit for the amateur. Given the growing awareness and profile of bikepacking / racing, do you think that's something that's likely to change.

I think more people are seeing these events and wanting to give them a go which is great. There were quite a lot of 'first timers' on the AMR and many of them finished which is also great. I think as long as you do a bit of homework before you go, have some idea of what you're getting into and have realistic expectations of what you can achieve then you should be fine. The newbie amateurs seem to get on better than the newbie 'pro' racers as they don't have anything to prove- they're in it to get around and not race for first place.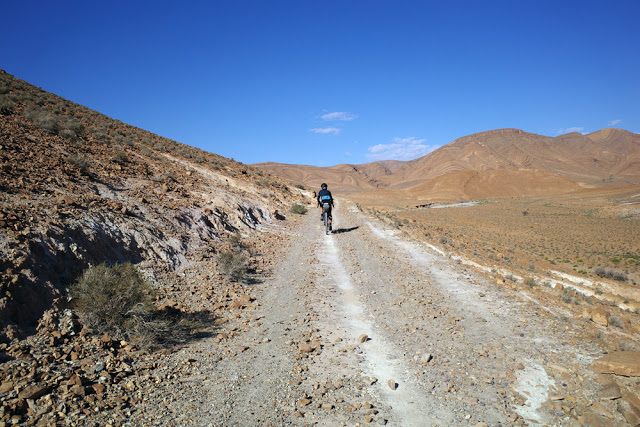 Just imagine having to ride miles and miles of this – dreadful.

4/ You mentioned that you were only going to carry bivvy bags for shelter, how did that work out

Bivvy bags were the right choice, if we'd taken a tent it would have had to have been freestanding or we would have spent ages trying to rock it out in the soft sand (or rock hard dirt!).

The bivvys afforded us a certain 'stealth' which meant we could just pop off the trail and sleep and not have to spend ages looking for somewhere we were happy to pitch a tent.

5/ What were the temperatures like? I'm assuming hot in the day but surprisingly cold at night?

Yes the days were in the 30's and high 30's at one point. Nights were cooler and often quite windy- I don't think we went as low as freezing but it could feel pretty nippy with the wind chill. By dark we were often in warm jacket and waterproof over the top to keep warm. We had one chilly night when we stopped high up on a plateau with no cloud cover but i've been colder on a Bearbones ride!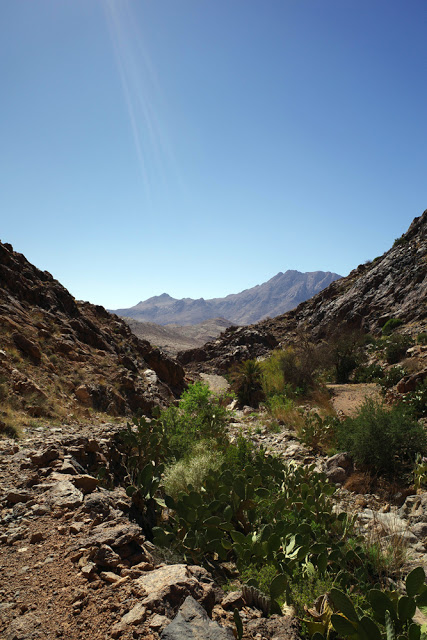 No shortage of sharp rocks and spiky things – fit something with decent sidewalls.

6/ You're no strangers to cycling in Morocco, have you seen any marked changes in the country over the years?

I guess there are more tourists in the 'touristy' areas but out in the sticks it's as it ever was. Out of the towns it's still very much a male preserve in a lot of places – you won't find any women sitting in cafes which can make it a little difficult sometimes getting served or trying to use a bathroom! Having said that I had no real problems and mostly people were just very interested in what we were doing and how we were enjoying the country.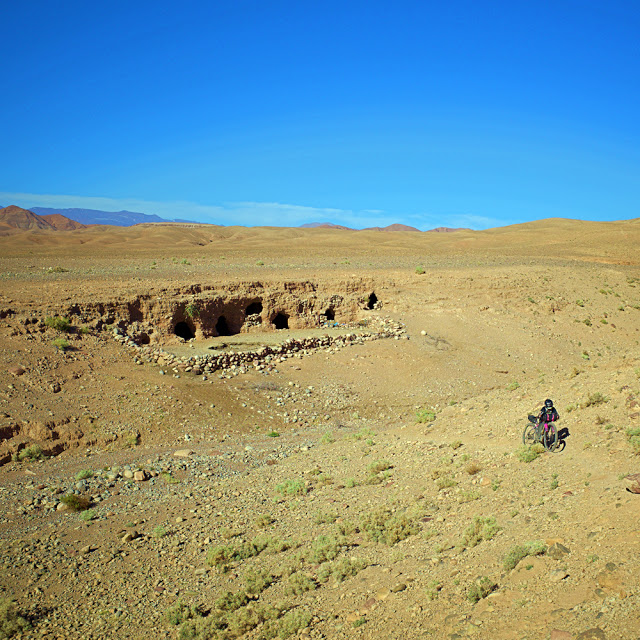 Look at that bivvy spot. I'd kill for a spot like that.

7/ On average, how many hours a day were you riding for?

We'd get up around 5.30- and finish around 12pm/ 1am. Obviously in between there were many food and water stops and faffing around stops- if we could only cut down our 'faffing' time we'd be so much quicker 🙂

8/ As vegetrarians, did you have much difficulty sourcing food?

Yes and no- tagines are normally readily available but always with meat- if you have the time to wait around then you could get a veg one made. For a quick vege meal it's omelette and bread – this was always available in all the cafes and truck stops. The shops were pretty well stocked with bread, cheese, biscuits, jelly sweets, water, coke and sometimes fruit!- everything you could want really.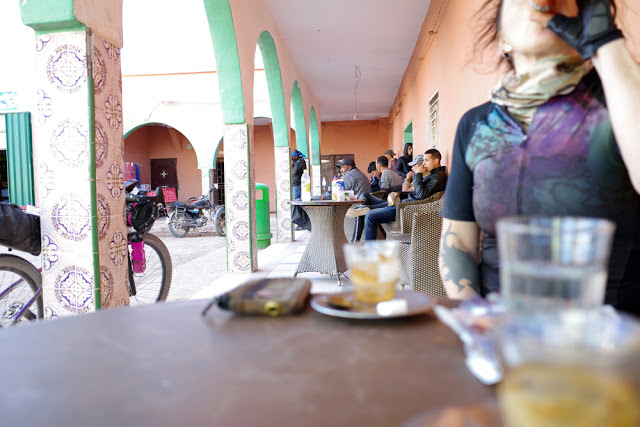 Yes, that's Shona enjoying a beverage.

9/ There's always something you wished you'd taken but didn't. What was it?

Actually nothing- we used everything we took and didn't forget anything. No, I take that back and request more skittles!

10/ If you could offer one piece of advice to anyone thinking of riding the route, what would it be?

If you see food and water pick it up!

11/ Is there a high point and low point that stick in your mind?

High point was some of the amazing flowy singletrack that just went on and on – brilliant riding. Low point- sand dunes at the end when mentally I'd set myself up for just rolling in the last 10km then it took an extra 2 hours. Rich's low point was some long draggy road climbs late at night when he was suffering from sore knees (he wasn't a happy bunny!)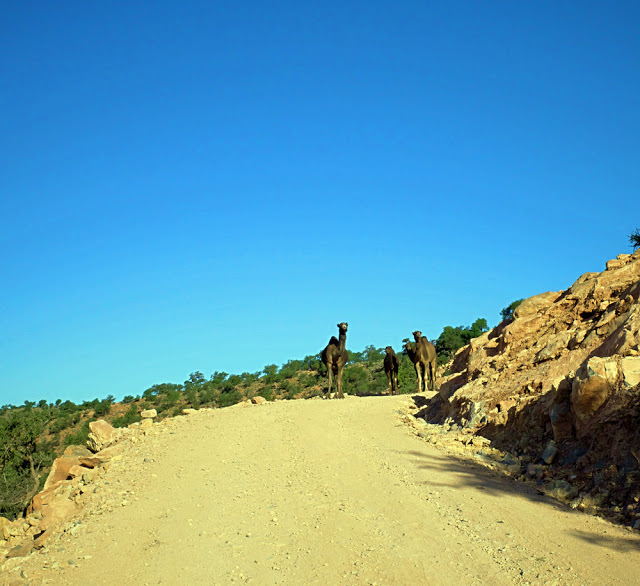 Friendly locals round every corner

12/ I'm a big fan of Camelids, have you got any camel stories for me?

Aagh, we saw some camels early on in the race but only in the distance, then on our last day we were crawling up a climb and we saw one pop it's head around the corner, followed by another and another. All very cute (and large), we were trying unsuccessfully to shoo them off the track to get by until a local guy came along and showed us how it was done.

One of our friends got kicked by one of them and it dinged his rim (at least that's what he's telling us!). We also saw wild tortoise's- Rich spent some time moving them off a road so they didn't get squashed 🙂

A very big thank you to Shona and Rich