WRT? Which rabbit Tony? Wrinkly right toe? Warm rectal thermometer? No, forget your personal habits for a moment – WRT stands for Welsh Ride Thing. If you've not heard of it before, then please allow me to try and explain … it's a blindingly simple concept, but that same simplicity, can make it somewhat hard to grasp … it might be easier if I take you through an imaginary fly-by of the next few months.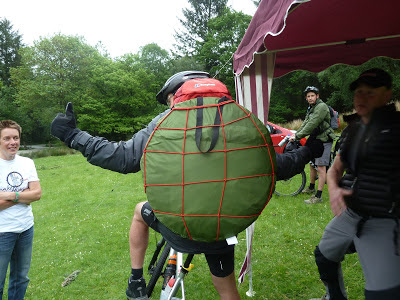 Cunning ploy to smuggle a 'pop-up' tent through customs by disguising yourself as a turtle.
Step 1 / Book your ticket … This is a simple on-line procedure that you can do anytime between February 1st and March 31st. There are no deals to be had by late booking, so there's not really much point in waiting until the last minute. With your ticket booked, simply return to whatever you were doing before and forget all about it for a while.

Step 2 / Accommodation and transport details arrive … On April 1st you receive an email outlining the basic itinerary of your trip. So far, you've known that your destination is mid-Wales but now you'll know which part. However, this isn't an all inclusive trip, so you'll have a little work to do adding flesh to the bones before you know exactly where you're going.

Step 3 / Arrival at the departure lounge … While a Welsh hill farm isn't easily mistaken for terminal 2 of Manchester airport, it is where you'll find yourself on the morning of April 29th. After you've deposited your car in the long term car park, simply make your way to the check-in desk. After checking in and receiving your in-flight entertainment, you can proceed to the over-size baggage department and have your bike and hand luggage weighed by a shouty northern bloke. Once that's out of the way, you're free to mingle with the beautiful and interesting people within the duty free and cafeteria … complementary drinks will be available.

Step 4 / Prepare for take off … Around 12.30, your captain will announce the winners of the prize draw over the tannoy and your cabin crew will run through any last minute safety checks – please pay attention.

Step 5 / Buckle up … Your flight is due to take off at 1.00pm. At the allocated time, your captain will make one last address which will sound something like, "okay, off you go" and that's it, you're in the air and flying.

The following three days are now in your hands. If you studied your Lonely Planet Guide to mid-Wales properly, you should have a reasonable idea of what's in store. Obviously, you can't plan these things to the nth degree and you can't always account for differences in culture and customs when travelling to foreign lands but that's just part of the experience and should be embraced.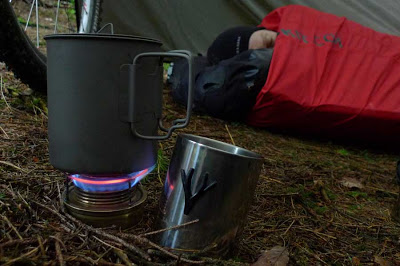 Jayne enjoying a lie-in before another hectic day of site-seeing.

If that sounds like the trip of a lifetime, you can book your ticket HERE from Feb 1st onwards.