Those of you of a certain age might recall the Wash & go advert from the late 80's. You may remember the bloke jumping in the shower carrying just a single bottle. It wasn't shampoo, it wasn't conditioner, it was Wash & go, that's right shampoo and conditioner in one … why take two bottles into the shower, when you can wash and go?

Trying to keep things simple is a very worthy aim, as a 'bikepacker' it can result in reduced weight, less bulk and an altogether more pleasant experience. Any items of equipment that are multi-use, often help in our quest to simplify things and usually result in minimising pack size, weight or if we're lucky, both.

When I first saw the Vargo BOT last year, it spoke to me. Through the screen of my laptop, it whispered "I am a cooking pot, I'm also a water bottle", I was liking what I heard until it hit me with the punch line, "I can be yours for just £85" … it was about then, that I stopped listening. I may have been looking for simplicity but I wasn't willing to spent quite that much to find it and I can only assume I wasn't alone. Fast forward a number of months and imagine how my little face lit up when I spotted that Vargo had introduced a stainless version of the BOT. Granted, it's not as light as the original titanium version but nor is it anywhere near as costly … maybe my desire to only carry a single bottle into the showers of Wales could be fulfilled after all?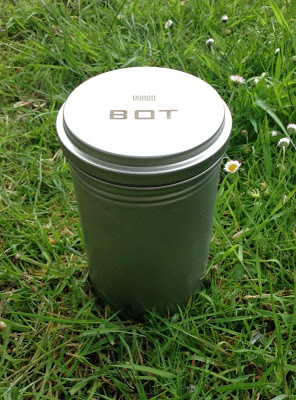 It's hard to believe I was getting excited.

The Vargo BOT (Bottle/pOT) is, as I've mentioned already , a water bottle and a cooking pot combined. It features a water tight screw-top, that if flipped doubles as a lid for when bottle becomes pot. The capacity is a very generous 1 litre and the outside dimensions are 160mm high x 98mm (115mm lid O/D), so it's bigger than most water bottles or solo pots. While it's nice to have a little extra volume from time to time, my first impressions are that the capacity might actually be a downside. Why? Because the BOT doesn't fit in a standard size bottle cage. Had I bothered to read the specs properly, then I'd have been forewarned … but I'm a bloke and specifications are like instructions. However, I'm going to suggest, that at the moment, I don't consider the size to be a deal breaker, the BOT does fit nicely in a Monkii cage, a backpack side pocket and also snugly inside most frame bags, so you should be able to find it a happy home somewhere. The stainless version's certainly heavier than its svelte 140g Ti sibling but at 260g it's not heavy enough for that weight to become a real issue … lets not forget that as soon as you fill it, it'll weigh an additional kilo anyway.

My initial plan is to use it with an AfterBurner stove and make a tall tapered windshield to work with it, which can hopefully live inside the BOT even when it's being used as a water bottle, so if I don't poison myself, I'll be back before too long to let you know whether you really can just take a single bottle into the woods.

Update
The windshield is now sorted and testing has commenced.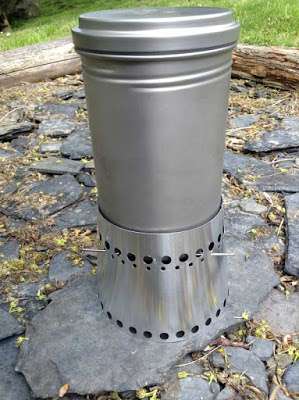 Plenty of wind protection and fits neatly inside.