The Tour Divide is something that many people dream of, yet only a relatively small handful ever make it to the start in Canada. Of those who do, not all will make it to the Mexican border and fewer still will do so in less than twenty days. To achieve that, takes fitness, mental fortitude and even a degree of luck – although, that may be of your own making rather than simply gifted to you.
Steve Large is a long time 'boner', owner of more BB200/300 badges than I can recall and the fastest person around the Big Bear route. This year he also travelled across the Atlantic and took his place on the TD start line and just over eighteen days later, he had his picture taken against the famous wire fence at the Mexican border. Luckily, he's also a genuinely 'nice bloke' so was seemingly happy to oblige when I asked if he'd mind answering some questions about what it took to get from Canada to Mexico on a bicycle … Thank you Steve.
!/ I know you've had the TD on your horizon for some time but when did you actually begin your preparations in ernest?
It started for me a few years ago. I was quite ill (intensive care with Sepsis) in Jan 2020, and decided then that life was going to change. Less work and more time to do the things I/we wanted to do and never had time for. Then all the Covid lockdowns started and that really confirmed my plans, and in December I turned 55, and in Jan 22 I started a 12 month "sabbatical" from work (I had to resign, but they'll have me back if plans align). So real preparation started at the end of January – I started longer rides and had a mileage/time target each month, rather than just commuting most days. This really helped, and I rode the Tour of the Cotswolds (including to and from home) that was about 300 miles over 2.5 days (2 nights) and King Alfred's Way included to and from home – about 350 miles over 2.5 days (also 2 nights). These were both tests of gear and setup as well as long ride training. Plus regular rides with my local club and solo. I had a plan to ride around 6000km in preparation – in reality it was less than that, but starting the race undertrained is always better than overtrained.
Also, the UK riders had a Whatsapp group where we shared information from previous years – route info, water sources, campgrounds, food resupplies etc. This was invaluable on the actual race as it was fairly straightforward knowing how much food and water to carry to the next resupply, and what times towns and shops were open.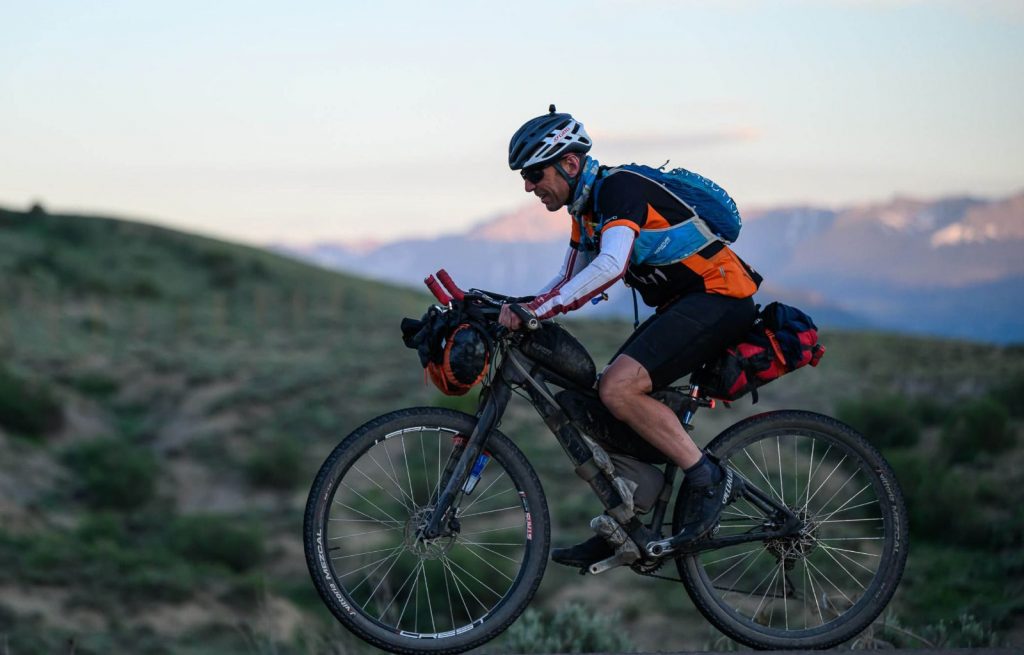 2/ They say the TD is the most expensive free race you'll ever enter – does that ring true?
Oh yes – it's easy to keep buying stuff as this is the "trip of a lifetime", but in reality most of the money was spent on flights, insurance and spending money (assume around $100/day average on food and accommodation). It could be done cheaper, but then the risk of hardship increases (I could have camped every night, but this can be a miserable experience when cold, wet, dark and in bear country. I could have forgone travel insurance, but then US medical bills are prohibitive).
3/ Is Crazy Larry really crazy?
Due to the earlier and staggered start time this year, Crazy Larry wasn't at the start, however he was at a road/singletrack junction around 40 miles into the first day. He actually was a really nice bloke, and had an excellent knowledge of previous years races and their competitors. He looks a bit mad, but I think that's normal around some parts of the world.
4/ Did you have any particular high or low points during the ride?
High points – the first week was incredible. The scenery was fantastic, and on an epic scale, and cresting a pass or rounding a corner to be met with a view of snow capped mountains as far as the horizon was breathtaking. For me that was a massive high, and the reason I was there. Another high point was when I was riding into a strong headwind on a long washboarded gravel road out of Lima, in 30°C blazing sun, and 2 lads in a pickup went past and handed me a cold Gatorade out of the window saying "here you go – it's all we have". I didn't need it (I had loads of water), however that act of kindness was a massive motivation when the trail gods were conspiring against me.
Low points – only really one – and that was my first real taste of peanut butter mud. I'd got going early to avoid the headwinds that appear from late morning, and was having a bit of type 2 fun on a washboard gravel road, that then turned into a dirt road, that then got softer and softer and turned into peanut butter mud. This mud sticks to anything except itself, so my tyres, gears, frame and shoes all got covered until the wheels wouldn't go round. Then I'd scrape it off, push another 20 metres, scrape it off, push a bit more, repeat. In 2 hours I think I covered less than a mile. I then decided to wait for the mud to dry out a bit (supposedly doesn't take long), and a car came sliding down the dirt road. It stopped and the occupants asked if I was OK – I was, but "how long does this go on for?" I asked. "It could be another 12 miles" was the reply…. "but we own the pie shop in Pie Town and there's a piece of pie waiting for you when you get there". That was good news, but 12 miles of this – no thanks!! I had a bit of a tantrum when they'd left. And a sit down, some chocolate and a word with myself. In the end it was a miserable road, but I made it out with a bit of pushing, a bit of riding and my favourite stick for scraping off mud (this is a common comment for TD racers – they all find a stick that accompanies them for a few days once the mud makes itself known). Four hours later I walked into the pie shop and they said "that was quick!". The pies were good though.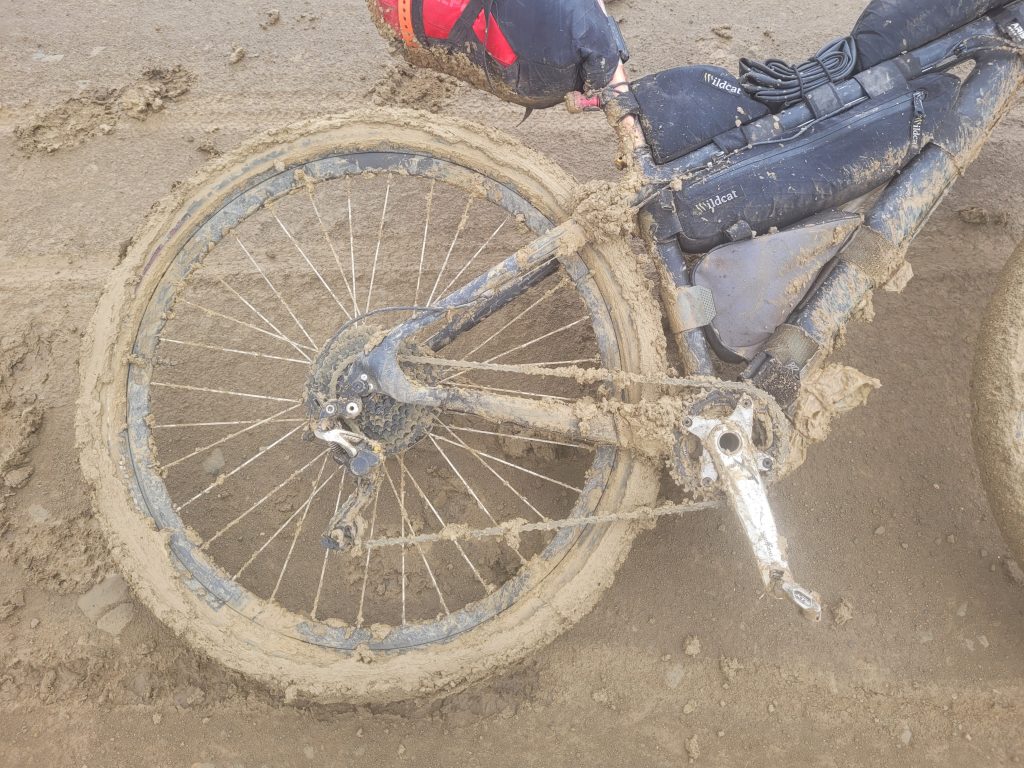 5/ What were you carrying shelter wise?
I decided early on that I was going to take a tent. I had a Terra Nova Laser Comp but it was probably a bit big (and heavy!) for what I needed so in the end I copied Chris Ellison (a TD vet and Dales Divide organiser) who had a Terra Nova Pulse1 – he had the cuben one at <500grams, but for a lot less money I found a standard one on ebay that was 550 grams (a bit more when I used carbon pegs). A tent was a much better choice than bivvy bag or tarp as it was weatherproof and insect proof. Plus this tent was about the same weight as a tarp plus bivvy. I couldn't make a decision based on the weather as any decision on what to take was well ahead of the weather forecast, so I had to prepare for the worst weather (and hope for good weather). During the race I camped about 5 times, used campground pit toilets a couple of times, and used sheds/lodges/hotels for the remainder. My sleeping bag was my Cumulus Quantum 200 – it's warm and light, and I had a Thermarest Neoair short mat and a small inflatable pillow. All my overnight kit, including spare base layers and down jacket, weighed 2kg and fitted in a 12 litre rear seatpack.
6/ Conditions appeared less than ideal in the early stages. Did you manage to get ahead of the weather or just press on regardless?
I was quite fortunate on the weather front. The first few days were a bit damp at times, but mostly sunny, so things dried soon after getting wet. The snowy passes in Canada and Montana were a push, but the weather was good (dry and sunny), so it wasn't cold. The riders a day or so behind me suffered snow storms and fresh snow on the mountain passes which slowed them down further (and a few were rescued either through injury or hypothermia). I think a fair few sat and waited for the passes to become easier before they were attempted. For me the days were sunny and hot for the first 2 weeks (my ears got badly sunburnt), and then around Colorado and New Mexico it became wetter – but mostly short storms that soon cleared away and everything dried out. New Mexico for the front riders and the NOBO riders had been 40°C heat, but when I got there it was overcast and mid 20's. There was a couple of times when storms were ahead or behind, and it was a conscious decision to stop early to let the storm pass whilst I slept. Others who pressed on got cold and wet, and I ended up catching anyway, so I'm happy I made good decisions. I think the weather for riders behind me wasn't anywhere near as kind – a lot more rain and mud judging from some reports, so I think I sat in a small pocket of half decent weather between the riders at the very front and the midpack riders.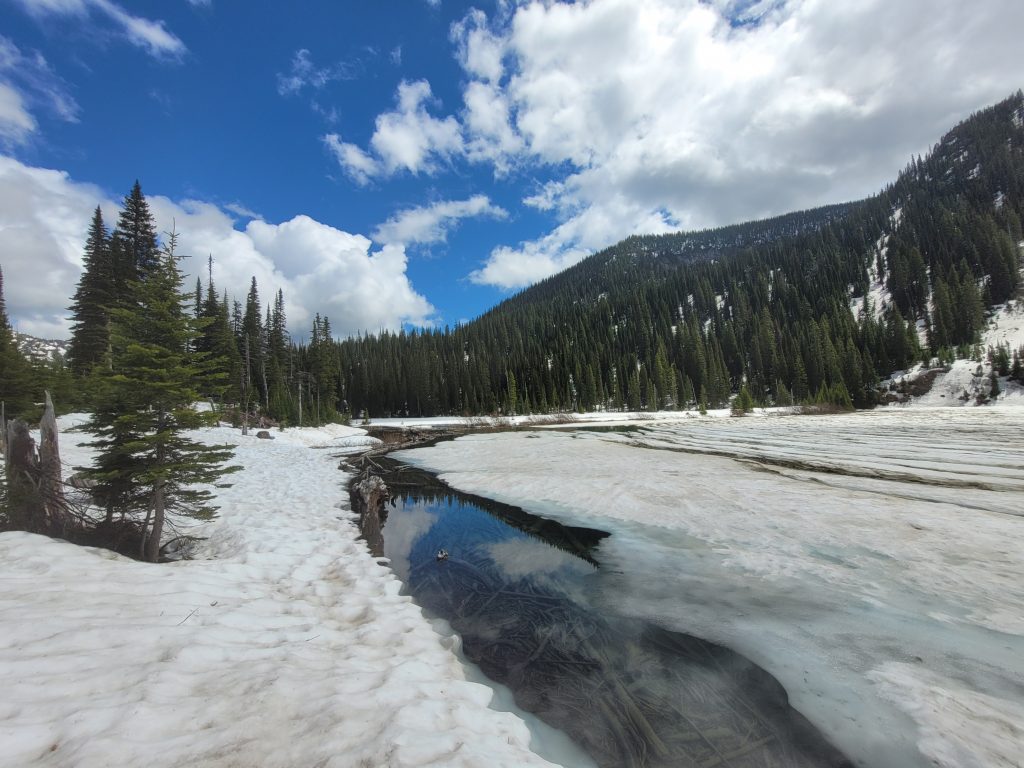 7/ What was the worst and best thing you ate?
The best things were either bean and cheese burritos (gas station fine food selection!), or meatball subs (from Subway). Both calorie packed and quite tasty. Chocolate milk shake was also high on the list (I met one fella who carried a 4 litre container of chocolate milk shake in a rucksack and lived on that for most of his food intake!). The worst food was some kind of egg muffin – the muffin was inedible without soaking in water first. I had to donate most of it to the local birdlife. Overall I did OK with food – every day I was able to get some fruit, and didn't run out at all.
8/ What bike were you riding and was it well suited?
My bike was my carbon hardtail (Planet X Dirty Harry) that I built up for several HT550's, but fitted rigid forks and aero bars. It's still got 10 speed, but this works and I didn't fancy changing to 11 or 12 speed just to give more gears. To give myself the same gearing as a bike with 10-52 cassette I fitted a 28T chainring and a 34T chainring – and changing would be done manually (for long climbs etc) – no front mech. This worked really well and also gave me a spare chainring for a total weight penalty of 30grams or so. With a Salsa front cradle (shortened) and a Wildcat seatpack, a Wildcat half frame bag, 2 top tube bags and a cheap triangle frame bag I was able to carry everything I needed. I also had a running vest with a 2 litre bladder and valuables (passport, cards, money etc), and it acted as an overflow bag for food. The bike was perfect – comfortable, light, reliable and handled well. The only mechanical issues I had were the freehub that needed a strip, clean and relube, a set of brake pads and the rear mech hanger snapped in a batch of peanut butter mud (I carried a spare). The drivetrain is now well worn, but still working. So many people rode Salsa Cutthroats – I can see why, but for me flat bars give far greater control off road, and I was able to coast down descents where gravel bikes were more of a handful. My bike wasn't slow on climbs or road sections either, so I am still a "the best bike is the bike you have" type of rider.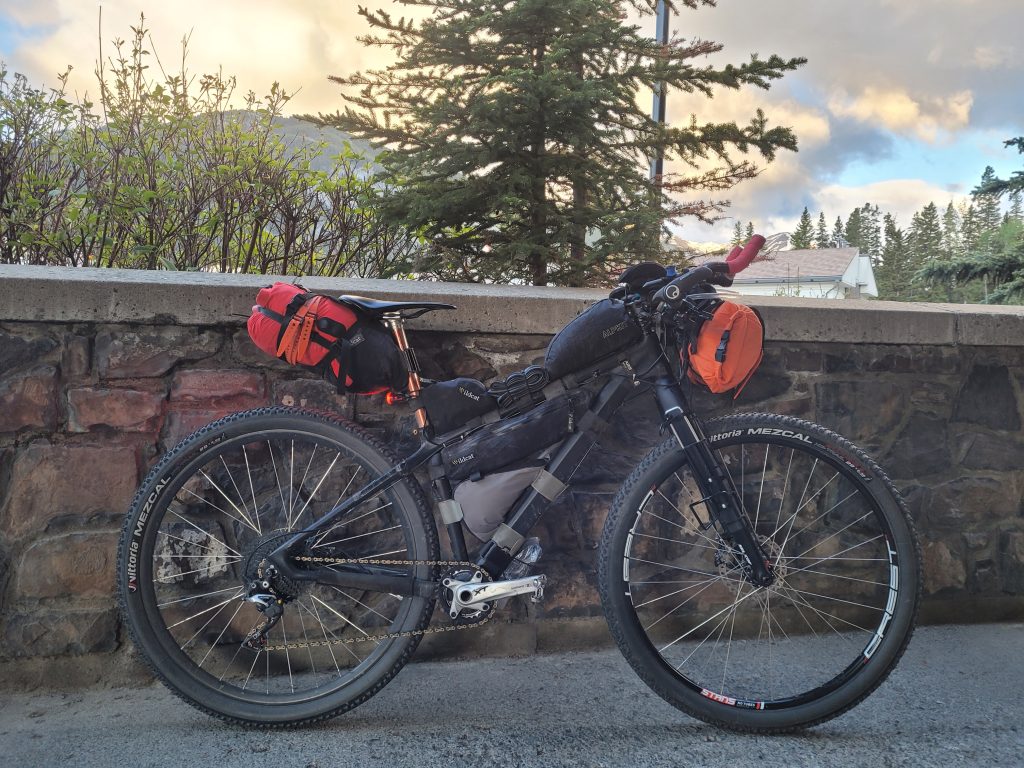 9/ Was your finish time what you'd anticipated?
I'd said 20/21 days to most people, but had an internal target of 19/20 days. I think I'd told someone 17 days as well, but that was after reading a book by Ty Hopkins who had finished in 17 days, and whilst he didn't make it sound easy, 170 miles/day when sat at a computer sounded feasible. In reality 130-140 miles/day was much more achievable for me, and I decided about 3-4 days in that I was here to enjoy it and not punish myself, so I kept riding until I'd achieved my plan for the day. There were quite a few days where I'd planned to get to a certain point, but stopped 30 miles early as I'd had enough, and the next morning was happy with the decision as the 30 miles took another 4-5 hours. To finish in 19 days and 1 hour meant that with a bit better time management an 18 day finish would have been quite possible, but I am still more than satisfied with my result.
10/ Which was your favourite state?
Montana – it's a massive state (around the size of England), and the scenery changed dramatically – high snow capped mountains, forest, prairie, canyons, rivers – all breathtaking and vast, and the people were incredibly friendly, and just lots of space. I have committed to going back, but on more relaxed terms with Helen and hiring a motor home and travelling for a few weeks.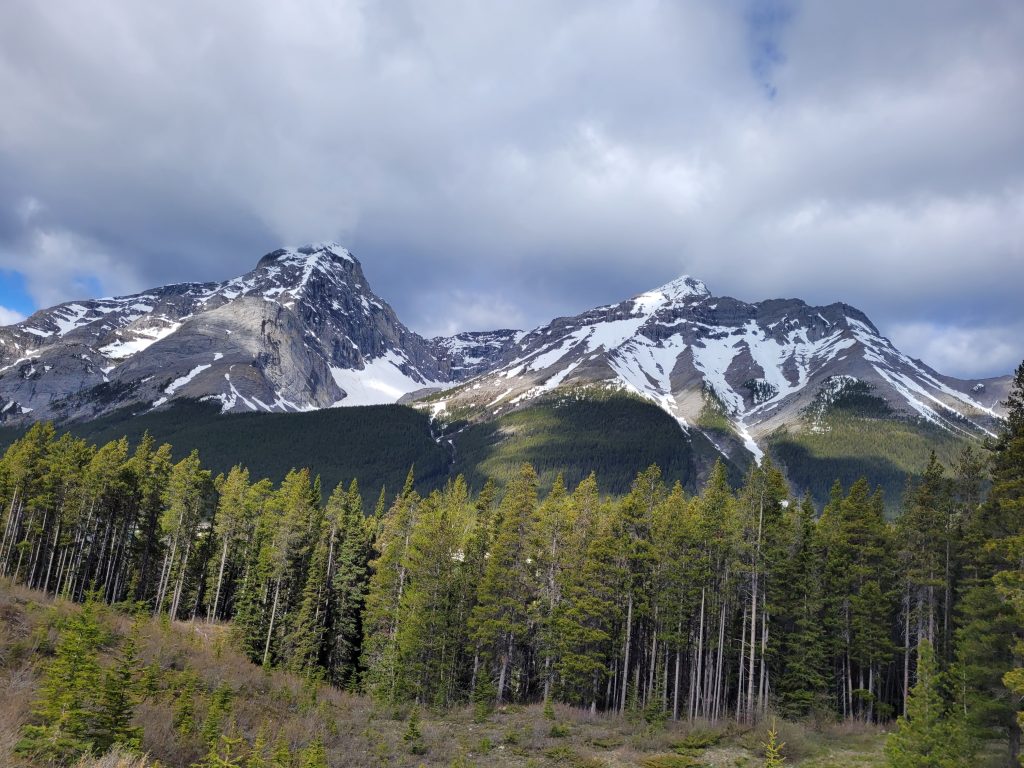 11/ Is there anything you wish you'd taken but didn't?
Spare legs. In reality I took everything I wanted or needed – I had some spare clothing I didn't use, but if I had been one of those stuck in the mountains when the weather turned I would have used it.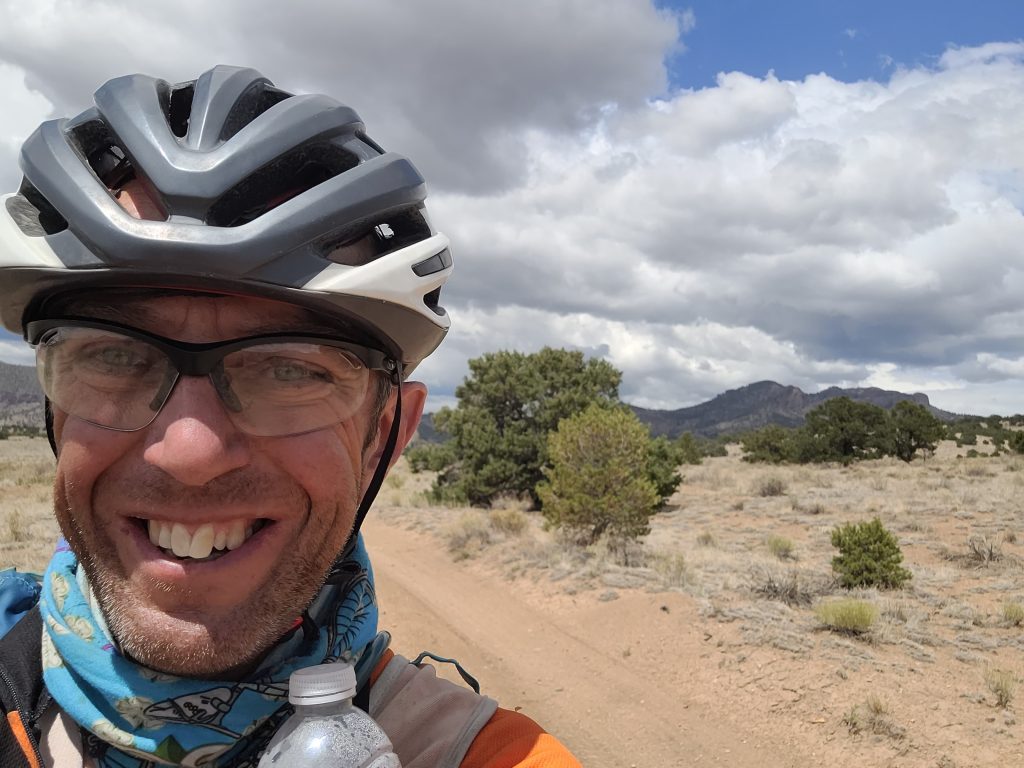 12/ For most, the TD is a once in a lifetime trip, yet somehow many end up returning – would you go back?
No, it's not that it is a box ticked, it is more that the race for me is 1000 miles / 1 week too long. I didn't enjoy New Mexico as much as the more northern states as I had got to the stage of "Had enough now, just take me to the finish". Plus I think knowing what is coming would lower my morale as there are some sections / climbs where the riding is just long (30 mile climbs, or roads that stretch to the horizon and take an hour to get to the next bend). And when I enjoyed it as much as I did, I would worry that going back for a 2nd time would spoil the memories. And I would have to beat my last time, so that would increase the pressure and decrease the enjoyment. Knowing all this makes it a once in a lifetime race for me, however I would do sections again (if there were a "Tour of Montana" that was 1000 miles, 1-2 weeks I would be quite interested).