If the doom-mongers are to be believed then the last couple of months have been the wettest ever recorded. Besides an abundance of rain, I can also personally vouch for the severe high winds that have seemingly accompanied each and every deluge. While we shouldn't allow these conditions to prevent us from riding, they do present a few challenges above and beyond what's usually considered normal in 'our line of work'. You might as well forget about keeping yourself dry, it's like picking a fight with a regiment of the Foreign Legion … it's one you're not going to win. Any breathable waterproof material is going to find itself overwhelmed when 60mph winds are driving the contents of the worlds oceans at you for hours on end. Even if the material holds out against the onslaught, zips, cuffs and the hole where your head goes will eventually fail and that creeping damp feeling will begin to spread beneath your outer layers.
Although we might have to admit defeat in the battle to keep ourselves dry, there's probably some items about our person that we simply can't afford to get wet … soggy phones don't work well and the woman in the cafe won't believe that screwed up lump of soggy tissue, is in fact a £20 note. No, these special items must remain dry at all costs and I believe this is one answer to the question of how best to do it.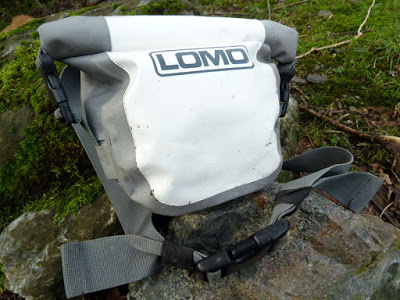 Simple, effective and tough.

The LOMO waterproof waist-pack or bum bag is exactly that, a fully waterproof bag that fits round your waist, hangs over your bum (or fanny if you're American) and provides a water-tight haven for all those items you really can't get wet. It's made from a tough PVC material, has welded seams and a roll-top closure, meaning it's more than capable of keeping the elements well and truly on the outside. Both the roll-top closures and the generous waist strap feature glove friendly quick release buckles and simple, 'pull to tighten' adjustment.

Aside from saying, there's plenty of room for your phone, keys, cash and camera, I didn't actually know what the capacity was, so to find out, I thought I'd conduct a simple experiment and fill it with water – I'm happy to report that yes, it really is fully waterproof and the usable capacity is around two litres once closed. Unlike a normal dry bag, the body of the pack has a certain amount of rigidity to it, so will actually stand up. Combine that with the fact that it's water-tight and not only have you got yourself waterproof storage by day, you've also got a three litre water collecting / storage bag for camp duties … I'm sure LOMO didn't have that in mind but given the bikepackers love of dual-use items, it seems like too good an opportunity to miss.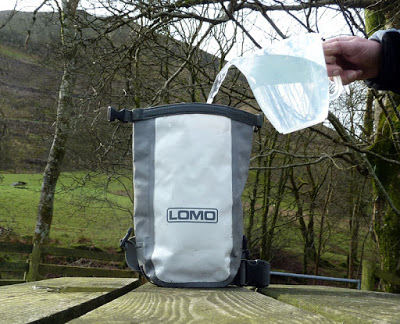 Provides 2 litres of storage or over 3 litres of water carrying capacity.
In use you really have no idea it's there. Although the design is simple, there's no noticeable bouncing around or unwanted movement. Perhaps that's partially due to the capacity and the nature of what you're likely to carry in it but even when I crammed it full of emergency processed pork products from the 24 hour petrol station, it remained perfectly stable. The actual body of the bag is free to slide on the waist belt, so you can alter the position of the bag in relation to the main buckle and it also allows you to slide the bag to the front, so when you want to delve inside, you can do it without removing the entire pack.
If you consider how much your phone cost, what your camera's worth or just how upset you'd be destroying the occasional twenty pound note, it's hard to justify not owning one. £10 direct from LOMO.