You can't deny that spending the night in a tent rather than under a tarp produces quite a different experience. One isn't better than the other, it's just different. Some people don't like sleeping under tarps, for whatever reason they prefer to spend their nights 'in' rather than 'under'. However, many of these people probably don't really want a tent either … too heavy, too bulky or maybe, just too much.

In reality, the sensible amongst us will likely have a foot in both camps, we'll select the shelter that seems most appropriate for the anticipated conditions and try and work around any downfalls resulting from our choice … but imagine if there weren't any downfalls and the shelter we packed was always the correct one, a 'half way house', something that offers the benefits of a tent while still retaining many of the positive attributes of a tarp, such as low weight, small pack size and versatility. Wouldn't that be something worthy of serious consideration? You wouldn't have to choose what to pack, you'd simply have to decide how to set it up to best suit your circumstances on any given night … well, you don't have to imagine it because it already exists.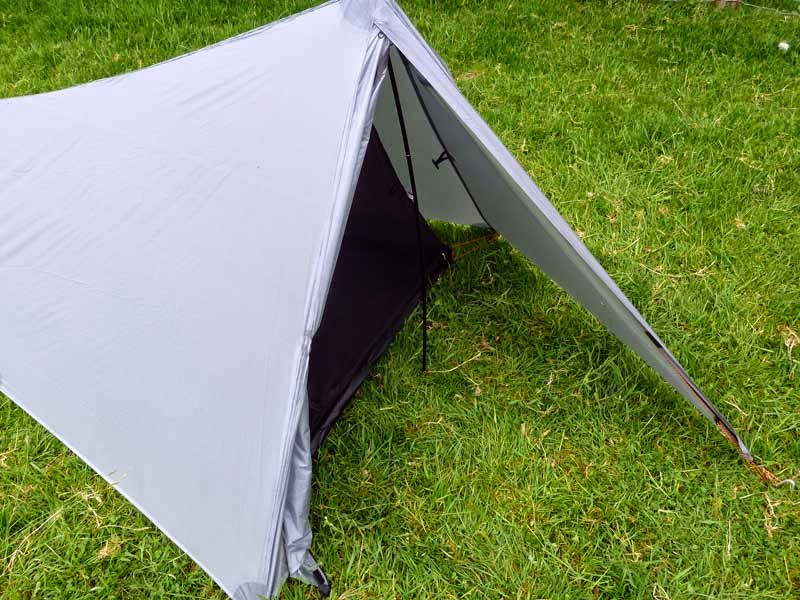 At first glance the Trekkertent Stealth looks much like a small ridge tent and that's really no surprise because if you set it up like a small ridge tent, that's exactly what it is … just a very, very light one. The Stealth sports a removable 'inner tent' with a lightweight net upper and waterproof bathtub groundsheet, so it does a great job of keeping the winged teeth out and stops the slugs from crawling in beside you for a cuddle while you're sleeping. Access to this pest free sanctuary is gained via a 'J' zip on the front meaning the front panel can be opened fully and tied back on those nights you want some company … it also makes getting in and out something creaky 40-odd year olds can achieve without doing themselves a mischief.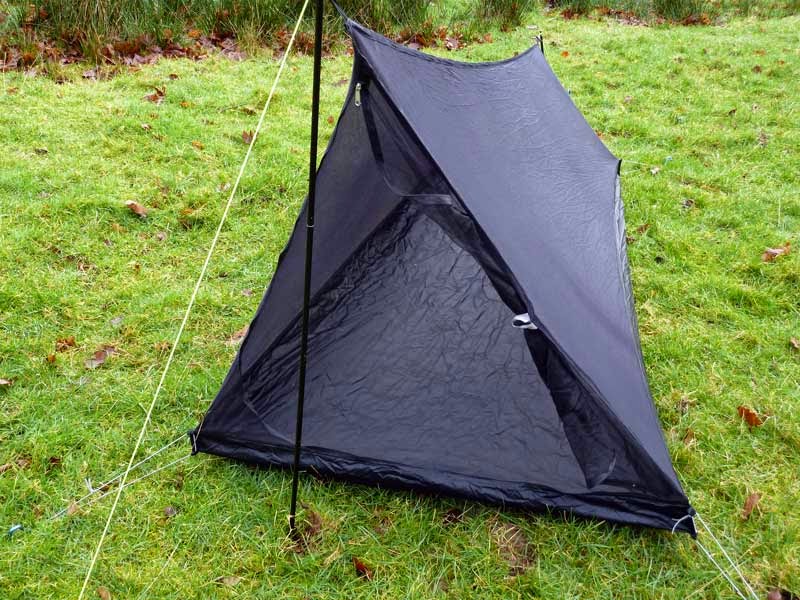 J zip … for easy access.

If I were an estate agent, I'd likely describe the inner as 'cosy' rather than 'spacious'. It isn't cramped, there's more than enough room to accommodate you and your kit, just don't expect something of 3 bed semi proportions. Although the shape of the Stealth tapers toward the 'foot end' in both height and width, the floor of the inner remains more than wide enough, starting at 90cm at the 'head end' and dropping to 63cm at the foot. The inner length is 205cm, so it'll happily swallow someone 6'6″ atop a full length rectangular air mat and leave room to spare.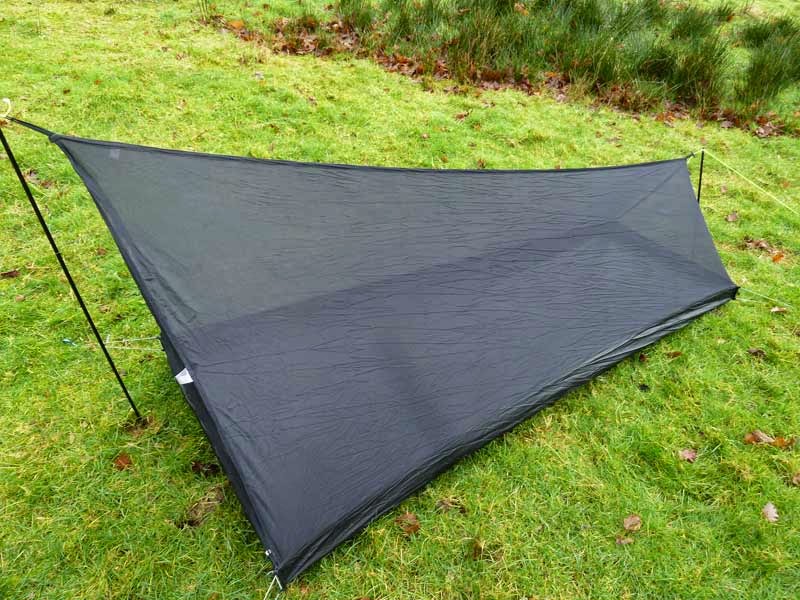 If you need it bigger there's a Stealth 2 available.


While the decrease in width from one end to the other doesn't seem that noticeable, the reduction in height is something people will probably take more notice of. The high point is where it's most welcome and that's obviously at the door, top to bottom here measures 90 cm which is pretty much in line with many lightweight one man tents. By the mid-point the height of the inner has reduced to 75cm before tapering down to 55cm at the very end. In use I've not found head room to be an issue, I can sit up at the door but I'm only 5'7″, If you're much taller then chances are your head will brush the top or you'll have to hunch over a little.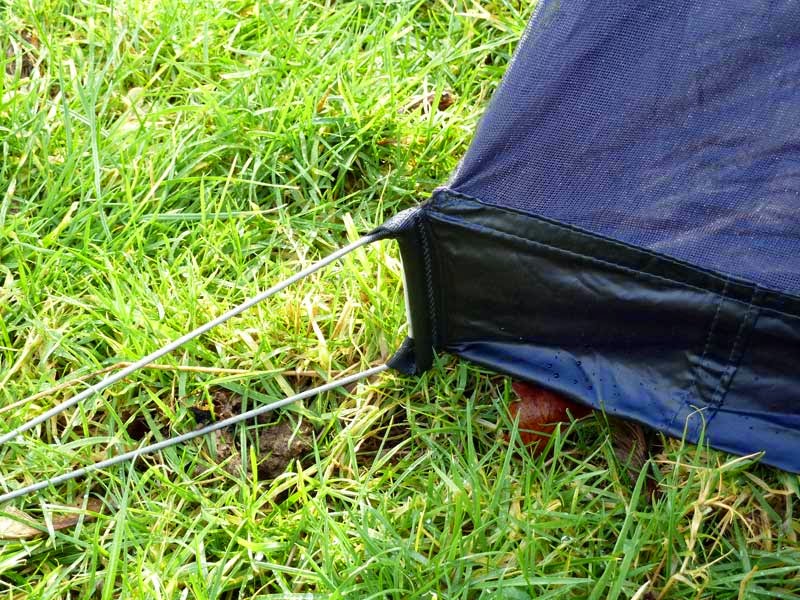 Bathtub floor that actually stays upright … difficult trick to master.


As I've already mentioned, the inner does a great job of keeping unwanted visitors outside but it also does surprisingly well when it comes to keeping out any draughts too, not to the same degree as a 'solid' walled inner does but it's certainly much better than you might expect … I was pleasantly surprised, even on those blustery, wind coming from every direction type nights.



The actual outer or 'tarp' part is made from 30d silnylon, it's light, strong and obviously waterproof … if you're the cautious type, then there's an option for 40d silnylon or if absolute weight is paramount, there's always the Cuben version. The outer shares the same wind shedding tapered shape as the inner but is obviously bigger. It's actually quite a bit bigger, which is very useful, it means that there's a large air gap between inner and outer (good for ventilation) and it also means that it forms a very roomy shelter when set up minus the inside. If you struggle with flat tarps then you should love this, 6 pegs, 2 poles and around a minute of your time should see it morph from stuff sack to evenings home. All pegging points feature line-locs which besides helping with initial pitching also allow you to re-tension the outer from the inside should the need arise. The front pole fits into a heavily reinforced grommet on the inside and the tip of rear pole resides in a metal ring suspended from webbing on the outside … it really is idiot proof.

Depending on the height of your poles and lines (remember you can off-set a long pole to effectively shorten it) you can choose exactly how high you'd like to set the thing. Higher will result in more ventilation, steeper sidewalls and a narrower footprint, lower will produce a wider, more streamlined shelter. You can't really do this with the inner in place but it's perfect for when things turn unpleasant and you're only using the outer.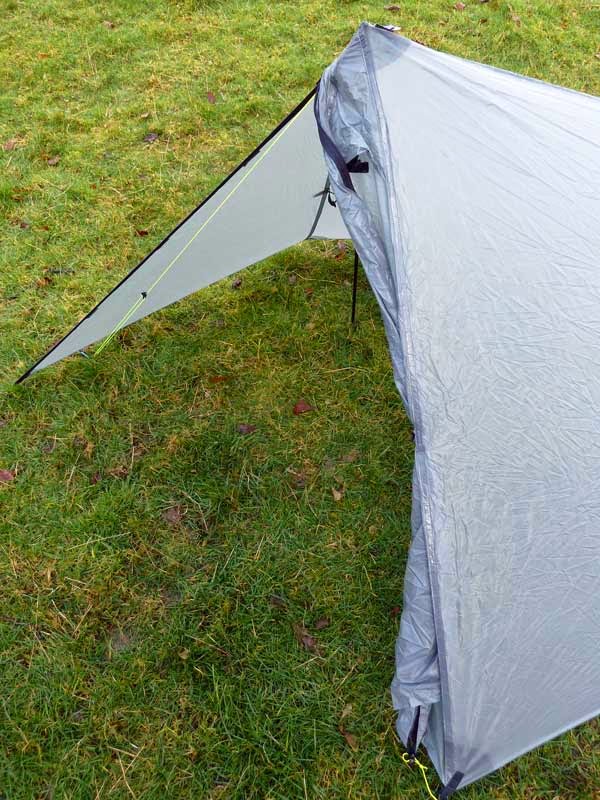 Doors can produce a porch or just a wind break.
The front guy-line is fixed to the ridgeline so the doors aren't required to provide any structural support to the tarp, they're just doors and they provide us with more options … both doors open, both shut, left door shut, right door open, left door open, right door shut – see, lots of options. When the doors are shut (or partially shut) they form a decent sized porch, it's more than big enough to store wet gear and cook (be careful) simultaneously. The left door also features a decent sized vent for those times when you want to baton down the hatches and keep the elements outside. There's the option to have a second zipped door / vent added to the foot end panel, this obviously allows through ventilation on those rare, hot balmy nights and also enables a lower pitch in 'tarp only' mode, it costs an additional £15 and in my opinion is money well spent … it just adds more versatility to an already versatile shelter.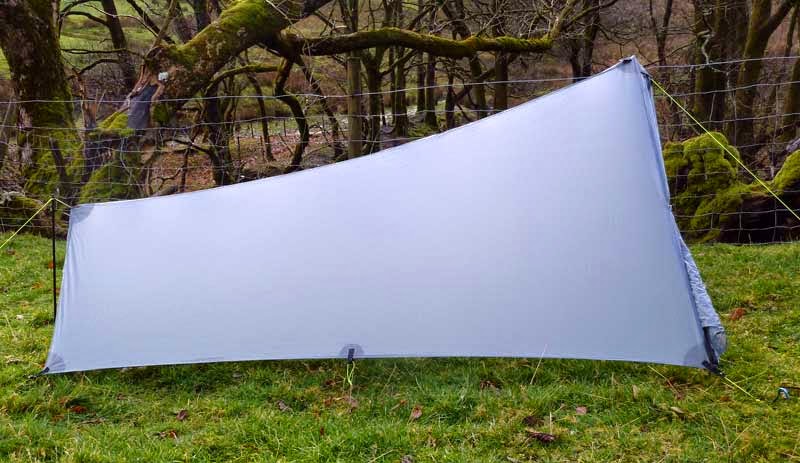 Cat' cut ridge makes getting a flappy pitch nearly impossible.
Unless you found your way here by some cruel twist of Internet fate and were actually searching the web for knit your own bear patterns or some such, you'll no doubt be interested in knowing how much the thing weighs. The combined weight of inner / outer on the Bear Bones scales is 645g, which breaks down to 240g and 355g respectively. That includes lines but you'll need to factor in poles and pegs which will add somewhere between 100g – 150g, giving a total shelter weight of less than 800g. That's not a lot to be carrying when you consider that for all intents and purposes you have a fully functioning, double skin tent at your disposal … but it's one that you can chop, change and configure to suit conditions as they change … summer, no rain? Just use the inner. Winter?, No need for the inner and only erect the outer, etc.

Over the years there's been plenty of other shelters similar to the Stealth, I can think of at least 7 just off the top of my head, some are still available and some aren't. Having spent quite a few nights in many of them, my opinion is that they were / are all flawed to a greater or lesser degree. This doesn't stop you using them or mean they're no good, it's just that they could be better. I know that nothing is 100% perfect and it never can be but I think when you account for all the factors such as weight, pack size, quality, etc then the Stealth is as near to that elusive 100% as we're ever likely to get … oh, as a little extra bonus, it's designed, tested and made in Scotland too.

30d Stealth £150 + £15 for 40d and + £140 for cuben.
30d Stealth outer only £90

Trekkertent