Modern cycle helmets are very good but perhaps on occasion, they're too good. In the height of summer when the sun's beating down, it's nice to have something sat on your head that lets the heat out and the breeze in … but what about winter? Those very same, specially designed vents are now letting the heat escape from your noggin and to add insult to injury, are channeling freezing cold air directly onto your rapidly cooling head.

The obvious answer is to place a hat between head and helmet but what sort of hat? Something big and woolly with a bobble on top probably won't fit and anything too thin isn't really worth the effort. Then, there's your face to consider; if it's cold enough to freeze your beard and transform the trickle from your nose into a two inch icicle, perhaps you should be covering that up too? Maybe a scarf or perhaps a balaclava? Or maybe not, you're meant to be going for a bike ride, not storming an embassy.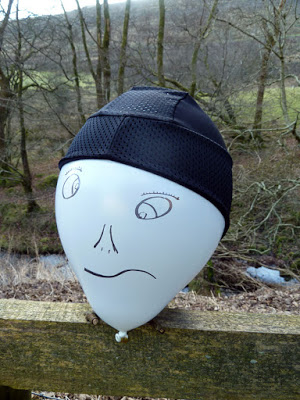 Wear it as a Skull-cap …

If you're faced with this dilemma each and every winter, then the Weatherneck might be of interest to you. The Weatherneck is part hat and part face-mask, which when combined afford the same coverage as a typical balaclava. The 'hat' part not only drops down low enough to cover your ears, it also has a dropped tail for want of a better description, which extends low enough to cover the entire back of the neck. Everywhere below the 'top of your ear-line' is lined with a nice soft fleece, so cold ears really shouldn't be an issue.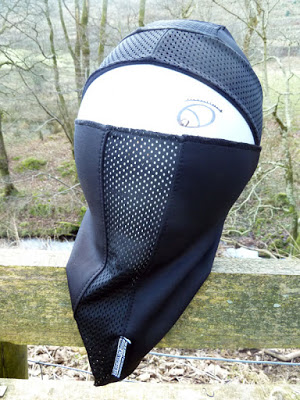 or add the mask and transform it into a balaclava.

The 'mask' part is triangular and cunningly, features a tiny magnet in the two top corners. Now, that probably wasn't what you were expecting me to say; but the reason it's cunning, is because, the rear of the 'hat' has three small steel discs hidden within it. Those amongst you paying attention have no doubt already worked out that the magnets and metal discs provide the means of attaching the 'mask' to the 'hat'. It's secure, it's quick and it's effective. Removing the mask takes less than a second and fitting, maybe a couple more. The fit is almost infinite, so no matter how big or what shape your head, it'll still work.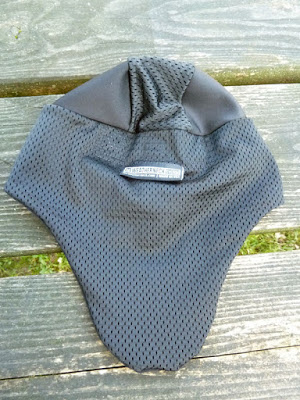 The 'drop-tail' – it also features a small internal hidden pocket.

There's no need to worry about suffocation either, the mask has a perforated strip that runs vertically down the front allowing you to breath through your nose and when the hills get steeper – your mouth. Just like the hat, it's also nice and long, so you can tuck it down inside your other layers to seal out any draughts. I found that if I did this, I could easily fit and remove the mask while on the move and when not in use, it would sit happily with the bottom tucked into my jersey … as long as you have the ability to ride one handed for a few seconds, you'll be fine. It is warm but not oppressively so, remember it's designed to be worn while you're active rather than sitting about post ride, although in most situations it should be sufficiently warm to fulfil that role too

At £39.99 it's not at the cheap end of the scale but it really does have a quality feel about it and it's also made in the USA, I think it's a purchase that'll keep you warm for years to come. You can buy yours HERE