"I've drunk water straight from streams for over thirty years". Yeah, me too but there were those two times when my chosen water source perhaps wasn't quite as clean as I'd thought. The aftermath left me in perpetual motion between the bathroom and the bedroom for a full seventy two hours … whatever your imagination is conjuring up right now, I can assure you that the reality was much, much worse.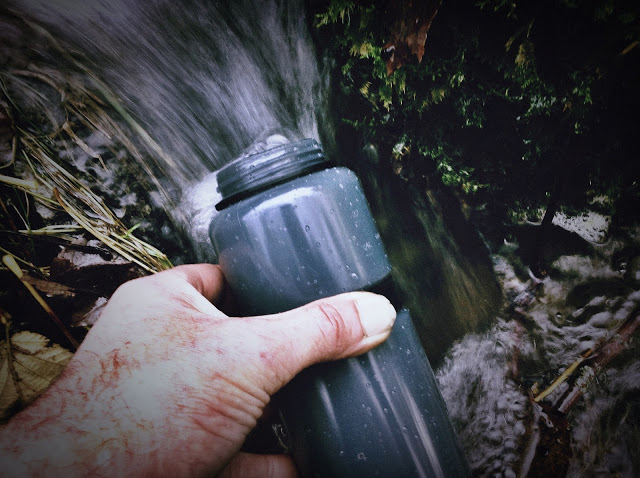 A water filter needn't be expensive, heavy, bulky or difficult to use but it could be the deciding factor in whether you return from a trip with happy, long lasting memories or with the contents of your stomach adorning your expensive and no doubt new sleeping bag. Those paying special attention, might also now be thinking 'twice, how did it happen twice?'. It's true, you would imagine that having something so unpleasant happen to you once would be enough to encourage you to do everything within your power to make sure it never happened again. I could lie here and try and pass it off as bad luck but in truth it wasn't bad luck at all but was no doubt caused by a combination of complacency and laziness. You tell yourself, the water looks okay, I'm high in the hills, there's no sign of livestock and the stream's fast flowing and clear. However, a little voice inside your head is also telling you "Get your filter out, better safe than sorry" but another little voice hidden in the shadows is whispering seductively "Don't bother, the filter's at the bottom of your frame bag. Go on you'll be fine" Can you guess which little voice you listened to?
The very best water filter is the one you actually use and ease of use and accessibility will often be the factors determining whether or not you do. The Water-to-Go Active is a filter within a bottle and given that it's designed to fit in a standard cage and requires no more user input than putting water inside, might just make it the perfect water filter for lazy bikepackers with short memories, like me and perhaps you.
The three parts – bottle, filter and cap. It's pretty fool-proof.

The bottle itself is a fairly standard looking 750ml bottle that's semi-transparent, squeezable without being too soft and has volume markings on the side – it's also dishwasher safe for those who go in for that sort of thing. The cap has a flip cover over the drinking spout and it also incorporates a breather valve to help increase flow rate. The filter element itself screws directly to the underside of the cap and has a life of 200 litres or roughly 260 bottles worth. I'm told that the element will filter out 99.99% of all contaminants including bacteria, viruses, chemicals and heavy metals. That's something not all filters are capable of which makes this filter suitable for most destinations rather than just those we'd perhaps consider as 'safer' such as the UK and western Europe.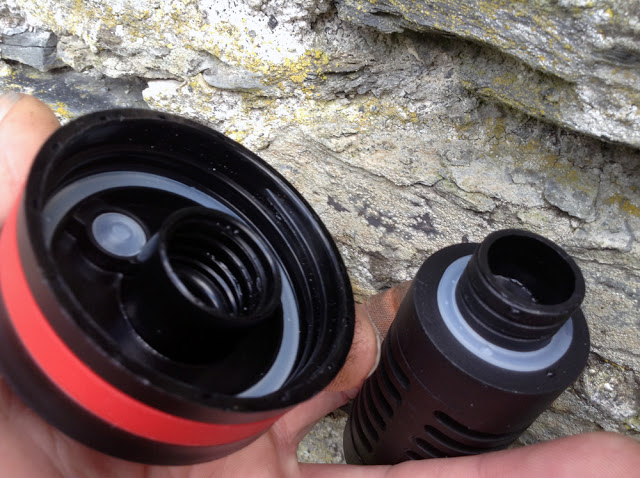 Filter element screws to underside of cap and is sealed with a silicone O ring.

Empty, the bottle weighs 149g – out of interest, I weighed a selection of normal 750ml bottles and the average weight was 74g. Absolutely brim full, the weight increases to 842g, so the clever ones will know that the actual capacity is 693ml with the filter element accounting for the missing 57ml. Personally, I think an increase in weight of 75g and a reduction in capacity of 57ml, seems like a very reasonable trade for clean water.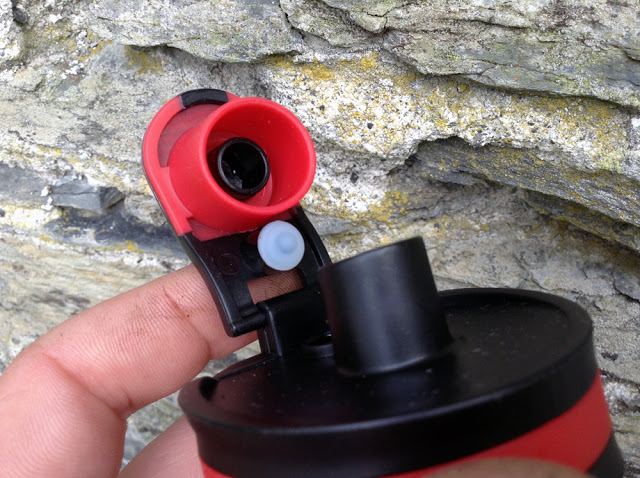 Flip-cap lid over the drinking spout should keep things cleaner and therefor safer.

In use, the flow rate is perhaps a little less than some standard water bottles but perhaps no worse than some others; it's certainly not something I think I'd notice if I wasn't actively thinking about it and the ability to squeeze the bottle without it distorting should help maintain it at a decent level. The other good news is that neither the bottle or the filter appear to impart any taste, so what you drink tastes like water and not like you're licking the inside of a carrier bag and we all know that if your water doesn't taste good, you won't want to drink it. Unlike some filters, there is no requirement to clean or back-flush the element but I feel a little common sense is likely to pay dividends here; if the filter only has to deal with the things you can't see rather than grit, mud and sand, then the longer it will last. Obviously you won't always have the option but if your water source is particularly dirty, maybe place something like a buff over the bottle to pre-filter the big lumps out?
The 'Active' filter isn't unique, there are other bottle water filters out there but the shape, size and design does make it very well suited to the needs of the cyclist. Knowing full well the potential hazards of drinking contaminated water, I can't really think of a reason why, if you carry a water bottle anyway, it wouldn't be one of these.
Active water bottle filters are available direct from Water-to-go for £29.99 and spare filters are £9.99