I've often pondered on why someone would ever pose the question, "what tyres for insert random surface / event / location"? I don't know about you but an average ride for me will see my tyres rolling over everything from tarmac to sticky mud. There'll be rocky bits, gravelly bits, grassy bits, flat bits (not many), steep bits, woodland bits, moorland bits and other bits so nondescript that they don't warrant particular mention … any tyre is likely to be a somewhat compromised Jack of all trades, so is it fair to expect strangers to shoulder the burden for your tyre choice? What's needed is a tyre with a degree of 'all round ability'. A tyre that can minimise any inevitable compromise while still keeping us the right way up most of the time.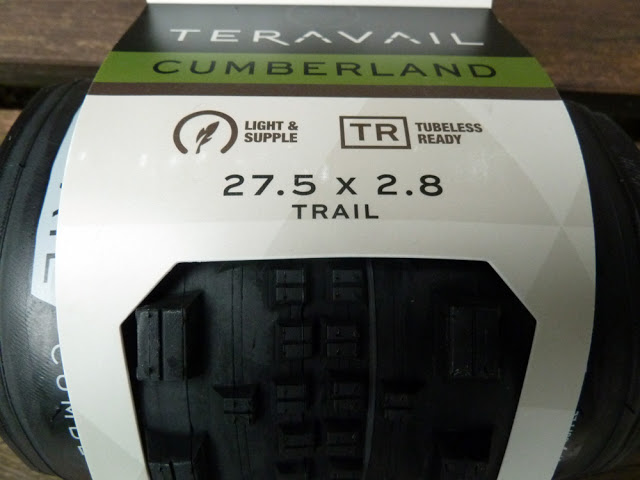 New rubber – always oddly exciting.

Teravail make tyres and I think it's fair to say that their range of tyres is very much aimed at the bikepacking / adventure market and the Cumberland is aimed squarely at the bikepacker who's willing to traverse whatever happens to be in front of them. It's available in both 29+ and B+ flavours but it's the B+ we'll concern ourselves with here. You can choose between 2.8″ or 2.6″ and you also have the choice of a 'light and supple' sidewall or a 'durable' sidewall; mine are 2.8″ with a light and supple sidewall, so I'm hoping in this instance that 'light and supple' isn't the direct opposite of 'durable' but time will undoubtedly tell how durable light and supple is.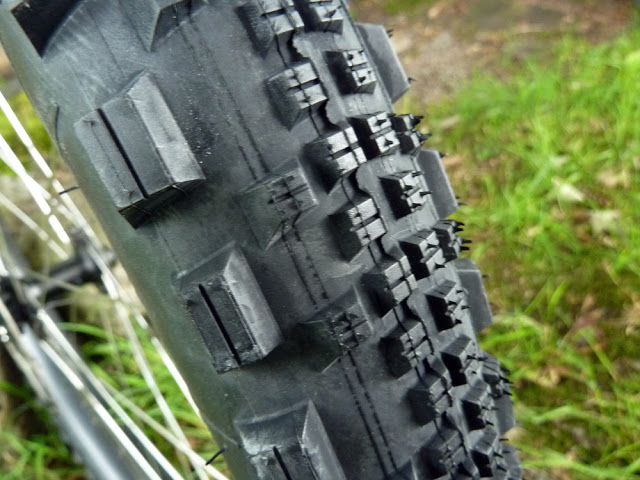 Just look at the size of those blocks.

The low centre tread forms an almost continuous centre line – something which should produce reasonably fast rolling on road or gravel. The thing that you probably can't help but notice are the almost giant looking edge blocks. These are the bite, the 'teeth 'of the tyre if you like. If you begin to lean or find yourself traversing an off-camber slope or similar, then these are going to dig in. Looking at the size of them, it's hard to imagine them ever breaking free. Obviously, the thinking behind a tyre with this type of tread is nothing new, yet the overall profile of the tyre does look somewhat different to those that have gone before. Previous experience with similar designs always left me with a feeling that there was a 'grip dead zone' as the tyre rolled off the centre tread but before the edge came into play. It's something that I always felt was exaggerated by the tyres having a squared-off or flat profile and although you always knew grip would return, you weren't always quite sure when. Mounted on a 40mm rim, the Cumberland doesn't possess that aforementioned square profile, it's altogether much rounder looking which certainly gives the impression of a far smoother transition between centre and edge.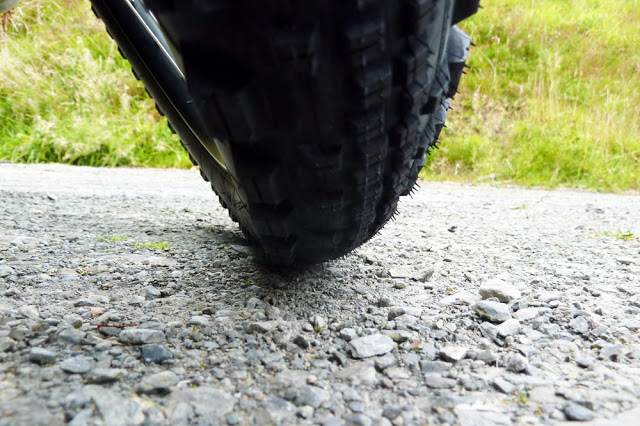 And when things start to get exciting additional grip should appear as if by magic.

All that rubber's got to weigh something and in this case, something is 1120g. That puts it into the not a light tyre category but it's not meant to be and the pragmatist within would question why you're riding a plus bike if weight were your primary concern. On a 40mm rim (Teravail recommend 45mm as the ideal), the tyre measures 72mm at the widest point which happens to be the edge blocks rather than the sidewall, which itself measures 66mm. 72mm is a fraction over 2.8″ so the stated size appears to be very accurate.

As you might imagine, they're tubeless ready but I'd go as far as to say that they're 'tubeless easy'. Just a tight enough fit on the rim for swear free fitment, yet tight enough to form a good seal that enabled a few strokes of the track pump to get them inflated and fully seated. I've had no sealant 'bubbling from either the bead or the sidewalls and they lost no pressure overnight as can sometimes be the case with fresh tyres.

Anyway, there's only so much I can write about tyres without actually riding them, so over the next few weeks I shall ride forth and discover just how much of an all rounder the Cumberland is. Tervail call it a 'Trail' tyre which I hope means that it'll be well suited to the varied terrain upon which most of us find ourselves. In the meantime, you can go and have a look at the Tervail website and see what else they've got.