After last years heatwave, the weather on this years Highland Trail took a swing in the opposite direction. Wind and rain combined with cold temperatures made conditions harder than they've probably ever being on May's group start. Following an unfortunate incident with a cow last year (really), Karl Booth once again lined up in Tyndrum hoping to be somewhat 'luckier' this time round. I caught up with him after his return and pestered him until he finally agreed to answer some questions … here you go.

1/ Were the conditions far worse than forecast in the week prior to the start or were you largely expecting them?

The rain was heavier than expected and I knew it would be persistent until the Monday. With prior experience of the route I also knew it would make the river crossing difficult. The real surprise was the temperatures at night. At one point it dropped below -7°C (on James Hayden's garmin), that along with the wet made the conditions very challenging.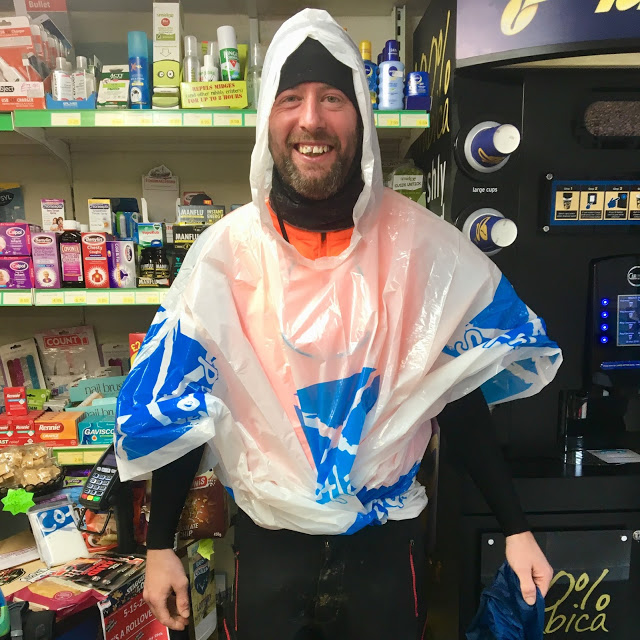 Bikepacking is no place for the fashion conscious.

2/ I see you were riding a full suspension bike, which is a bit of a deviation from what I usually expect to see you riding. Was that a decision based on experience gained on previous HT?

On the Dales Divide I'd decided to evaluate the Salsa Cutthroat. Dales Divide would be the perfect route for the Cutthroat but I had to be comfy throughout the ride then I would have taken this for the Highland Trail. Unfortunately the rougher sections threw me around more than I cared to be. Hence why the Specialized Camber full suspension bike won. On these long events I used to concentrate on lightness and minimise potential mechanical failures, getting older I've learnt that comfort trumps speed … and the Fisherfield and Torridon descents were much more enjoyable on the full susser.

3/ Aside from simply finishing, had you set yourself any target or goals for the ride?

Before the weather arrived I had 2 goals. 1st was to finish sub 5 days and the 2nd (very much a stretch goal) was to finish sub 4 days. All the way to Fort William I was on the nose of getting sub 5 days but a mechanical issue put stop to that. Definitely next time!

4/ Last year your ride was brought to an early close after a run-in with a cow – any animal encounters to report this year?

I had a clean run to the finish without an animal incident, although the Cat at Drumbeg stores did require a stroke or two. I did need to ride past a cow being herded, which I think put a bit of a smile on Lars' face seeing me pedal a little quicker than needed.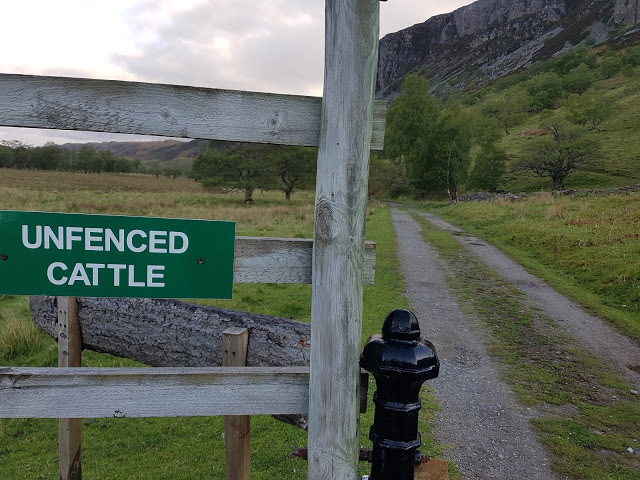 Ooh, I imagine this got the heart racing.

5/ Was there any point where you considered scratching?

No. Not once this year. I quite often have doubts when riding bikepacking events but mentally this year I felt very strong and determined. Not sure I've felt like that in a long time. I attribute that to the office banter about my recent run of failures.

6/ Were you aware how many others were scratching? If so, did their demise increase your determination?

I was riding with Steve Large, Lars Henning and Clem Shovel at the time they all scratched. I totally understood their reasoning in not carrying on. The weather had been relentless. Clem had to pull John White from one of the river crossing which I think shook them up. I believed in my judgment and knew the weather would improve as the week carried on giving opportunities to wait out the river crossings if necessary. Overall due to the conditions I don't think I took strength from knowing people were scratching, I think it greatly focused my assessment of the situation as the guys around me were highly experienced so definitely wouldn't have made their decisions lightly. It was great to be surrounded by people who were making their own judgments, and not judging each other.

7/ What kind of shelter set-up were you carrying?

My accommodation was definitely on the lighter end of the scale. If I had known the weather would be so wet and cold (mainly the cold) I think this is where I would of changed my kit considerably. I took an Outdoor Research Helium Hooped Bivy (without the hoop), Klymit Inertia X-frame mat, and due to the glorious weather of Scotland a Cumulus 150 quilt (I'd left my Cumulus 250 quilt back at the van for my return which would have been so much warmer).

8/ There's nearly always a point on any ride where you know with 100% certainty that you're going to finish … at what point did that happen?

I had total belief that I would finish this ride from the very start. Although how it was going to happen was never certain (fast, slow, riding, walking, hobbling – or a bit of everything). In real terms your never 100% sure until you cross the line. Even with the mechanical issues and physical struggles I was always planning how I would finish and not trying to find a reason for giving in.


Conditions were more biblical than tropical.

9/ Is that you done with the HT or are you planning to return?

Don't be silly. Even if I say I'm done with the Highland Trail it still has a hold on you. This year my friend Phil Fraser-Thompson didn't get a place, he was gutted. It just has that gravity to pull you in, even if you know it's bad for your health. I've got 2 goals to yet achieve. Sub 5 days, and sub 4 days and I've got a long way to go to achieve them. I may take a year off and ride the Tour Divide next year first though, I've heard it's a bit easier.

10/ What do you wish you'd taken with you but hadn't?

There are a couple of items. I wish I'd taken another layer of clothing and a better waterproof. I took a Berghuas Hyper Shell Jacket which is see-through so not great at keeping the wind and rain off. I had to buy a cheap poncho to supplement the jacket, £3.49 well spent. The other item is a warmer rated sleeping quilt/bag. The Cumulus 250 quilt would have been perfect, not too warm but definitely more comfortable.

11/ If you could give one piece of advice to any would-be HT group start riders, what would it be?

One piece of advice is not enough. 1st piece of advice is understand what resupply and accommodation is around. Having some warm food and a shelter can provide so much on a difficult ride like this. 2nd piece of advice is to pack for every weather condition. We had rain, wind, hail and glorious sunshine throughout the event – so waterproof clothing and sun cream are a must. 3rd piece of advice – get as much advice and information as you can.
Oh and one last piece of advice – realise this is a challenge and expect to have to work very hard to finish, both physically and mentally. – I know you said one piece of advice but hey 🙂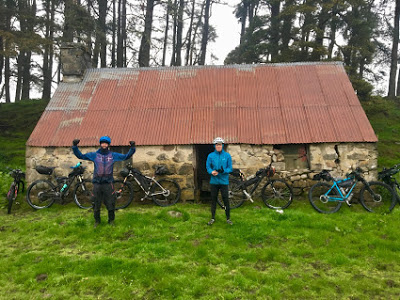 Uhm, trust me, it's actually nicer on the inside than it looks.

12/ What tyres for the Highland Trail?

I normally ride Maxxis Ardent Exo TR but due to riding the full suspension bike I wanted something faster rolling. Research led me down the Vittoria Mezcal TNT G+ in 2.25" guise. Giacomo used these on the Silk Road Mountain Race so I knew they would be durable. They held up impeccably, they don't have the traction of the Ardent's but feel quite a bit faster.


And finally Karl says ……

I would like to take this opportunity to thank all the 'boners for the support during the Highland Trail, you guys kept me in the game. A special thanks needs to also go to Rich & Shona at Keep Pedalling for saving the day as always. And to my family, especially my long suffering wife, who always put up with my hair brained plans and the long recovery afterwards. To the next adventure!

*Pics Lars Henning – well, 3 of them.