I'm a long time fan of quilts because I like the simplicity and ease of use. I realise sleeping bags aren't particularly difficult to use but to my mind, simply lying down and pulling something over the top of yourself seems much less faff than messing about with poppers, zips, toggles and those little Velcro tabs that stick to your beard. However, just like tarps and meths stoves, quilts aren't for everyone. If you're unsure then I'm not going to try and convince you but if you already appreciate the way of the quilt or are looking to invest, then read on because you might find it useful …. those who don't 'get it' feel free to talk quietly amongst yourselves or put the kettle on.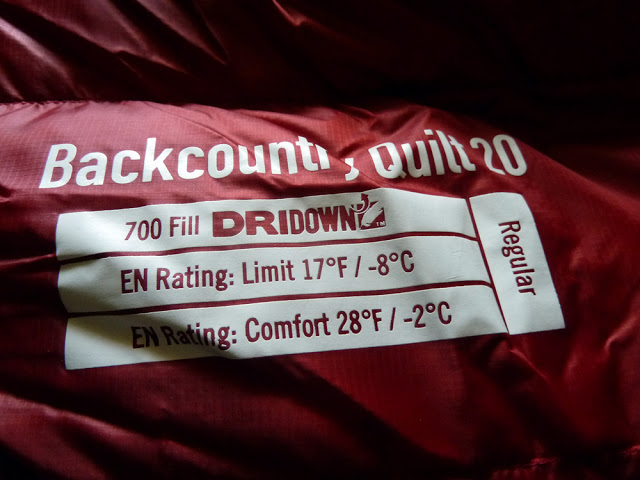 Tells you a lot of what you need to know.

I first saw the quilts from Sierra Designs some time ago but up until now haven't actually fondled one. This is the Backcountry 20 which I now believe has been superseded by the very impressive sounding 'Nitro 800′ but more of that later. Being American, the '20' denotes Fahrenheit which means this should be good for most of the average UK year depending on whether you sleep hot or cold. The 20d shell holds 500g of ethically sourced, water resistant goose down with a fill power of 700. I'm also glad to say that rather than being 'stitch through' construction, there's proper baffles in there too.

So far, so good. There's quilts with lighter shells, higher quality down or more of it but as a package, it ticks a lot of boxes. Before I tell you what else it has, I'll tell you what it doesn't – it doesn't have any means of fastening itself to your sleeping mat. In my opinion, that is a real plus point. I never use straps, in fact I make a point of removing any. Why? Because they're usually a faff, never really work well and diminish that whole ease of use thing I mentioned earlier, so if you want straps, bits of cord and toggles that dig in your back, you'll need to look elsewhere.


It's generous. 130cm across the white stripe and 2m long.

What does it have then? Perhaps firstly, it has size. This isn't a quilt just for the skinny short folk, oh no, this is a man-size quilt and laid flat on the floor it measures 130cm across the widest point and from top to (sewn in) foot-box, it's a rather ample 2 metres long. That should afford plenty of room to turn over and wiggle about without uncovering yourself. Maybe that's the reasoning behind no mat straps?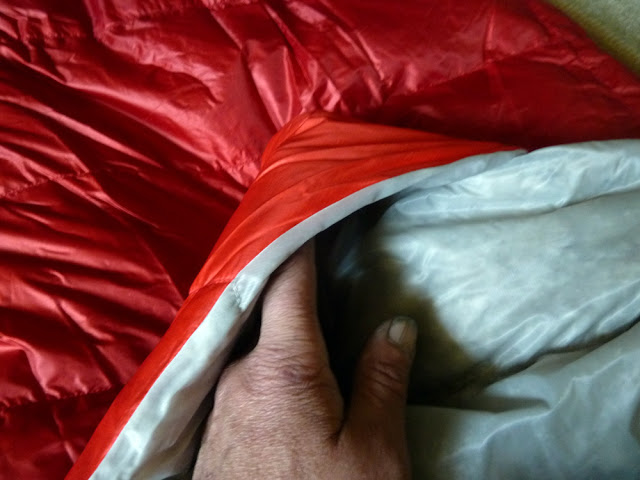 Hand pockets – pure genius.

Over the years, I appear to have developed the habit of holding the top corners of my quilt while I sleep. It's not that I'm weird, it's that doing so allows me turn over in the night without fear of having the quilt slide off me. I don't think I'm alone in this behaviour or if I am then Sierra Designs have obviously designed this quilt just for me. Although seeing as they haven't called it the 'Nitro Norm', I'm going to assume others do it too. What they've done is added little 'pockets' to the top corners, so now I no longer have to hold on, I can simply pop my hands in the pockets and rest peacefully.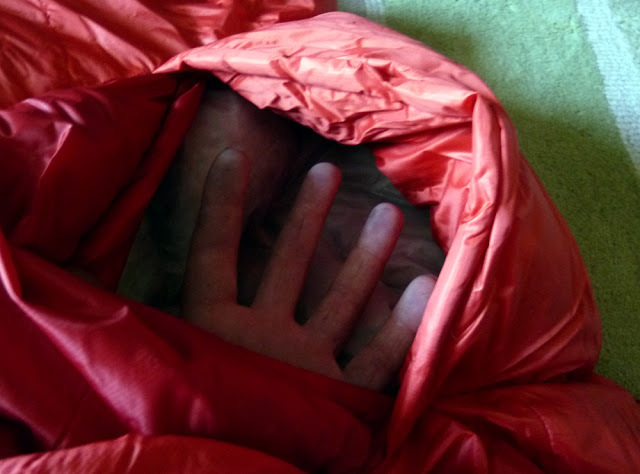 Yes, that's my hand again but this time it's poking through the hood.

Something else which is a little unusual in the world of quilts is a hood. That's right, this quilt has a hood. I know you probably wear a hat on those properly cold nights but now you don't have to. The seemingly long length means that when your head is in the hood (and it doesn't have to be) you are completely covered from tip to toe; again, quite a simple idea but one which adds to the whole without compromising the basic function.

If I were designing a quilt, I reckon it'd look a bit like this which isn't great news when you consider that the Backcountry 20 and its cooler sibling, the 35 appear to be no more. Sierra Designs have replaced the Backcountry 20 and 35 with the Nitro 800 which comes in both 20 and 35 degree ratings. What are the differences? Well, as the name suggests, the 800 quilts have 800fp down, they have a lighter 15d shell and because of the higher rated down, there's slightly less of it which when coupled with the lighter shell, helps reduce the overall weight. It's still the same generous size as the Backcountry, it still has the splendid hand pockets and it still has a hood. Supplies within the UK seem to be a little hit and miss at present, so some browsing will probably be called for should you be tempted. I'll report back as soon as summer's gone – shouldn't be long now.

Sierra Designs.