If bikepacking really is the latest and possibly greatest thing to happen to cycling since Raleigh launched the Grifter, it seems somewhat odd that manufacturers still appear a little reluctant to attach the label directly to their bikes. Some are happy to hint but most will dumb down the full-on bikepacking potential and present you with a bike which possesses a broader, all-round appeal … maybe it's because bikepacking does seem to be something that many people appear to enjoy from the warm, dry confines of their centrally heated homes via the internet and magazines? Anyway, o
bviously there are certain brands which have capitalised on their association with the grubby world in which we reside but not many have ever nailed their colours firmly to the mast for all to see.
In the past, I have said that I don't believe there's such a beast as a 'bikepacking bike'. The reason is simply because, every bike is potentially a bikepacking bike and every bikepacking bike can and likely will, be used for something else. However, once in a while you see something and you just know what role the designer had in mind for it. Surely, if ever there was an off the shelf bikepacking bike it would look very much like this.
LOOK AT IT! … a skinny tubed Reynolds steel frame, rigid forks with multiple cage mounts, 29″ / B+ tyre clearance, double chain rings up front, more mounts than you can bolt things to and a pair of bars that not only offer multiple hand positions but also leave the potential customer in no doubt as to the bikes intended purpose.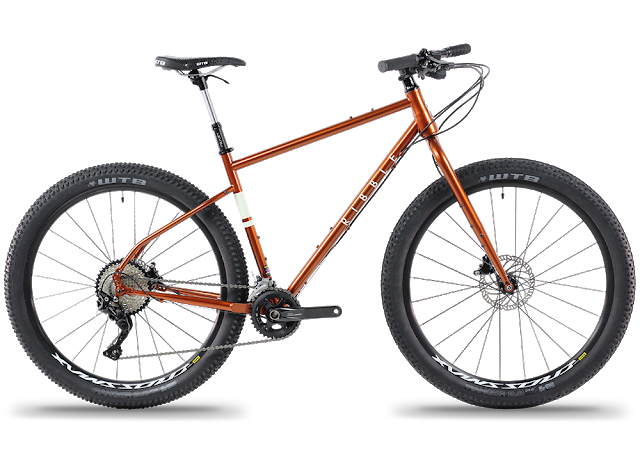 Although long established and well regarded, Ribble isn't a company most would associate with bikepacking. Their lineage is one of tarmac and Sunday club rides, rather than muddy bridleways and cobweb encrusted bothies but it certainly appears that the Adventure 725 could be the ideal vehicle for those riders who have no desire to return home at the end of the day.

Sadly, I'm unable to tell you how it rides because the bikes aren't yet in the country. It's something I hope to remedy before the year's end but when something looks so right, it's hard to imagine it being wrong. Although I can't ride one yet, I was able to track down Jamie Burrow who's the man behind the design and ask him a few questions … and he was kind enough to answer them.

1/ The Adventure 725 looks very much like the 'odd man out' in the latest Ribble line-up and quite a departure for what Ribble are best known for. Was that a deliberate decision?

After the success of the original CGR alloy and then the CGR Ti models as our entry into the gravel market, this was the logical next move taking a step closer to the MTB market but keeping the balance slightly more on the side of our drop bar heritage. An all round bikepacking tourer with full off road capability.



2/ We all know steel is real but any reason for choosing 725 over another steel alloy?

We wanted to work with Reynolds for the strong connection to handmade British steel with years of heritage and experience. The 725 is heat treated allowing for lighter thinner walls and makes it ideal for TIG welding

3/ Loop style bars are obviously very popular amongst the bikepacking community – in this instance, do you see them as an intrinsic element of the overall design?

No, the bike was originally designed around flared drop bars rather than MTB bars and the H bars were added as an option to our custom bike builder for those who prefer a more upright ride whilst offering a multi hand position and the bonus of extra carrying space for lights, maps, GPS, bags etc.



4/ What's the idea behind the 'dropped' seat stays?
We are carrying the drop stays across nearly the whole range. The smaller rear triangle creates a stiffer more responsive back end for improved power transmission, while creating extra comfort from the seat post to seat tube transition.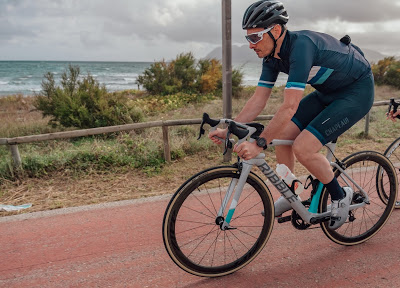 Product testing and evaluation … it's a tough job.


5/ Personally, I'm really happy to see two chain rings. Do you think the industry have perhaps adopted 1x a little too quickly?

We are offering 2 main builds for this model. One based around Sram's 1 X setup and the other based around a Shimano deore 26/36 double set. I understand the switch to 1X in the MTB market but personally I prefer a double up front for other bikes. I think the push to move 1 X to the road is definitely happening too quickly and is also unnecessary.

6/ Will it accept 3" B+ tyres?

No, the frame is designed around a 2.8" maximum tyre.



7/ The Adventure 725 is described as a 'tourer', do you think manufacturers are still somewhat wary of describing something as a 'bikepacking' bike?
We like to talk about the bike as a bikepacking – Tourer as it definitely lends itself to both road touring as well as multi terrain bike packing adventures.


8/ Did you ever consider fitting an ebb or adjustable drop-outs to the frame?

We didn't consider an ebb but did look at the idea of adjustable drop outs. However we also wanted to keep the cost down and make this bike as affordable as it is versatile.



9/ Where's the perfect place to experience the Adventure 725?

I would like to think that the 725 Adventure could take you pretty much everywhere. We have a trip planned for next spring to venture through the forests and along the fire tracks of Scotland, fully loaded obviously.

Have a look for yourself HERE and yes, there is a Ti version and yes, I believe it will be available as a frame set.