Believing everything you read in the paper, see on TV or hear on the radio isn't always a good thing, luckily not everyone does believe because if they did, 76 riders wouldn't have turned up to ride the Bear Bones Ford Fiesta … they'd have stayed at home waiting to be washed away by epic floods or buried beneath their homes by falling trees.
The Ford Fiesta was the fourth installment of the Bear Bones Winter Event. Each year some things change a little and each year some remain the same but being held near the start of January means the potential for proper Winter conditions always remains high. This years star weather attraction was wind, not a stiff breeze but real wind, the kind of stuff that will happily steer your bike off whatever track you happen to be riding, turn it 90 degrees and send you off down the nearest hillside or worse. Anyone lucky enough to be above 500m on Saturday night was also treated to sleet, hail and snow … not enough to be unpleasant but just enough to remind you that you were riding through mid-Wales in January.
One thing all the Winter Events have in common is grid references … a list of seemingly random points dotted over the countryside but all sharing a common link. This years references all (rather surprisingly) turned out to be fords, fords which may or may not have a bridge close at hand. Visiting these points wasn't mandatory but by being selective with your choices they could help form part of your route and hopefully lead you in the direction of some great riding.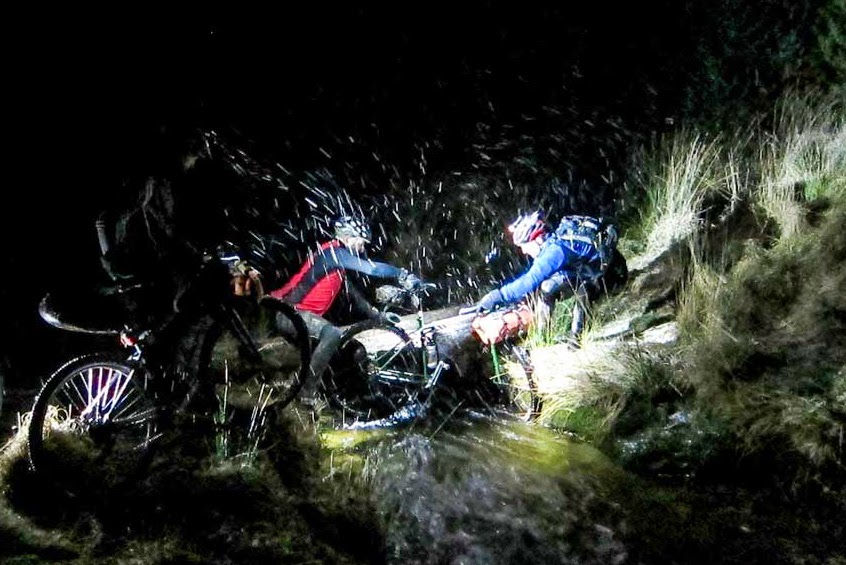 All this winter riding and crossing rivers malarkey sounds fairly straightforward until you casually throw in the the fact that you'll also be spending the night outside (luckily for many, bothies are tolerated but not encouraged). That's right, ride for 5 to 8 hours, carrying everything you think you'll need, then when you've had enough just lie down where you stand to visit the land of nod. When morning finally dawns, simply shake the frost off, put a brew on, load up your bike and continue on your way … still fancy it?
The bright lights of downtown Llanbrynmair community centre might not seem like much of an incentive to keep turning the cranks on Sunday but for anyone riding it's like a shining beacon in the blackest of skies. Tea, toast and cake await the ravaged traveller upon their return but often, the opportunity to share stories, listen to tales of daring do with the elements and bask in the common experience are more important … oh and it's also where you left your car too.
I wasn't present when this picture* was taken but I know the exact spot it was. To the left is a wide ford too deep to ride, the two very slippery logs form a makeshift bridge at the narrowest part of the river as it enters the ford. Behind the riders a steep rocky track, in front of them a considerable ride to civilisation and all round a blanket of the darkest night you can imagine. If you think it looks like 'fun' then we'll see you next January.
*Thanks to Jack Thurston for allowing me to use it.