I tested the K-lite Bikepacker Pro dynamo light some time ago. I was impressed, it was and I believe, still is the brightest dynamo light in the world but time marches on and things change. The Bikepacker Pro has a new stable mate who shares the title of 'the brightest dynamo light in the world' … it's called the Bikepacker Ultra.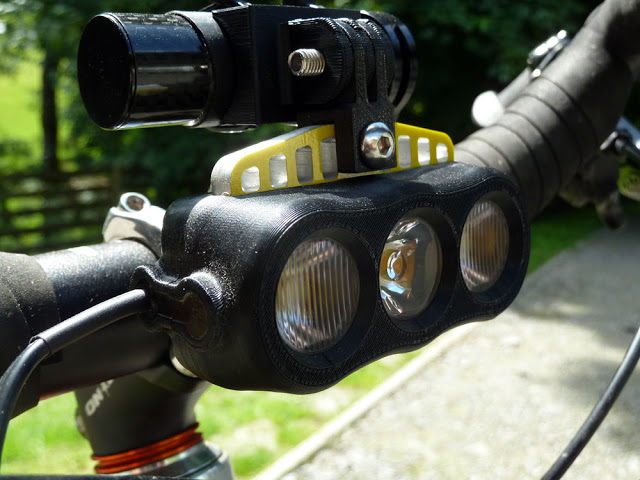 K-Lite Ultra, a very different looking light to the Pro.
Thing is, outright lumens aren't the be all and end all when it comes to lights. Other factors come into play and even the potentially brightest of lights will be an underwhelming disappointment if that potential isn't properly utilised. In the bike light arms race it's something which is all too often ignored and attention directed instead toward a headline grabbing max lumens figure. Fortunately, after my time with the Bikepacking Pro, I think it's something Kerry from K-lite understands completely. I've known for a while that Kerry had ideas and features he wanted to incorporate into a new light but given how good the Pro is, what could he do to make the Ultra better, after all they both produce 1300lm?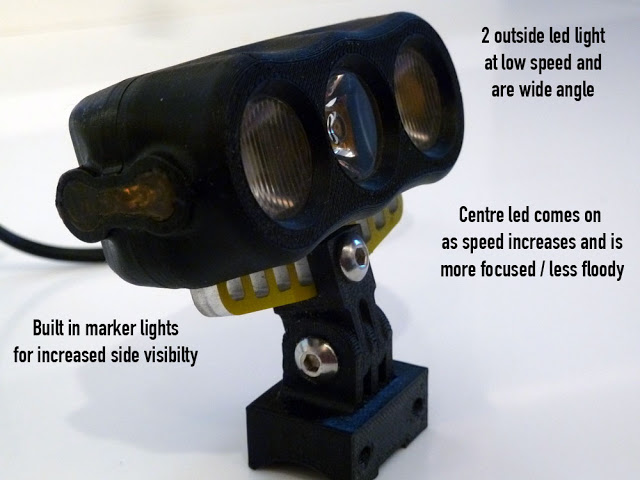 What happens where and when.
It's quite obvious that the Ultra isn't simply an updated or upgraded version of what went before. It looks very different because it is very different. Firstly, the single lens has been replaced by three. The two outside ones come on first and I should say that they come on almost as soon as the wheel is spinning with virtually no lag or delay. The one in the middle lights up as speed increases, think of it as a kind of automatic high beam. You'll notice that the centre lens isn't like the others and that's because it produces a longer reaching, tightly focused beam whereas the outers are much more 'floody'.

The aluminium housing has gone, replaced with nylon. It's tough stuff and should remain chip, dent and scratch free for a very long time. Kerry tells me that it's also allowed the light to be built 'inside out' with a semi external heatsink and is now fully potted internally. For us, that means increased vibration and water resistance which of course equals longevity; it may not look quite as pretty as machined anodised aluminium but it's a far more practical choice long-term.

Something you probably won't notice is that the separate 'control box' of the Pro is now integrated into the main light unit. It does simplify things and for anyone who simply wants their dynamo to power a light rather than supply charging power, it makes the Ultra truly 'plug and play'.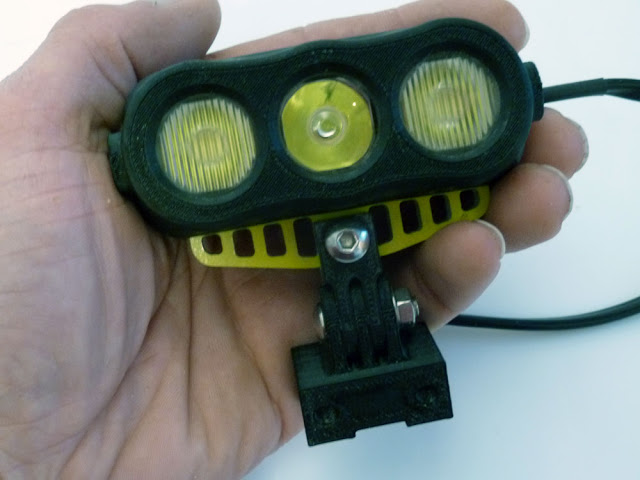 It's bigger than the Pro but there's no separate control box … weight as pictured is 169g on my scales.
You may have spotted the small 'lenses' on each side of the light? Well, these are Kerry's way of trying to keep us all that little bit safer out there while on the roads. Each lights up as the outer emitters do, they're surprisingly bright and add some very welcome 'be seen' rather than 'see by' illumination for anyone who might be approaching from the side. You don't really notice them when you're riding but drivers seem to.

When it comes to mounting, versatility is very much the name of the game. The light comes fitted with a forked mount which is attached to the aluminium heat sink, you then bolt another forked mount of your choice to it and fasten that to the bars or whatever by way of small cable-ties. There's a range of mounts available, so while it may sound a little complicated it allows you to mount the light directly without the need of tape or bits of rubber to pack out the bars. You can also mount the light either way up without effecting the optics; no matter what weird and wonderful bars you're using or how your luggage is placed, you should be able to locate the light with no compromises.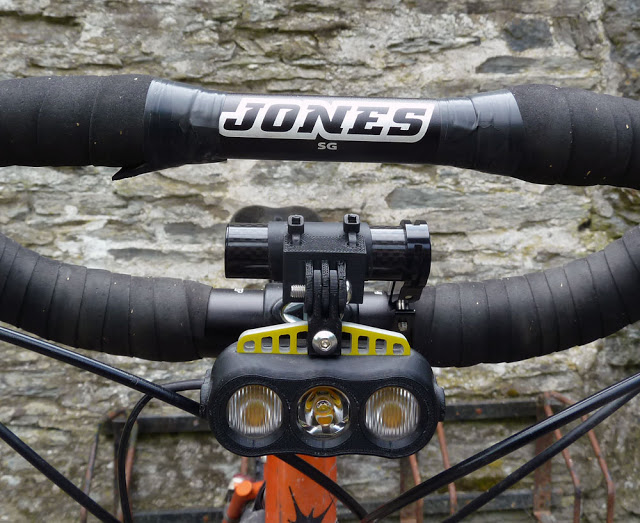 It's very adaptable and you can mount it either way up if that helps.
I did wonder whether the larger and obviously heavier light might try and turn on the bars in use but that thought has proved to be completely unfounded. In fact, it doesn't try to turn or rotate at all and once fitted, it stays exactly where you put it … granted, the mount isn't quick release but it's secure and completely wobble free which seems like a good trade off to me.

Okay then, I know what your thinking … yeah, yeah, that's all well and good but just how bright is it? Firstly, let me just remind you that a dynamo light is a different beast to a battery powered light. There isn't a constant and steady source of power; a dynamo light has to contend with differing power levels from virtually nothing to lots and it needs to produce useable light at all points in between. Most dynamo lights have an in-built capacitor who's purpose is to store a certain amount of electricity when the going's good and then release it when there's little or no output from the dynamo … pushing up a steep hill, waiting at a junction, etc and the Ultra is no different but at times like this, all dynamo lights will appear somewhat dim when compared to battery powered ones.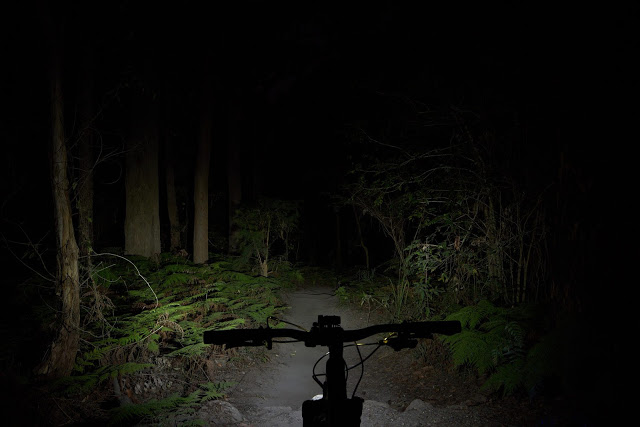 This is you stopped … maybe you're eating a pie or something?
At a standstill the Ultra still provides some useable light via it's capacitor / stand-light. The capacitor will provide the required power for quite a while but not indefinitely and over a period of around 20 minutes or so the light will gradually dim unless there's additional input from the dynamo. At low speeds, you will be literally over-shadowed by anyone following with a modern battery powered light but (a) that's just part and parcel of dynamo lights and (b) can be largely overcome with the use of an additional headlight kept in reserve and utilised if or when it's required.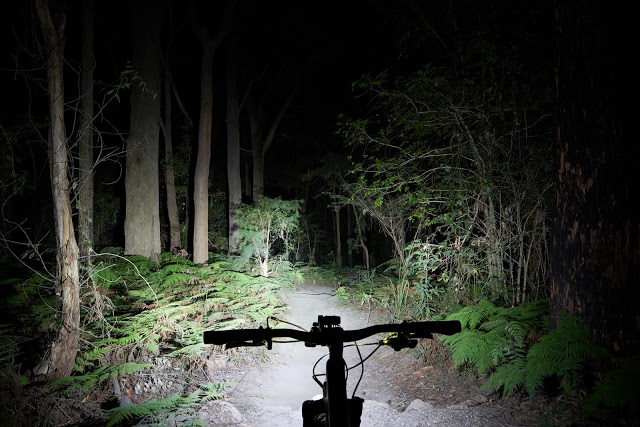 This is you around 18km/h … obviously going well after your pie.
As things start to speed up and dynamo output increases a quite dramatic change takes place as the full potential of the light is unleashed on the unsuspecting trail ahead. The two outside emitters provide a very wide spread of light that really helps to highlight the edge of the trail, while the centre one throws its beam way out in front to illuminate the trail ahead. They actually merge very well with no step or noticeable gap between the two, leaving you with a deep pool of quite natural looking light to bathe in.

For anyone wishing to use their dynamo to supply both charge and to power lights, you can set the Ultra up with a K-lite bar switch. It can be mounted pretty much anywhere and allows you to switch between lights and charging without plugging / unplugging any wires. You might also be interested to know (I was) that K-lite also now produce their own USB charging / regulator unit and it addresses some issues that can arise when charging iphone, Samsung and Garmin … those who've gone down this road already will likely know what I'm talking about here.

Finally, if you're not much of a mountain biker and prefer to cycle on smoother surfaces, the Ultra is available as a road / gravel biased model. It shares the same features as this one except the optics are reversed meaning you get a longer, more penetrative beam early on with the broader floody beam appearing as speed increases. I've not tried one but Kerry tells me that although both models have the same 1300lm output, the road version appears brighter at lower speeds. Apparently, it's all to do with the Lux or 'throw' and how our eyes see light … but that's probably a subject for another day.

If you're in the market for a dynamo powered light with genuine off-road capability, that's largely idiot, crash and waterproof, I doubt there's anything better.

K-Lite is available in the UK from the lovely folk at Travers Bikes and a Bikepacker Ultra will cost you £219 at this moment in time.