For the third time in as many hours, I drew to a halt, climbed off the bike and lent it against a gate. I looked at it square-on, then I squatted down and looked at it from below. I tipped my head on one side and looked at it again. No matter which way I looked at it, the fact remained the same … this thing really was as big as a gate, yet every time I got back on, a bizarre transformation took place. It was a transformation from ponderous to lively, burly to slight and I was struggling to understand it.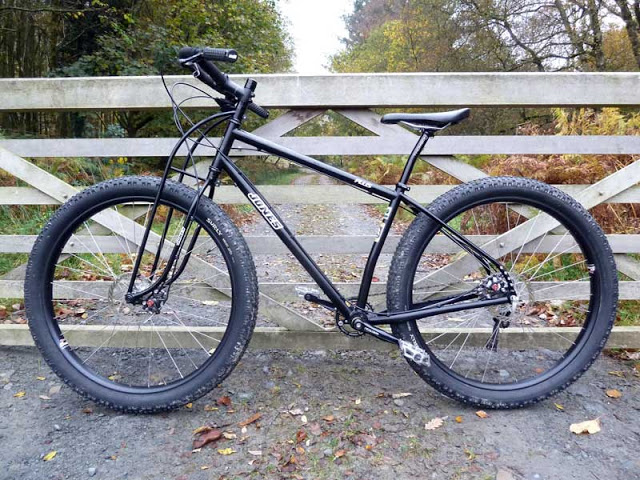 See, told you.

Jones – it's a name that splits opinion like an axe. For some, it's the raw essence of a bicycle honed to perfection and the aftermath of a high speed derailment for others. The trouble is, many of these opinions are based purely on aesthetics and whilst that might be okay for paintings, sculptures and one night stands, it's probably not the best way to judge something who's form must play second fiddle to function … if a bike doesn't work properly, then no matter how pleasing its lines or colour, it ceases to be much use to those who enjoy riding bicycles rather than simply looking at them. Having said that, I'll admit that while I find most of Mr Jones creations easy to look at, the 'plus' jarred my sensibilities slightly. I can't put my finger on why or what it is about its looks but it's certainly more 'workmanlike' than handsome … however, let's put that aside for a moment and concentrate on the important stuff.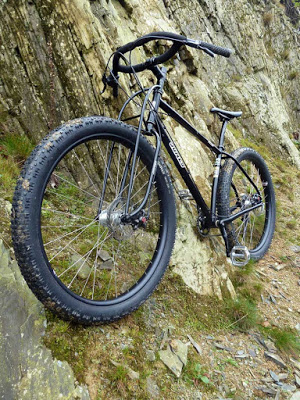 More of a mountain goat than you might expect.

The Plus comes in two sizes and this is the smaller of the two but with a 24″ (fraction under 61cm) effective top tube, it's not what most people would consider small. It's a big old frame and one which on paper, I really shouldn't be riding but numbers taken in isolation can be deceptive. It actually turns out that, although the 24″ frame has a longer wheelbase than an XXL Surly ECR, the reach is shorter than that of a small ECR … that's quite some trick and probably has a lot to do with the seemingly magical transformation that takes place when you swing a leg over it and start to pedal. Although the cockpit feels smaller than its vital statistics might indicate, you could be forgiven for thinking that the extended wheelbase might make it a bit 'barge-like' in the turning stakes or that the longer than usual chainstays will prevent you from hoisting the front wheel clear of whatever lies in your path but surprisingly – they don't. It's certainly very stable but that doesn't appear to come at the expense of agility.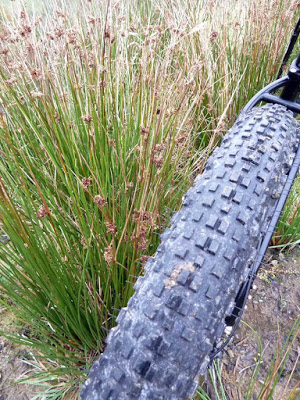 Plenty of tyre clearance even for the Welshest of conditions.

One area where I did initially have concerns was, rear wheel grip. Are you thinking the same as me – steep, lose, technical climbs won't mix well with that long wheelbase? You are? Then you'd be as wrong as I was. Knard's aren't known for their high levels of limpet-like grip but no matter whether rock, mud or roots, both bike and rider were able to make it safely to the top as one. Even when spirited, out of the saddle action was required, the thing just dug in and kept on going – it certainly wasn't what I'd anticipated. On the contrary, I'd envisaged a spinning tyre and much swearing at the slightest provocation. Without doubt, climbing prowess was probably the biggest shock I received during our time together.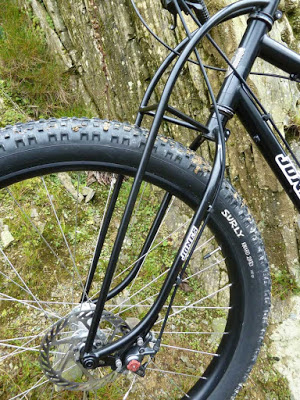 Looks won't hold universal appeal – but they do work well.

One of the most striking visual aspects of this bike and Jones bikes in general, is the Truss fork. I know it's not to everyones liking but to my mind, it's one of the elements that readily distinguishes a Jones from any other bike and importantly, it's something which enhances rather than detracts from the ride. Anyone not used to the hand-numbing joy a rigid bike can impart on its rider might think that all rigid forks are created equally. However, those who feel no need for boing and bounce in their lives will usually tell a different tale. Sometimes it's a happy story of subtle flex and trail smoothing compliance but occasionally, it's one of lost fillings and blurred vision or brake induced terror as subtle flex gives way to something altogether more noodley. A good rigid fork is a pleasure to ride but a bad one is awful. Too rigid and your body will ache for days, not rigid enough and you won't sleep at night. In this instance, the balance is just about perfect, there's no noticeable flex under braking, yet it still takes the rough edges off the trail; If you prefer your trails to feel even smoother, you'll be glad to know the fork has clearance for a 26″ x 4.8″ tyre should you wish to mix and match your wheel sizes.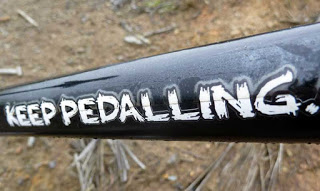 If you do, it'll keep going.

The Plus is certainly a bike that you sit 'in' rather than 'on' and allied with the 3″ tyres, it produces a feeling of near invincibility. It goes up, it goes down and it goes across with an ease that belies its size and dimensions. Jeff Jones has certainly woven some of his unique thinking into the DNA of the Plus and produced a bike well suited to the variable demands of the two wheeled traveller. Multiple bottle mounts, variable rack mounts, ebb and a humongous frame triangle, add to the practicality for those not burdened by a need to return home for their tea … but would I buy one?

The short and simple answer to that million dollar question is, no. The answer has no bearing on the bike, it's a superb bike. In fact, I've possibly never ridden anything quite like it. It delivers everything promised and lives up to all the claims made against it. No, the reason for my answer is money. A Plus frame and fork costs around £1500 and I'm sure most people would agree that's not an inconsiderable sum. Even if I could afford to, it's much more than I could ever justify spending. Obviously, you might think differently and if you do, my advice would be to firstly visit the Jones website to gain more of an understanding of the thinking behind the bike and then, see about getting yourself a test ride. I don't imagine you'll be disappointed although you might be a little surprised; but ultimately, only you can say whether the Jones experience is worth the asking price.

Very big thank you to Rich and Shona at Keep Pedalling for the opportunity to test it.