I generally consider myself a glass half full type person but I'm also a realist, so I happily accept that sometimes things won't turn out exactly as you'd hoped. Luckily, life tends to balance itself out and on occasion your glass isn't just half full but overflowing. It seems you can do no wrong, every move you make is a good one, each decision made leads to a better one and as long as the stars stay aligned … you can do anything.
Had you told Ian Fitzpatrick 4 weeks ago, that he would finish in the top ten at this year Highland Trail, I'm sure he'd have been a very happy man. Had you told him he would finish joint third, then, I don't think he'd have believed you but that's what happened … because mostly in this life, you make your own luck.
1/ You obviously put a lot of time into training / planning (at least I hope you did) but did you have a specific goal in mind or was it simply a matter of hoping to finish and survive?
I don't really train as such, that sounds like there is a plan. But I have ridden my bike a lot in the last few years. I was talking about mileage with a friend and worked out the other day that if you average out the riding I've done since January 1st 2015 it works out at 23km/510m and 2 hours 10 minutes for every single day, nearly all on a mountain bike. I ride a lot with Mark Evans who finished this year too. We had a recce trip of the new start and southern loop at Easter, it was still pretty wintery then! I also spent probably too long reading the many excellent blogs to figure out where, and what time, the shops and hotels are open.
Despite what I may have said before – I went there to race it, but that was going to be racing the route and myself, I had no expectations
or plans other than I wanted to finish, and drink a beer on my 40
th
birthday on Monday, the third day of the race. I thought if it all went well then sub 6 days would be doable. I would have been delighted with that. I had never considered that I could finish so high up the field. It really shows that strategy is everything in these multi-day events, the other top 5 finishers are so, so much faster than I am. Javi is so strong, like a mountain goat and the other 3 have been pro/elite riders in the recent past – I don't belong at that end of a normal race!
2/ What bike did you use and did you make any specific alterations for the HT?
Despite riding a rigid hardtail 29er for everything in the last 3 years I decided at Easter to change bikes and built up a Salsa Spearfish. The rationale for this wasn't to go faster on the descents but was just to reduce stress and strain on my body over that many hours of riding. Also allows seated and still comfy pedalling on the long estate track sections. It is such a fast bike over most ground, I love it!
In terms of the build it had a SON dynamo front hub with a Revo light and C2C USB interface, routed through a copy of Ian Barringtons SwitchOver. The bike has a 1×11 set up, 30 tooth front chain ring and 10-42 cassette. I fitted an Ikon 2.35 up front on a 35mm rim and, at the last minute, went with a fast rolling Maxxis Pace 2.1 rear. Both were the EXO versions with toughened side walls. Fully taped Jones bars with Ergon grips and a Brooks Cambium and Wildcat custom frame bag, Lion and Lioness plus the tiger seat system with one of their new tapered dry bags in. two feedbags, one Revalate and one XL Alpkit one.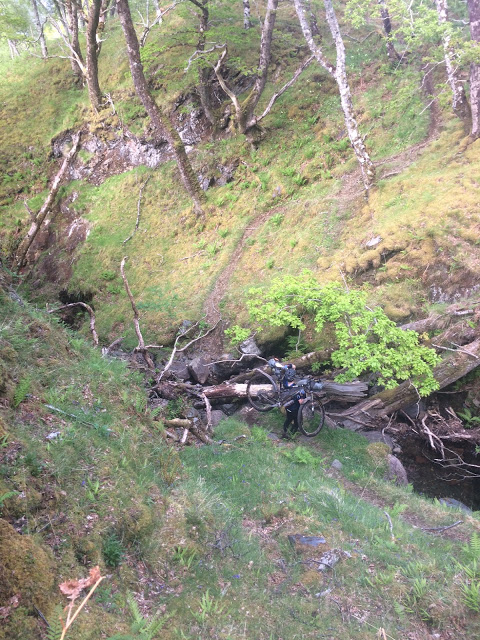 Some bits of the Highland trail are rideable and some bits ……

3/ Were you ever conscious that people around the world were following your every move via Trackleaders?
Yes in a hypothetical sense. I knew that people who now me would be. I've done my share of dot-watching in this and many other races. In fact as I'm typing this I'm checking if Greg May is awake and riding yet in the TD (he wasn't when I started typing but he is now) and if Lael Wilcox can close down that 30 mile gap to take the lead in the Trans Am! (She's slowing getting closer…)
It was also a bit odd as my spot wasn't sending my tracking info to the trackleaders page. I was sending out a manual 'OK' message every hour or so. This is linked to my facebook and twitter accounts so I spammed a lot of people during the race. Sorry!
I didn't check the trackleaders page myself during the race but did get a bit of info about where people where from home. Most notably on the postie path were I found out how near the front I was. This crystallised a plan that was already forming in my head to try to pull an all-nighter and see how close I could get to the front of the race. In the end I rode from Shenaval Bothy to the finish in just under 35 hours, I had to stop for a one hour sleep though.
Although it looks close on the trackleaders page in the end I wasn't riding with people for much of the time. At the start of course, then in the bothies first and third night, met up with a few people at contin stores, Oykel Bridge hotel and ullapool tescos. The rest of the time it was short conversations being passed or passing people. I did really enjoy these times though. I rode with Lee for 10 hours on the last day which was by far the longest. Afterwards I read a thread on a rival website (sorry Stuart!) which seemed to be getting very excited that Lee and I were racing, elbows out, over taking and leap frogging each other. That's really not how it was at all! I was well into survival mode for nearly all of that last day.

4/ Was there any bits of kit you took but now wish you'd left behind?
I took much more stuff than I could have done. But I only knew that at the end when the weather had been kind for the whole race. There was kit I carried that I didn't use. A cuben tarp and bearbones carbon pole and pegs. My warm layers, extra leg wear and warm gloves didn't get used at all. I also took a warmer bag than I could have. I would have been comfortable in much worse conditions, and would more than likely take all that again anyway. I took two different pairs of bib shorts. I also carried a lot of food, I never ran out. I had space in my wildcat framebag, and lioness, plus two feed bags at the bars. I could have saved weight here for sure but I eat a lot and prefer the flexibility that carrying the extra food gives. You can be less reliant on shops being open, the idea of having to wait for a shop to open in order to resupply would not be good for my motivation! I tended to eat on the bike a lot. The jones bars are great for a semi aero position which puts you close to the Wildcat Lioness – where the pies are kept!

5/ What was the best thing you ate? … I appreciate that might be more to do with your condition than the actual quality of food consumed.

I ate well on the way round, my appetite was pretty good throughout, although was a bit odd on the last morning – I bought an ice cream from the coop in Kinlochleven and didn't enjoy it at all, couldn't finish it, very strange…
Stand out meals were a Lamb shish kebab in fort augustus, the venison bolognaise at the Oykel Bridge Hotel and the harbour fish shop in ullapool. Although I think the best thing I ate was a couple of cartons of pre-prepared fruit from the Kinlochleven coop. I'd eaten one sat outside and remember that later Lee and I were pushing up a steep section of the devils staircase and I opened one of them. She was about 30 metres away at the time but asked if I was eating strawberries as she could smell them really strongly. Although you need plenty of carbs protein and fats your body is screaming out for nutrients by that stage of destruction and I think your senses become extremely heightened.
My other favourite food story is what happened at the Whistle Stop café. I'll quote from my write up…
….The postie path is fantastic, so varied, some superb narrow single track suspended on a very steep slope, across grassy hillsides and through stunning bluebell woods. If you have the nerve and motivation it possible to really motor along here. A fully functioning full suspension bike is good too. Soon enough Fraser and Phil come into view. I seem to breeze pass them, establishing they have not enjoyed the same experience on the postie path. Both are looking forward to a sit down meal in the well regarded Whistle stop cafe. I push on and soon arrive, order 3 bacon and egg rolls with plenty of sauce, plenty of butter and a double espresso all to go. 10 minutes they tell me, just had loads of orders. Not a problem, I head over to the shop fill up with a couple of pies, snickers, fudge, nuts and flapjacks. Roll back to the Whistle stop, two of the guys are there now. Seated, settled in, looking hot and staring blankly at menus. As I say goodbye and turn to walk out with my takeaway order I see in their eyes, just for a fleeting moment, total bewilderment about what I am doing. In that small moment it's not compatible with their current formulation of the world. I know just for now that the route and I have broken them and I won't see them again. Psyched out with sandwiches. This is the moment I realise, at 40, that I absolutely love racing!
On to the road and the aero position. It's obvious to me now that bacon and egg rolls are the answer. Doesn't matter what the question is either. Later in the race I'm not alone in this knowledge. In fact I manage, sometime after the race to have my breakfast bacon and egg roll bought for me by simply asking for the answer please, just one will do it, thanks. True story.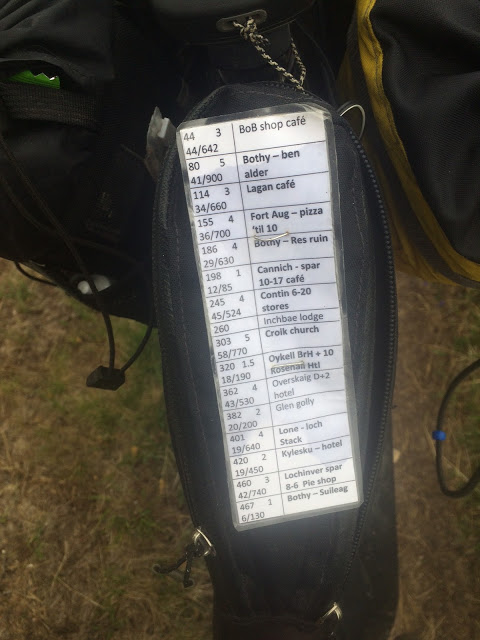 It obviously pays to do your homework.

6/ Do you have any 'stand-out' sections of the route that you never want to see again?
There were so many sections of the route with a 'reputation', I was apprehensive about the glen golly-bealach horn section, fisherfield – especially the river crossing, and the postie path – it was new, unknown and Alan liked it! But in the end all of those sections flew by, I loved all of them.
The couple of sections where I was having to work harder were the road section between Kylesku and Dunbeg stores. That went on forever and was so steep. Also the hike-a-bike section between Lochinver and Ledmore Junction, there was plenty of that I felt I should have been able to ride but didn't quite manage to. But I don't see them in my nightmares or anything. In fact compared to some of terrain the on the 2014 Bearbones 200 route most of the Hike-a-Bike is actually quite tame!
In terms of favourite sections there are too many to choose from. For so many different reasons. The Ben Alder singletrack, the postie path, and particularly the torridon descent (this being the stand out for me, the best bit of trail I've ever ridden) all have fantastically involving riding. Travelling through Bealach Horn, Fisherfield, and to some extent Glen Affric is incredible because of the feeling of isolation. The incredible views from many parts of the route are too numerous to mention.
7/ How much sleep did you get in total?
I've not worked it out but out of the 101 hours of the race I was moving for 84 of them. That 17 hours of stopped time includes everything else – sleep, four sit down meals, a few resupply's from shops, gates, going to the toilet and a couple of minor mechanicals.
It's amazing how little sleep you can survive and even thrive on when you decide you are going to push it. I kept waking up before the alarm – unheard of in normal life!
It was always going to be my strategy to ride long days and try to be efficient in keeping moving. I never even considered that I could finish so high up the field, but it was my only chance of riding a good time.
8/ At what point did you 'know' you were going to finish?
Hmmm. Difficult to answer that one, for most of the ride it was never really in doubt that I would keep floating in the magic bubble I was in, and that it would deposit me at the finish at some point. But that's not the same as knowing I was going to finish…
At the other end of the happiness scale after the one hour sleep on the last day I was in an awful lot of pain and mental anguish, in a complete tangle actually. There was still 80 miles to ride and my feet and, erm, contact area were throbbing and very painful after I'd left my damp socks and bibs on. Luckily just minutes after this I met Lee, for the first time in the race, she was feeling not so great too, we managed to start a stream of chatter, banter and discussions that lasted us 10 hours back to Tyndrum.
Thinking about it now I can pin point the moment I knew I was going to finish, it was where the point where the Great Glen Way re-joins the road after the loch-side singletrack section just before Gairlochy at around 6am, Lee and I had met up just before this and it was here that I realised we would ride back to Tyndrum together. Although we didn't discuss this until afterwards it was just obvious to us both.
9/ Did you use any gels, bars, drinks or potions or were you managing to eat 'real' food?
Not much, I had some high 5 hydration tablets and a bottle of 'elite' which is super concentrated salts to add to water. I also carried 3 servings of Torq recovery powder for those 'oops I've missed dinner' kind of evenings. I had one each night for the first three nights, I'd take them again.
Aside from that I ate as much real food as I could. Pies, wraps and bacon rolls are good to eat on the move, I ate a lot of snickers bars, flapjack, fudge, crisps, nuts and a bit of trail mix. Also fruit where it was available. I ate quite a few sweets on the last day too.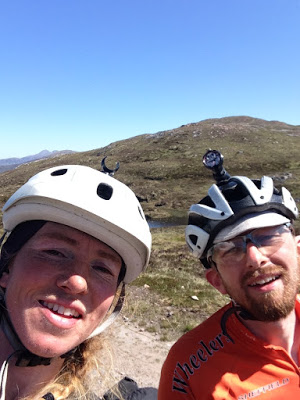 Lee Craigie and Ian shortly before the plummet of the Devil's Staircase.

10/ Are you going back next year?
Although I'd be interested to try something longer, I'm almost certain I'll be back next year. It will be interesting to see how it rides next time. This year felt easy – I realise that sounds crazy or conceited. I hope that I'm neither. What I mean is that everything went right. The weather, trail conditions, an incredible bunch of people. All the sections I was apprehensive about turned out to be quicker than I thought, I exceeded all of my expectations by so much it was comical. I've used the phrase 'bubble' quite a bit to try to describe how it felt. I wrote a ride report afterwards to try and understand what happened, I'm still baffled!