Like many of you, I very rarely employ a rucksack or backpack and usually prefer to attach my worldly possessions to my bike. Generally, it's a tactic that works well, however I'm not blinkered enough to deny that there are certain circumstances when transferring some stuff from the bike and into a pack is the sensible thing to do … anyone who's ever carried their bike up the side of a mountain will attest to that fact.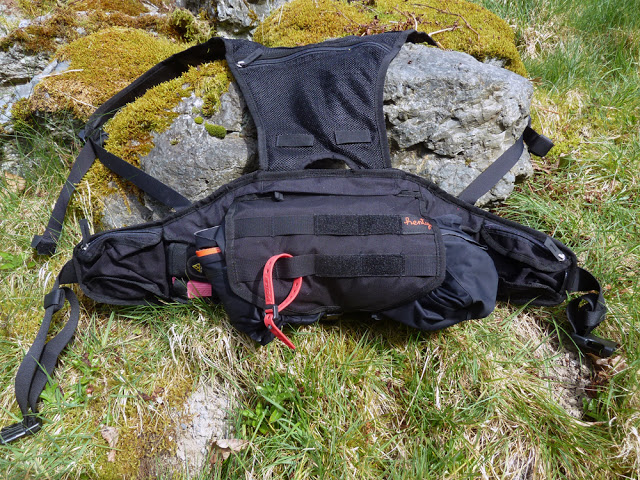 Henty Enduro pack. With a little imagination, you might be surprised by how much stuff it can hold.

Quite obviously, the appropriate size of pack will largely depend on what you want to put in it and that may in turn depend on how much you embrace the principles of TLS. Personally, I'll always try and avoid a 'full blown' rucksack and instead aim to put my more compact but often heavier items in a small pack to remove the need for a frame bag; something which makes carrying or shouldering a bike much easier. Often, a large capacity 'bum-bag' is adequate for the purpose but even a big bum-bag doesn't offer a great deal of capacity and can soon become a little over-stuffed and over-stretched. I've sometimes thought that what I really need is neither a rucksack nor a bum-bag but something that combines the positive traits of both with few of the drawbacks of either. As you might guess, the Enduro backpack from Tasmanian company Henty is primarily aimed at those cyclists who frequent the brightly coloured world of Enduro but thankfully, those from the bikepacking community have never shied away from repurposing kit or equipment no matter what its original or intended purpose may have been.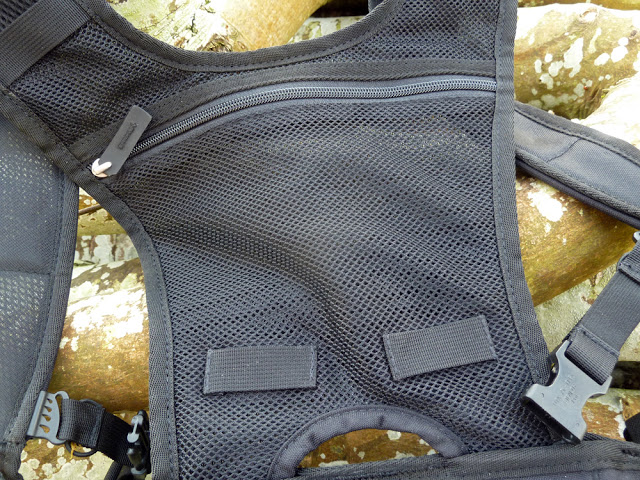 Main harness is heavily ventilated and incorporates a large mess pocket.

Okay then – at first glance it appears to be a rucksack, after all it has shoulder straps and all rucksacks have shoulder straps, don't they? Yes, there are straps which edge it over towards being a rucksack or backpack but look where the cargo space is located. It's low down around your hips just like it would be with a bum-bag. Perhaps we should reconsider our initial thoughts? The concept of using a harness to add stability while keeping the weight low and supported by your hips is a design you'll be familiar with if you've ever worn a Wingnut Hyper 2.5. It's a concept that works very well; the ventilated harness doesn't make your back sweaty but does increase stability and placing the weight low and supporting it on your hips aids that stability yet removes the likelihood of aching shoulders or a sore back. There's no denying that the aforementioned Hyper 2.5 is a good pack and I've always found it very comfy to ride in but I also felt it was perhaps a little bulky around the middle when off the bike and pushing or carrying. I don't really want to start making detailed comparisons between the two but suffice to say, the Henty is more slimline that the Wingnut so negates that particular issue yet still manages to provide a decent amount of storage for those items you might otherwise put inside a frame bag.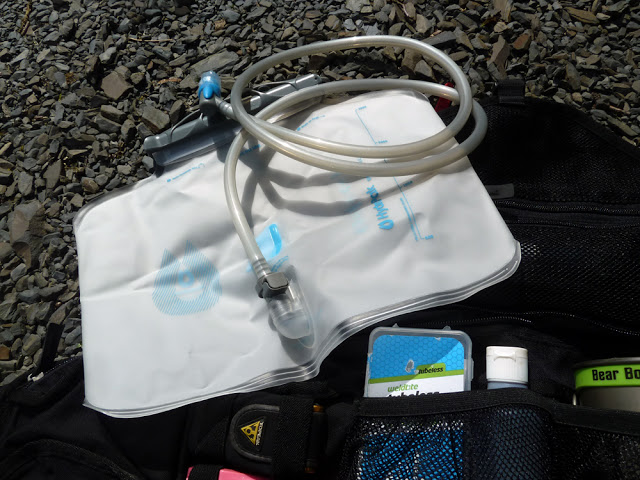 A Hydrapak 3L bladder is included which will obviously allow you to lose the water bottles.

The packs main compartment is home to a supplied Hydrapak 3L bladder with wide-mouth opening and quick release hose – do remember that our primary reason for using a pack is to free-up space within the frame, so a bladder makes a lot of sense. Behind this compartment is another smaller one which I assume is likely earmarked for phone storage. Attached to the outside of the bladder compartment are two decent sized mesh pockets. To the side and below these pockets is a series of elastic retainer straps and further out again are a pair of zipped pockets with one on each side of the pack. Over the top of this is a large flap the underside of which features two large zipped mesh pockets. The outside of the flap has a series of webbing loops sewn in, some of which are plain webbing and some featuring a hook and loop backing. The harness itself extends from the top of the pack and that too has a large zipped mesh pocket plus more webbing loops. The shoulder straps have yet more webbing loops and each also has a small pocket. How you choose to employ the available space and best exploit the options is completely down to you but with a little imagination, it's surprising what it will hold.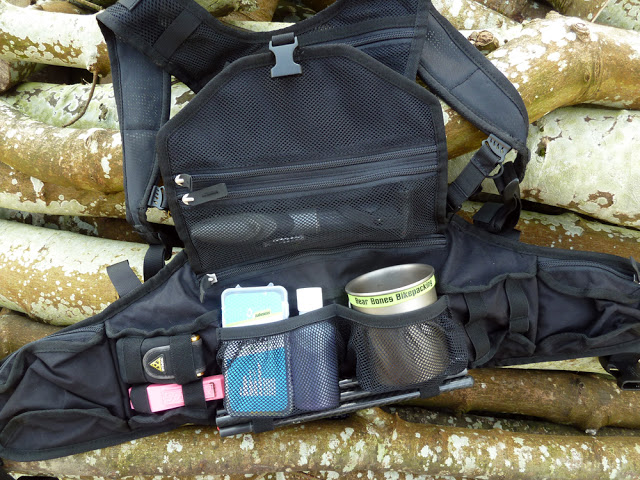 Yep, it will readily hold your mug so there's no need for any of that dangling nonsense.

Given the packs intended purpose we can safely assume that it can hold the usual accompaniments required on an average day ride but what about other stuff? Does it have the appetite to swallow the contents of my frame bag? In order to answer that question I first needed to empty my frame bag to see just quite what was in there. This particular frame bag is a Wildcat Ocelot, which is a half bag but surprisingly spacious and almost Tardis like. As you can see, the contents is somewhat eclectic but probably not too different from what's inside yours. There's the usual odd assortment of tools and spares, personal hygiene and medical items which runs to a tooth brush, two paracetamols and an old plaster, cooking kit, tarp pole / pegs and an array of sugary snacks to help fuel whatever trudge lies ahead. An initial test showed that there was still space for other things so I added a hat, gloves and a waterproof. In truth, I didn't actually use all the available space or attachment points which does make me wonder just how much you could carry if you did; I don't think it would be too difficult to imagine a light tarp and even bivvy bag finding themselves strapped to the outside.

This goes without saying but I'm going to say it anyway because generally, things that go without saying should actually be repeated three or four times quite loudly for those hard of thinking – consider what you put where and think what each item might do to your soft pink flesh in the event of an 'off'. Pack any sharp pointy things where they will do least harm – I appreciate that I sound like your mum but you'll thank me one day.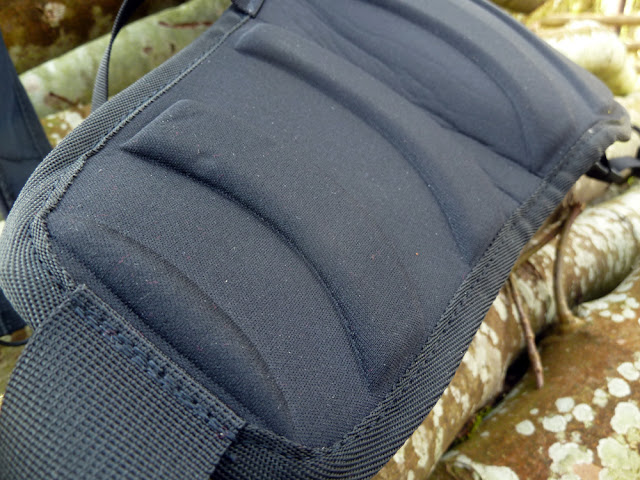 Inside face of pack is well padded but it has plenty of air channels to aid cooling too.

The back of the pack is heavily padded which adds comfort, the padding is also shaped to allow for a degree of air-flow and ventilation. Now, given that I'm writing this while the world is in lock-down, full scale testing is somewhat difficult but rides round the forest that surround Bear Bones Towers combined with jumping up and down, have so far proved it to be both comfortable and stable. If you wear it properly and allow your hips to bear the brunt rather than hanging it from your shoulders, then it simply sits quietly doing what it was designed to do. Obviously, you're aware that you're wearing something but it's far less obtrusive than a conventional pack and noticeably more stable than a bum-bag. The rough and tumble world of Enduro is a somewhat harsh one and that shows in both the materials and manufacture. For us, that perhaps means at 777g including the bladder it's on the heavier side but it also means that it should also last years even if we're not too precious about how we use it.

Once the current apocalypse is over the pack will certainly be joining me on some multi-day trips and I will report back in due course. However, I'm in little doubt that those who find themselves off piste or traversing the mountains regularly will already be deliberating just what item might go where.

Packs are available in black, orange, blue or camo and you can buy one direct from Henty for £95.00. I believe it will be shipped from the UK which means no additional duty etc and a speedy delivery.

EDIT: For some reason I'm unable to add a comment to this, so in answer to the question of how much does a Wingnut Hyper 2.5 weigh, the answer is 560g without a bladder which means the two are quite similar.