Gravel, adventure, gnarmac or cyclocross. It doesn't much matter which moniker you care to hang off it because when the gravel gets lumpier, the adventure becomes more adventurous or things get a little gnarlier than you expected … your re-branded cyclocross bike is going to get out of its depth.

In some instances, it might be the rider at fault and their unwillingness to fully embrace the drops which results in the bikes full off-road potential never being realised. However, in the majority of cases, the limiting factor when deciding just how adventurous our adventure bike's going to be – is tyres. People talk about 40c like it's a big tyre, it isn't. It's just over 1.5″ and when was the last time you rode your mountain bike in any meaningful way with a tyre that size?

Rather sadly, most of us are limited to fitting 40c tyres to our gnarly gravel bikes because anything bigger just won't fit. I say sadly because the racers out there know that a tyre with a larger volume will often allow them to travel across rough ground faster. The slow and steady amongst us already know that a bigger tyre run at a lower pressure will provide more comfort for their aching backs … and the tarts out there, don't need me or anyone else to tell them that bigger tyres are just so much better looking.
Braking, climbing and cornering can all be improved with some additional rubber but in 90% of cases, your off the shelf, drop-barred, all-road bicycle won't allow it. You're stuck with 40c or maybe 42c if you're very fortunate and that's that … or is it?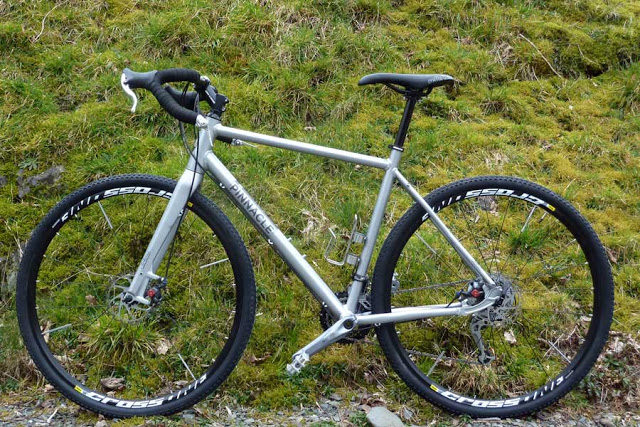 700c x 40c … that's not a lot of tyre.
Unless you really have been living in a heavily fortified underground commune, you can't have helped but notice the rising interest in 650B+, in fact you'll probably find some exquisitely penned words hereabouts if you care to look. Anyway … one of the things often touted about by B+ believers, is the fact that in some cases, it's possible to fit the wheels and tyres to an otherwise ordinary 29er without modification, special parts or hammers. The larger volume tyres deliver the benefits previously mentioned, while keeping the geometry as nature intended give or take a couple of millimetres.
Those of you still awake have probably already figured out where this is heading, and you'd be right … Gravel+ or Adventure+ or whatever else you want to call it +. What if, by applying the same principle as B+ but in a scaled down version, you could transform your previously skinny tyred, bone jarring 'All Road' bike into something a little more capable?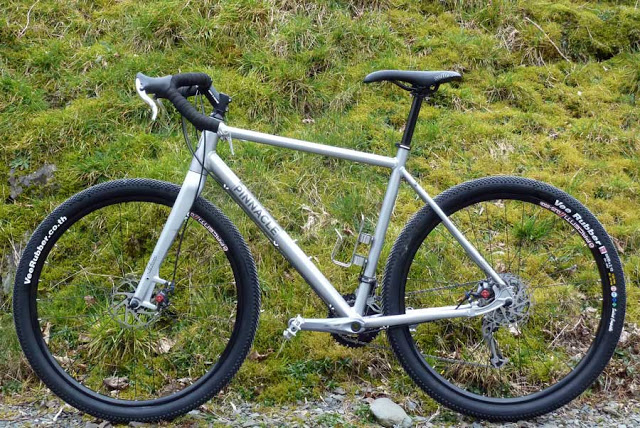 650b x 2.1″ … much more tyre to play with.
Okay, so it's not exactly 'plus' but an increase in tyre size from 1.5″ to 2.1″ can't hurt in the pursuit of speed, comfort and good looks – can it? In all honesty, I don't know yet but I will be back very shortly to let you know how it rides … although, I have to say, I do think it looks better already.
Thanks to James Olsen for sewing the seed ;o)