Ever since gears were first fitted to the bicycle we've wanted more … 3 speed, 6 speed, 7 speed, 8 speed, 9 speed MORE. We haven't craved knee straining, vain popping 'big' gears, we've wanted it easy. Gears that can seemingly transport us up the steepest of hills with the very minimum of physical effort, something we can sit and twiddle.

Anyone who rides singlespeed will tell you that gears are the work of the Devil and whenever you make a deal with Satan, there's always a price to pay. In this case that price is complexity, 3 chainrings, 2 shifters, 9 cogs and 2 derailleurs is quite a lot of hardware and if it's allied to the same level of mechanical ineptitude displayed by your average primate, then things are going to get messy sooner or later.

Oddly, it was the introduction of more gears that started a shift in thinking (or maybe a think in shifting?) … When 10 speed cassettes came along with their big shiny 36t sprockets, the brave took that as a cue to start removing bits. First to go was the big front ring, after all, they probably didn't use it and it's easier to set a front mech' to work over 2 rings rather than 3 even if you do have opposing thumb and forefinger. Some people did miss their big rings however, so the 32t front ring was replaced by a 36 or maybe 39 toothed one … much better, now they weren't spinning like hamsters on the flat bits. This increase in teeth wasn't without its drawbacks though, they now found a large, ugly gap between the 2 front rings … I know, throw some more teeth at the 'granny' that'll sort it. 2, 4 or 6 extra teeth were duly added to granny and the 'big ugly gap' was reduced to a more manageable 'small step'. A reasonable spread of gears is retained albeit with less low gears and fewer high gears and by removing the biggest ring, a full 90g has been slashed from the bikes previous 14kg bulk.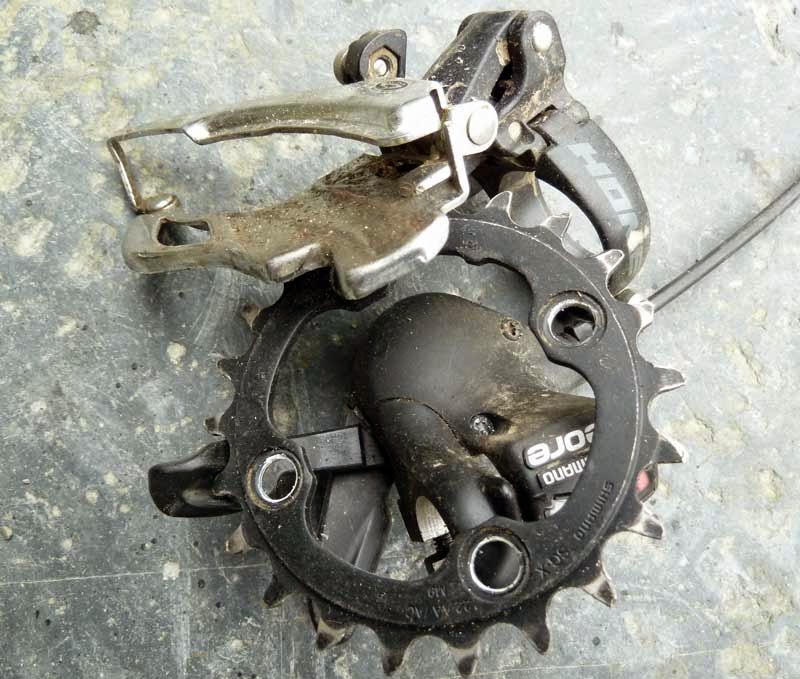 You'd think they were responsible for the demise of the human race.

The very, very bravest or those who live where it's flat, bypassed the above, they took a deep breath and dived straight into 'one ring up front'. 32 teeth at the pointy end, coupled with 36 on the rear would give a decent range of gears that could cope with the majority of situations. This system has a lot going for it, unlike the above 2 rings with more teeth scenario, going to a single ring does actually remove some noticeable parts and simplify things. A lowest gear ratio of 0.88:1 is pretty easy on the legs but obviously nowhere near as easy as having a 22t granny ring, a 22t in combination with a 36t cassette will produce a ratio of 0.61:1 … If you're the type of rider who spends half their time with their chain firmly on the smallest ring, then you might want to stick with it.

If you're still 1x curious, then I'd suggest setting your bike up 32 x 36 (or 34) and trying it. If you find that a couple of hours on an unloaded bike has you huffin', puffin' and gurning like an all England champion, then I'd walk away right now … "Yes, but there's things I can add that'll make it easier" – that's right, there are but not that much easier. "If I keep doing it, I'll get used to it" – I suppose you can get used to anything given enough time, you might even get used to having your testicles nailed to a table but most people are going to give up long before it becomes 'easier'. Contrarily, if you tried it and found it okay, then there are a few things you can do to compensate for the added burden of luggage and long days containing big hills.

Making things easier.
For as long as mountain bikes have been running 104mm bcd crank arms, we've been limited to 32t 'middle' rings … which is weird because when the interest in 1 x started to grow, some manufacturers suddenly decided that we could in fact fit 30t rings to our 104mm cranks. This latest generation of chainrings are also designed with a tooth profile designed to help keep the chain on the ring rather than jammed between your crank and chainstays … a job that used to be taken care of by your front mech'. Switching from 32t to 30t will make a difference but not a massive one and you'll need to bear in mind that it will affect each and every gear, your high gear will become lower, meaning you're more likely to find yourself 'spinning out' on the flat bits.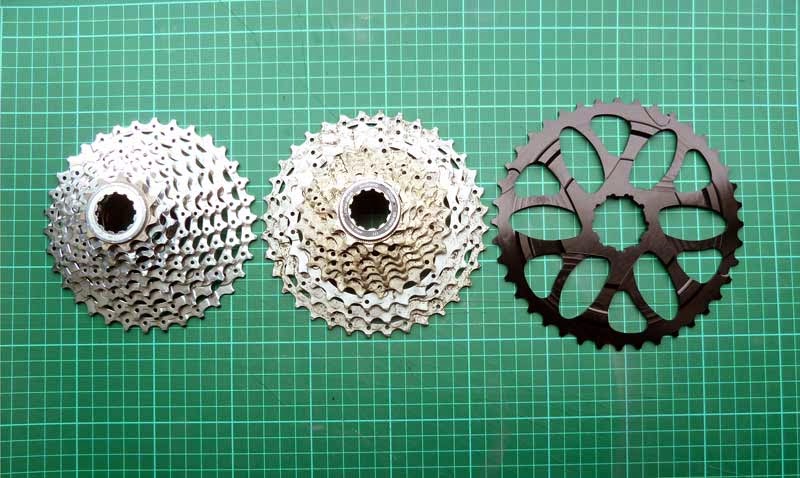 34, 36 and 40 teeth

If a 2 tooth reduction on the front isn't giving you the low gear you desire or you're not willing to sacrifice what little top speed you have, you're next option is a 'range extender'. These chaps fit behind your cassette and give you a modern day equivalent of the old Shimano Mega-Range cassettes … basically, a very low 'bail out' gear. The plus side to fitting one, is that your other gear ratios remain unchanged but the flip-side is that you have to remove one of the other sprockets from the cassette in order to make room for it. Whether the removal of one of your smaller sprockets (usually 17t) is an issue will be down to you but it does produce quite a noticeable step between 15t and 19t. Depending on which manufacturer you've plumped for, you'll be able to add either a 40t or 42t dinner plate to the back. If we assume you've gone the whole hog, then your 30t front and 42t rear will give you a ratio of 0.71:1 … still not quite 22t granny ring territory but closer than you were, in gear/inch terms it's 20 compared to 17.6.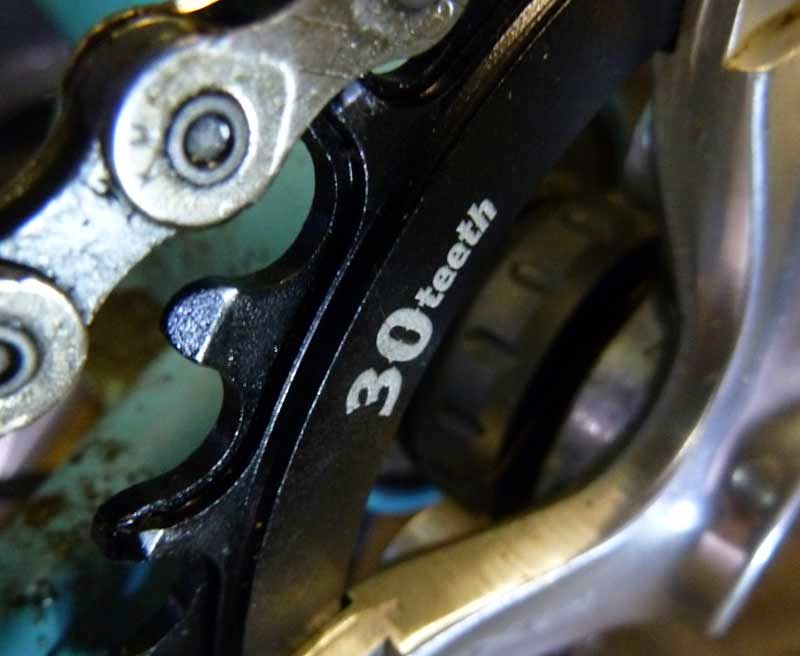 Just in case you forget.

Or more expensive.
For anyone who's smitten with the 1 x idea and feels they want to do things 'properly', there's always the option of SRAM X01 or the wallet crippling X11. As you can no doubt guess from the names, they're 11 speed, single ring specific groupsets primarily designed for those with deep pockets. The cassette contains sprockets ranging in size from 10 to 42, so you gain a little 'top end' over our 'home brewed cobble together' affair but the SRAM system can be run with a smaller chainring than our 30t … so you potentially get a lower gear than can be achieved otherwise. However, you need to remember that a 28t (you can go as low as 26t with aftermarket parts) ring will lower your gearing across the entire range. The result of 28/42 is a low gear ratio of 0.66:1 or 19.4 gear/inches in old money but the reduction in teeth from 30 to 28 does partly negate the high gear benefits of the smallest 10t sprocket.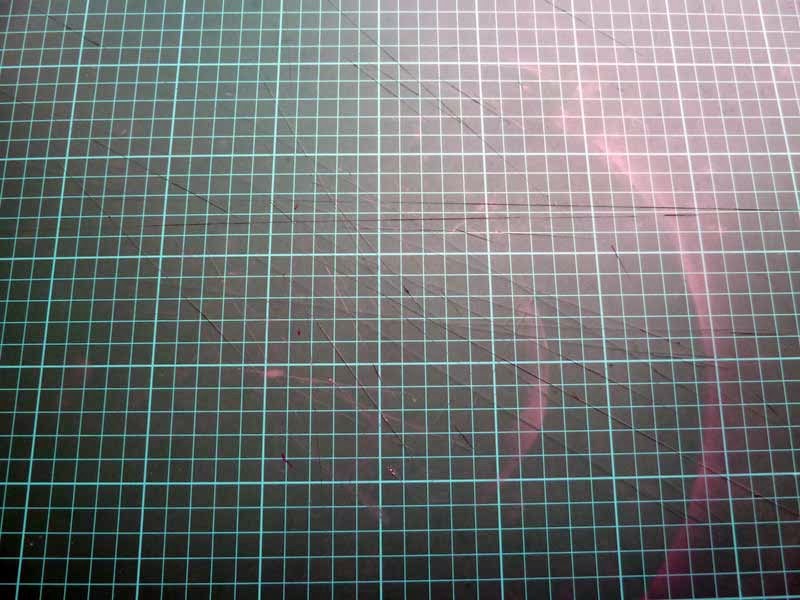 SRAM X11 … use your imagination, we couldn't actually afford to photograph one.
If you've managed to read this far, congratulations and please accept my apologies. You probably thought my ramblings would lead to some kind of gear enlightenment or at the very least something useful … sadly not. There's just too many variables in the mental and physical make-up of the individual, to say whether 1 x summat is a journey worth undertaking. There's no denying that there's a potential weight saving and less complexity which might lead to greater reliability. If you're the kind of rider who rarely uses their granny ring and isn't adverse to a little, spirited stood-up pedaling then I'd say that the benefits will outweigh the downsides. If your allegiances lie in the high cadence, spin up the hills camp, then I think you'd be better served with 2 shifters and all that entails.
Although I poked a little fun at 2 x something at the start, when you look at the numbers, it actually makes an awful lot of sense. No matter what concoction of parts you use to achieve your 1 x set-up, there's no way it can result in the gear range produced by using 2 rings up front. I don't know if it's my age and years of smouldering cynicism creeping in but I can't help think that when your bike weighs close to 50lb and you're riding it for a few back to back days, a 22/32 x 11/34, 9 speed set-up might just be ideal for the vast majority of riders … you know, maybe the emperors new clothes aren't one size fits all, after all?

Note: Gear/inches quoted for a 29er running 2.2″ tyres.