Track, downhill, enduro, xc, dirt jump, fat, road and gravel. All recognisable genres in the bubbling, melting pot of cycling. Simply add the word 'bike' at the end of every one and your brain will instantly generate an image of what each looks like … but it can't do that with the word bikepacking. Aside from a few anomalies, there is no such thing as a bikepacking bike. If you discount such things as the Salsa Cutthroat which was designed from day one as a bike with a sole and very specific objective, then you won't find a single 'bikepacking bike' in the shops. Some manufacturers might go as far as saying, 'suitable for' but none will proclaim their products to be 100%, bonafide bikepacking bikes.

Doesn't make sense does it? Cycling's latest golden child left without its own toys. Seems hard to fathom but on reflection, it's little surprise. Bikepacking's a complicated soul, its DNA is a jumble, a tangled muddle that no one can quite fully figure out. To me it's one thing, to you it might be something else. We're both right but without a definitive definition of what 'bikepacking' is or what it means, there can never be a 'bikepacking bike', there can only ever be bikes that lend themselves well to the task.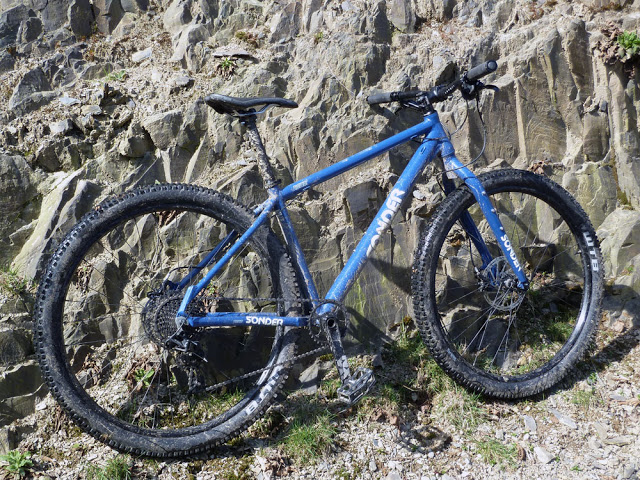 The Sonder Frontier isn't a bikepacking bike but it is a bike that will likely tick many boxes for anyone planning multi-day rides, without first returning home for their tea. The Frontier is available in four different guises – rigid 29er, rigid B+, hardtail 29er and unsurprisingly, hardtail B+. Those with a shed / garage / loft full of spares might also be interested to know the it's available as a frame only or frame and fork too … however, a word of caution here, the hub spacing is 'Boost', so make sure your present wheels are adaptable. Aside from the obvious change of wheels, forks and appropriate tyres, all four models share the same frame and components.

If you're anything like me and be grateful if you're not, your idea of a bikepacking bike will look very much like the rigid 29er version as pictured here. I'm a long suffering fan of rigid bikes, I like the simplicity, the lack of maintenance, the lines and if I'm honest, the cost – both initially and over the long term. Something else I like, is 29″ wheels. Please don't read anything into that last sentence – I like B+ too, I like it a lot but if I had to choose between the two, my personal preferences would sway me towards 29″. I appreciate that might sound like sacrilege in todays plus sized world but it's a view based on personal experience and circumstance – so you might think differently and make other choices.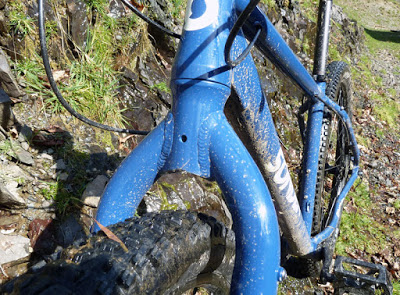 Oversize head-tube and fork provide an almost seamless front end.
By all accounts, steel is real but it doesn't lend itself quite so well to making mass produced, affordable bicycles as aluminium does. Both the frame and fork on the Frontier are aluminium – a very common material to build a frame from but less so, a fork. Generally, rigid aluminium forks have a reputation for being particularly rigid. It's not the fault of the material, the unforgiving nature of aluminium forks is usually a bi-product of design … just how rigid the Frontier fork proves to be, is something I'll be discovering shortly but I haven't condemned it yet. In its defence, it does feature 3 bolt cage mounts on each leg and a very nice post mount to bolt the brake caliper to.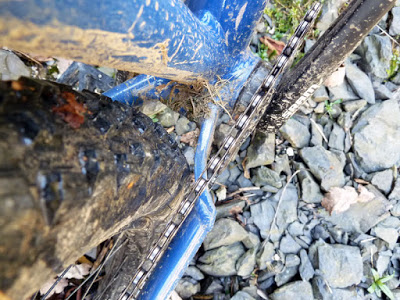 Plate style chainstay offers plenty of clearance.
Although I may have nailed my colours to the 29er mast, I can still appreciate the benefits of a large volume tyre and suitable rim. The tubeless compatible Hobo rims have an internal width of 29mm and measure a generous, 35mm outside edge to outside edge. They really do work to get the best from the 2.4″ WTB Trail Boss tyres – it's not 'plus' territory but the combination should provide a good balance between weight, comfort, rolling resistance and grip.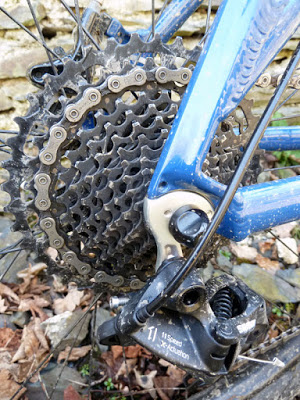 If you're struggling on the hills – perhaps it's not the bike.
The drive-train is all SRAM in the form of an 11 speed NX1 group-set. There's a 32 tooth ring up front, which when coupled with the 11 – 42 cassette out back, should provide enough forward motion for most situations. When you've finished going up hills you might want to come down the other side. To make sure you do it in a reasonably controlled manner, there's a 180mm front and 160mm rear disc, both gripped by SRAM Level calipers. With SRAM taking care of both the stop and go departments, it's an equally full house when it comes to contact points and finishing kit. Bars, seatpost, stem, etc are Sonder's own 'Love Mud' components. There's no surprises, nothing out of the ordinary or unusual, just decent quality kit that no one should struggle to get along with. I shall continue to ride, push and carry the Frontier over the next couple of weeks and let you know how closely Sonder's idea of a suitable bike and mine tally.

A rigid Frontier with your choice of wheels is £879. It comes in 4 sizes and 3 colours. The same bike but fitted with a Recon fork will cost you £120 more – the choice is yours because we're not all the same. SONDER