Although well known, highly respected and widely used in the US, Porcelain Rocket luggage is quite a rarity in the UK. The main reason for this obscurity, is the somewhat random approach HM Customs and Excise take to things arriving on our shores from the other side of the Atlantic. Sometimes, luck's on your side and a knock at the door heralds the arrival of your eagerly anticipated goodies – nice and simple.
Other times, luck's not in your corner and the postie will deliver a note asking for a sum of money, which appears to have no bearing on the value of your items and has merely been plucked from the air on a whim … and of course, there's those times when your parcel just sits in the corner of a dark warehouse for weeks on end, never to be seen again. If you've wanted something from Porcelain Rocket, then up until now you've had to buy a ticket for the 'customs lottery' and see if your number come's up – but not anymore, as Porcelain Rocket products are now available in the UK.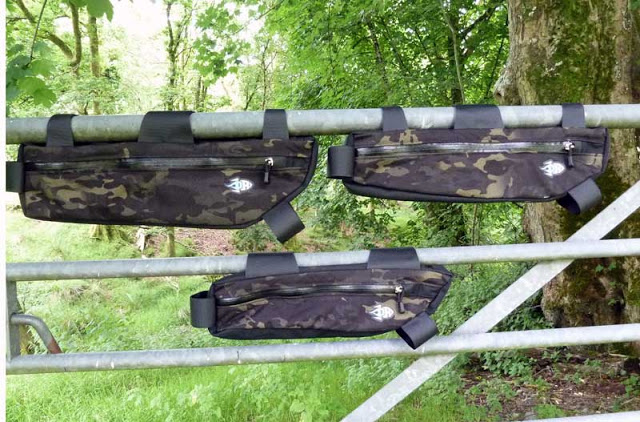 No matter what size of gate you ride, there should be a size to suit.

The Porcelain Rocket partial frame bag comes in 3 sizes and 4 colours, so there should be one to suit both your bike and personal tastes. The length, height and width of the 3 sizes are – Large = 50cm x 16cm x 5cm, Medium = 50cm x 12cm x 5cm, Small = 40cm x 12cm x 5cm and each is available in black, grey, black camo and multicam like the ones here.

In common with most frame bags, they're constructed from a mix of Cordura on the bits that might rub and Xpac on the bits that won't. Each side gets it's own YK waterproof zip with the left one giving access to the main compartment and the right side leading to a narrower 'pocket'.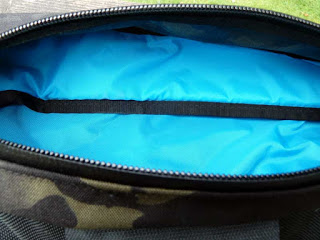 The lining really is very bright.

To help make fumbling in the dark easier, the inside of the main compartment is lined with a very bright electric blue and all bags feature a concealed port at the front through which you can pass cables and tubes or simply wiggle your finger. Construction is first rate, no loose threads or wonky stitches and the whole thing feels very well finished.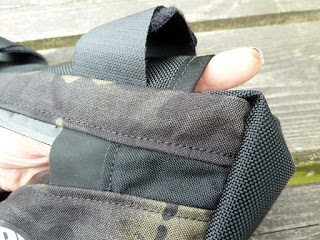 Port for wires, tubes and fingers.

I'm always surprised by just how much it's possible to fit inside a half or partial frame bag, they really are the tardis of bikepacking luggage … so much so, that in many cases a full frame bag seems like overkill and just encourages you to take more unnecessary junk. With that in mind, I shall be taking a medium bag on the Turino – Nice rally in a few weeks … When I return, I'll let you know how we got on.

Porcelain Rocket in the UK.