There's three primary areas on your bike to carry your belongings – below the saddle, in front of or below the handlebars and within the frame's triangle. For some, that represents more than enough carrying capacity but others need to find a little more. So, what do you do if you do need to squeeze a few additional litres from your set-up? That's right, you attach additional, smaller bags to whatever handy spaces are left.
One of the most popular locations for these smaller bags is the rear of the handle bars and it's somewhere that makes perfect sense … items are within easy reach and it's good use of a largely redundant space. If done well, they shouldn't interfere with your other luggage or adversely effect your ability to ride and should generally go unnoticed.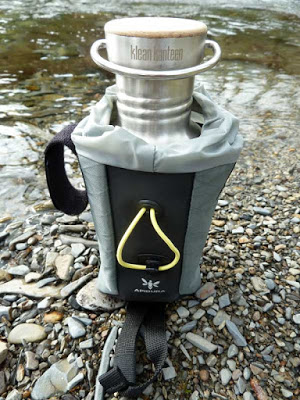 One handed shock-cord tightening.

There's quite a number of options out there already, which might seem surprising given the fact that, when all is said and done – it's simply a bag that attaches to your handlebars, so how many variations can there be? Taking something simple and improving it, isn't an easy task. If simplicity is part of the appeal, then adding additional complexity very often results in reducing rather than increasing that appeal. Maybe you could make it lighter? After all, we are meant to be weight obsessive gear geeks. Perhaps you could shed some grams but just how much lighter do you want it? Go too far down the lightweight path and reliability might start to suffer and then there's cost to consider – we all know, light often equals expensive. No, I think what you need to do, is make it better, not in terms of manufacturing, all these things are already made to a high standard from quality materials. No, what I mean is … make it work better.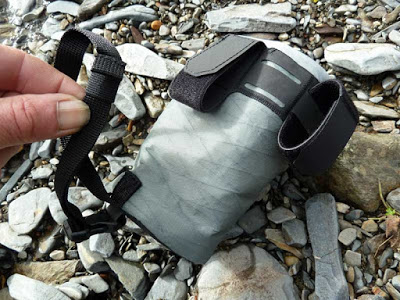 Three straps, two for the top and one for the bottom – Rock solid.
At first glance, the new 'Food Pouch' from Apidura looks similar to offerings from manufacturers the bikepacking world over but if you look again, you soon spot a few subtle differences that make it stand out. The first thing you might notice is the fact that there's three attachment points rather than the more common two. Besides fastening to your bar and / or stem, the food pouch also fastens to your fork crown by way of an adjustable, quick release webbing strap – might not sound like much but it makes a real difference to stability. The top attachment points are 'velcro' straps, the one that goes round the bars is fixed but the other is (re)movable and can be positioned in one of four different slots. If you happen to run a short stem, you may be pleased to hear that, I've found the bar strap plus the fork strap offers more than enough security. As we're on the subject of straps, now's probably a good time to mention that they're carbon friendly, which means they won't damage your expensive bars and shouldn't remove the anodising from your cheap bars either.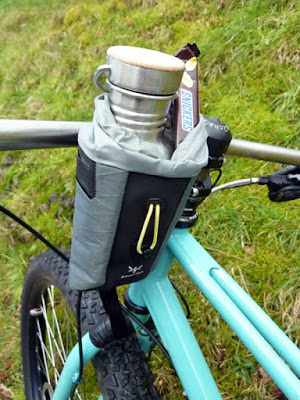 What more do you need for the week?
Perhaps the most striking thing, is the shock-cord and clip on the back of the bag? It's purpose? To make opening and closing the bag as easy as possible while you're riding … pop your hand in the bag and the cord extends giving you full access to you M&Ms. Once you've finished stuffing your face, simply pull the cord and the bag closes – genius and true one handed operation.
A cause for concern and sometimes complaint from users of similar products is knee / bag interface when standing to climb. Well, I'm glad to say that Apidura have addressed this issue – firstly, the bottom strap helps, as it pulls the base of the bag forwards and away from whirling knees but in addition, they've also tapered the bag. The shaping is subtle but it is noticeable, it doesn't appear to impact on what you can fit inside but does make a real difference to whether you're required to ride with your knees stuck out at jaunty angles or not.
Like I said earlier – taking something simple and improving it, is a difficult task but it appears that Apidura may have succeeded. There's certainly some clever touches and a real attention to detail but I suppose only time and a few hundred miles will tell how near they've got to producing the ultimate, little bag that fastens to your handlebars.
If you can't wait for me to knock off a few hundred miles, you can rush out and buy one (or maybe two) from you friendly local bike shop right now or direct from Apidura – Food Pouch £35