The Corpse Roads of Cumbria – I'm going to guess and say, you'll be more likely to have 'The 50 best mountain bike rides in Cumbria' or 'Epic rides in the Lakes' at the top of your Amazon list than you are this. However, sometimes you have to look beyond the obvious when searching for riding ideas and inspiration … and The Corpse Roads of Cumbria, certainly isn't obvious.
I felt that a real life Cumbrian should review this book, so passed it over to Bob Wightman. Bob's Cumbrian born and bred, he can speak the lingo and is familiar with many of the places named within the book. I would also like to say that at no point did I think, 'Ooh Bob's getting on a bit, he'll be taking a trip along one of these soon, I'll ask him to do it'.


Corpse roads? Byways used in times past to transport the dead from communities without a church to a suitable burying place. Or are they? Well it says so on the map and the map's always right isn't it? Ah! I refer the right honourable gentleman to the case of the Welsh bridleways, many of which are shown on the map but all too often fail to materialise when you most need them – so maybe not.
The general format of the book is a chapter per road (or group of roads around a village) with the first part looking at its history and whatever tales are associated with it and the second part being a description for walking along it. In true British efforts at consistency some of these "roads" are now footpaths, some bridleways and some covered in tarmac. Few of these current classifications bear any resemblance to how the roads were used in days gone by so always check before you try and ride along any.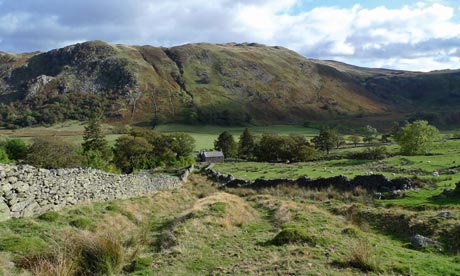 The corpse road from Mardale.
Why have a right of way associated with transport of the dead and just how often were such roads used for that purpose? One of the corpse roads listed is from Mardale Green to Shap and there's documented proof it was used as such. Mardale Green was the hamlet submerged when Haweswater reservoir was built in the 1930s. The remains of ninety seven people were disinterred and reburied elsewhere. The hamlet had requested the consecration of their church in 1736 so assuming all were subsequently buried in Mardale that's roughly one death every two years. I'd assume most of the other remote Lakeland settlements had similar population and mortality rates (ignoring infant mortality). Given the relatively small numbers, for the roads to actually exist on the ground they must have been used for other purposes as well. Perhaps drove roads to get livestock to market, so quite why they became associated with the dead remains a mystery. Maybe "Drunk's road" or "Bullock's Way" don't have quite the same ring to them? Unfortunately the book doesn't fully address this point but notes that some in the District were also used for bridal processions so they certainly had other, less sombre uses.
Perhaps the best known of all the corpse roads is that between Wasdale Head and Boot in Eskdale. For a good few pages the book supports this idea until it is revealed that there was a consecrated church at Nether Wasdale so why head up and over the moor with associated bad weather when you can just head down the valley? The book also mentions that the "corpse road" didn't actually become a public road (in the broadest sense) until the latter half of the nineteenth century. Maybe the jury is still out on this one and perhaps proof that you shouldn't always believe everything you're told?
In contrast just a little further down towards the coast at Irton, not only are there corpse roads, there are court records discussing them courtesy of an argument between the villagers and the lord of the manor who wanted to close one (now where have I heard that before?). After two weeks of hearings the jury basically said: "sort it out yourselves"! More fudge anyone? Things rumbled on for another four years until it reached the High Court and the villagers won. What is interesting about this case however, is that it introduced a couple of legal points regarding rights of way still in use today. Namely, the width of the path and continued usage of a path by any person to determine a right of way.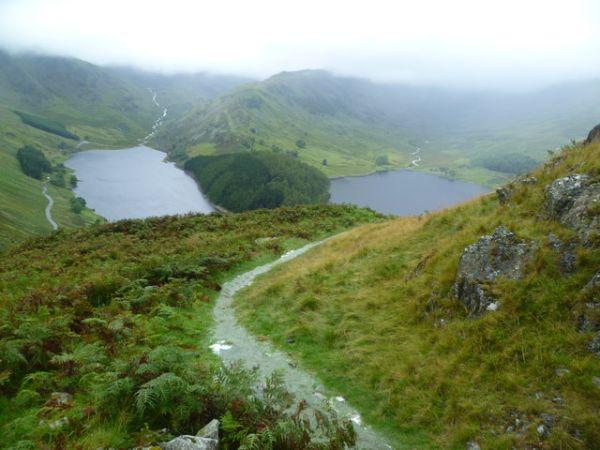 In truth, I don't know where it is but it'd be fun looking.
It's always nice to see references to the sources used in a book and as luck would have it, I actually own one of the listed sources – The Annals of Cartmel, not that I've ever read it you understand. So a quick check and the quotation hasn't been taken out of context. You know the type of thing, the film review says "this film would be brilliant if it were any good" and the advertising poster simply uses "Brilliant!". While we are in Cartmel the book details a corpse road from Flookburgh to Cartmel. I grew up in this very area and I've never heard anyone local call that road a corpse road, my brother's response when quizzed was "eh?", but there's a decent amount of literature and evidence to support the case.
Not all the book is about the roads themselves. There are several chapters on rural customs associated with death and the dead. These days we have undertakers to handle the messy business of death but in times gone by it was left to family and neighbours to sort things out. Mirrors in the deceased household would be covered and clocks stopped so as not to confuse the spirit as it began its journey to the afterlife but that's just a start. If science is the logical application of observation then superstition might seem to be its antithesis. Telling bees that someone in the household has died and they are being taken away? Where did that one come from? "Eeeh! When Owd Jim pegged it, them bees buggered off in sympathy so we'd better let the new lot know so they don't do the same thing the next time someone pops their clogs?" As my dad (Cumbrian farmer) would have said: "Yer daft bugger!"
There's also some discussion on how modern funerals, in the UK at least thanks to the unlikely combination of Princess Diana and George Best, have gone from mourning to a celebration of the deceased. On which note, while a post funeral wake is common place it seems that some of the old-time bearers had a habit of starting on the ale before they'd got the coffin to the church, maybe the corpse roads were a means of avoiding puritans on the main thoroughfare? Dorothy Wordsworth no less remarks on how even the priest getting in on the act – "The priest met us – he did not look as a man ought to on such an occasion – I had seen him half drunk the day before in a pot house"! Now, that reminds me of Dave Allan's joke (always a good source for funereal humour): "What's the difference between an Irish wedding and an Irish funeral?", "There's one less drunk at the funeral!". Apparently, on one occasion the bearers were so drunk they fell through the church door and burst open the coffin they'd been tasked to carry.
Most of what we 'know' about these thoroughfares has being handed down orally. Should we believe any of it? Cumbrian whispers anyone? They are another way of looking at how our ancestors moved around in and used the countryside which makes the book potentially useful for anyone hoping to follow in their footsteps, albeit on two wheels. However, this isn't a guidebook and it doesn't make any claims to be such. It's a book about corpse or coffin roads, yet, it may prove a valuable source of information for those who enjoy knowing something of the history associated with the places they ride … but just remember what my dad would have said, "Believe nowt of what you hear and half of what you see and you'll be somewhere near the truth".
The Corpse Roads of Cumbria – less than a tenner from places that sell books.