Packrafting. Personally, I find it a very tempting proposition. It appeals to my sense of adventure and seems like something that could broaden my bikepacking horizons … but where to begin? There really isn't a vast amount of information out there for the would be packrafter but this new book could be just the thing to both enlighten and entertain.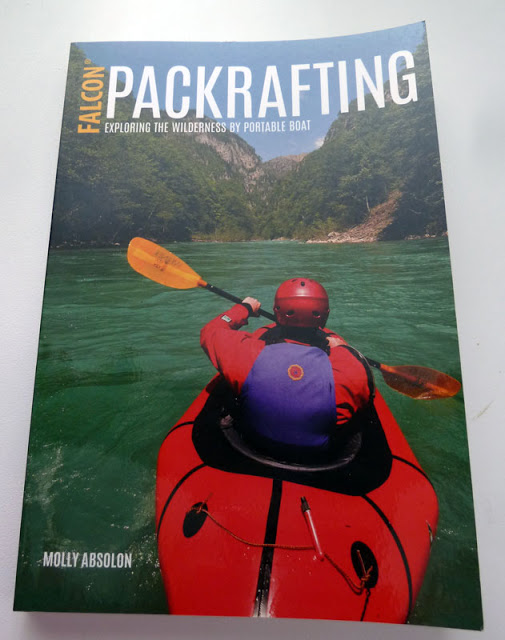 Like any good book, it starts at the beginning. In this case with an introduction describing the authors own journey before a very enjoyable look at the history of packrafting, whence it came and where it started. With the polite introductions taken care of, chapter 2 moves on to the important 'nuts and bolts' … want to know the difference between a spray skirt and a cruiser deck? Whether you should be considering thigh straps or what kind of paddle or PFD would best suit?

In chapter 3 and 4 you'll discover those things you really want to know before climbing aboard … things like, how to climb aboard and how to get back out again. Inflation, seat position, securing luggage and lots and lots of information on paddling technique and generally getting the thing to go in the direction you'd like it to.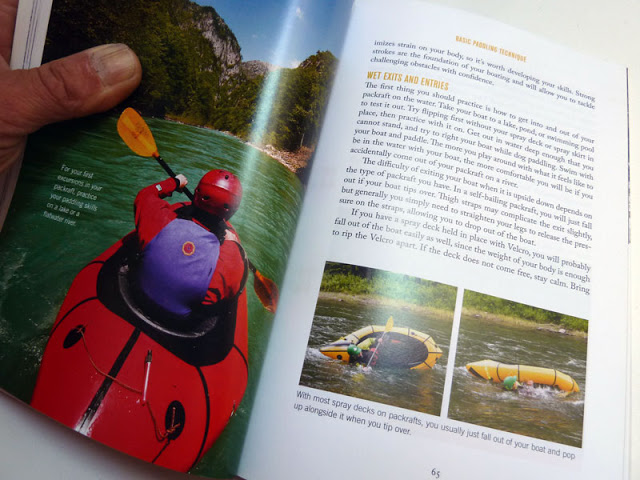 Please excuse the grubby, battered thumb.

As anyone who's spent time on the water, especially moving water will tell you, the ability to 'read' the wet stuff is a very important one. Luckily, chapter 5 is devoted to this useful skill and explains very clearly how best to avoid those things that are best avoided. That lot probably takes up less than half the book which leaves another 140 pages or so for topics such as rescue procedure, kit repair, trip planning, first aid, raft modifications and something I'm glad to see – a good few pages devoted to the principles and ethos of 'leave no trace'.

There's a lot of information contained within the pages but it's well laid out, progresses very naturally and isn't just interesting to read but enjoyable too. Those who like pictures are also well catered for with a fine selection of full colour pictures throughout … some tie in directly with the text, while others simply make you want to get out there.

For anyone contemplating taking the plunge, I'd consider the book a very worthwhile investment which will no doubt pay for itself the first time it stops you from doing something stupid. From a novices stand-point, it appears to answer all those questions I would ask but more importantly, all those I wouldn't think to ask.

Packrating – Exploring the wilderness by portable boat is available via your computer for around a tenner.