In part 2 of this epic saga, we were finally introduced to the cuddly bear, a friendly, approachable and perhaps slightly childish fella, who's character traits epitomise those of nearly every bikepacker I've ever met. Flying under his flag were a website, a forum and this very outlet for my observations and ramblings … but 2011 was a busy year, so things didn't stop there.

Over the previous four years, the WRT had proven itself to be quite a popular way to waste a bank holiday weekend but it was and still is, almost horizontal in terms of being laid-back. I knew there were riders out there who, while enjoying the social side of things, also wanted something a touch more challenging. The Bear Bones 400 had a nice ring to it but was quickly dismissed with the realisation that those taking part were probably looking to be challenged, not crippled. Three hundred was another figure discussed but was shelved on the grounds of people needing to be back at work on Monday morning, so eventually practicalities dictated the distance and planning for the first BB200 began.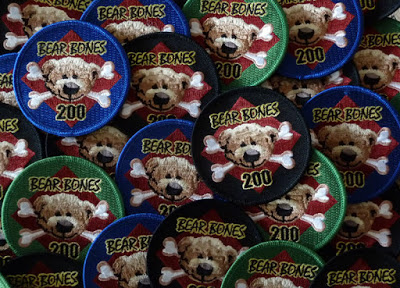 Making grown men cry since 2011.


I don't really recall why October was chosen, perhaps the thinking was that people would be in good physical shape after the summer or maybe it just fitted in nicely with everything else? Whatever the reason, around forty riders assembled themselves in an orderly fashion at Bear Bones Towers and just after the stroke of 10am, pedalled off on a voyage of both self discovery and abuse. Looking back, it seems almost peculiar to think that no one knew quite what to expect but this really was the first time anything like this had been held on UK soil or Welsh bog, so I suppose a high degree of uncertainty was to be expected. If riding 200km unsupported through and across one of the least populated parts of the UK wasn't enough, it was decided to throw a little incentive into the mix and at the last minute announce a badge system. Anyone completing would be awarded a green badge. Should you complete the route in under 28 hours, then your green badge would become a blue one and if you were fit, stubborn or lucky enough to return in under 24 hours, a highly coveted black badge would be waiting for you alongside your breakfast.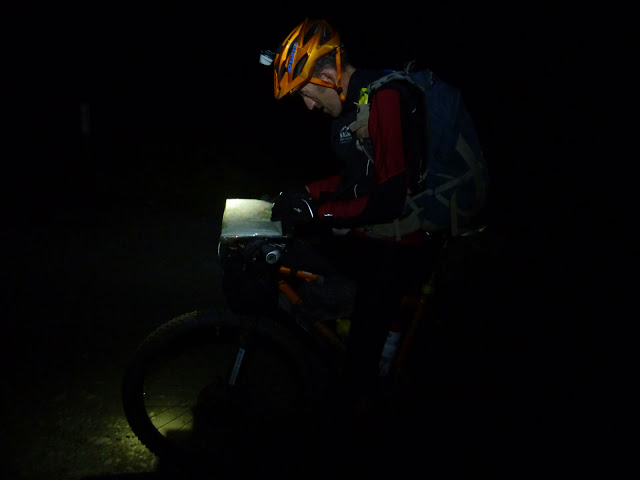 Mr Goldsmith 2011 BB200 … looking for the kebab shop number?


TWO! Just two black badges were awarded at the 2011 BB200. If you've never ridden a BB200 route, that number might come as a bit of a surprise – after all, it's only 200km, how hard can it be? Those who have been on the receiving end, will likely have a better understanding of why just two and you are encouraged to nod sagely at this point. It was Ian Barrington and Kevin Roderick who returned before 10am on Sunday. Both fit and fast riders, both possessing a little local knowledge and both fully understanding the foibles of what passes for a rights of way network in mid-Wales. Although in all fairness, none of those things stopped them from being thoroughly knackered at the end. By the time Monday rolled round, a second BB200 was inevitable.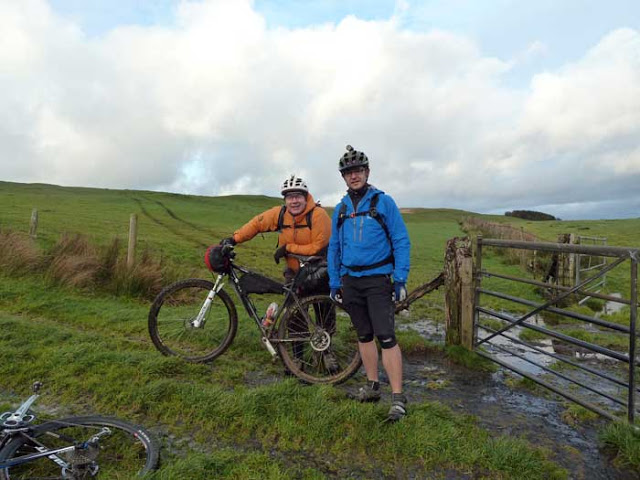 Second Winter bivvy … what we lacked in numbers we made up for in waterproofs.


As the dust settled from the 200, it was decided that there might be a void in peoples lives at the start of January and maybe an excuse to get off the sofa and back on the bike was called for. Obviously, the weather at that time of year could provide anything from mild and damp to a freezing, full-on white out. Hedging all bets seemed like a good idea, so Llanbrynmair community centre was press-ganged into service and provided the venue for Mach n' Back. More WRT than BB200 but still, signing up for a night out that early in the year must have seemed like the preserve of mentalists for anyone yet to discover the deep joy and even deeper sorrow, that year round bikepacking can provide.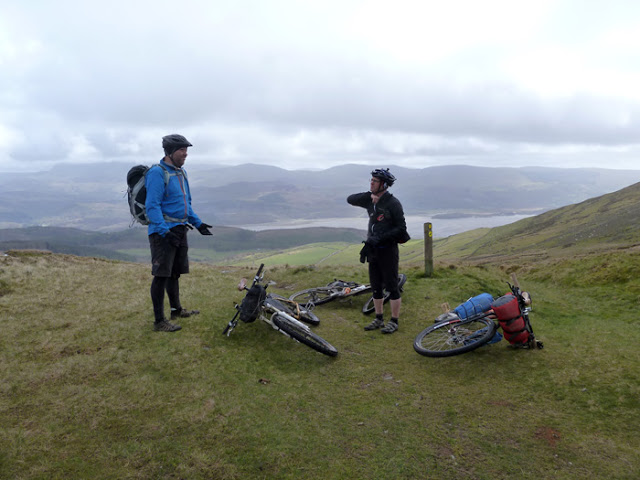 Gairy and Kevin on the road to Harlech.


While all this seemingly organised stuff was being organised, the forum was steadily swelling with what I like to think of as, cycling's disillusioned and dispossessed. People were meeting up, people were getting out and the network of likeminded souls to ride with was steadily increasing. A second 'Winter bivvy' was planned for the week before Christmas which kind of sealed the deal that it would become an annual 'happening' …. if you were the type of person who calculated rides in days rather than hours, things were looking up.

Don't worry, I'll be back to inflict part 4 when I get a minute.

Part 4