Dianna Ross wasn't singing about the BB200 when she sang, ain't no mountain high enough, ain't no river deep enough, ain't no valley wide enough … which is a shame, because it would have made a fitting theme tune to the 2015 BB200.



63 riders riders rolled out of Llanbrynmair community centre in back of beyond Wales between 8.00am and 10.00am. Sometime later, 63 riders would also return but they were a slightly different 63 than those who set off – 200km and over 5800m of climbing can do strange things to you. Add the usual BB200 ingredients, such as, tussock coated moorland, a dash of never ending pushes and a sprinkling of trackless bog and it's little surprise that a riders physical and mental state can alter noticeably over the course of a weekend. I realise that might sound like something taken straight from the darkest depths of a cycling nightmare (and to a degree it is) but there is a positive up-side to all the suffering and hardship ….. no really, there is.

While those pitting themselves against the route may lose certain things along the way, such as skin, the odd toe nail, a full compliment of gears or their brakes, they will generally return with more than they left with. I don't mean the obvious and largely superficial things like, mud, cuts or wet socks, the things I'm talking about are much more precious and long lasting … friendships, self-belief, confidence and memories. The camaraderie displayed on the BB200 is a joy to witness, strangers become friends and strong bonds form in the darkest hours.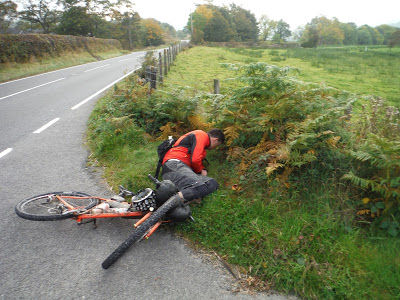 Sometimes, it just all goes horribly wrong.
This years route certainly wasn't easy (it never is) and it claimed a few casualties along the way. Around 1/3 of riders recorded a DNF, some were hindered by mechanical issues, others physical and some mis-layed their resolve along the way but everyone of the 63 who set off deserves the utmost respect – I appreciate that might sound like a cliche but I make no apologies for it … because it's true.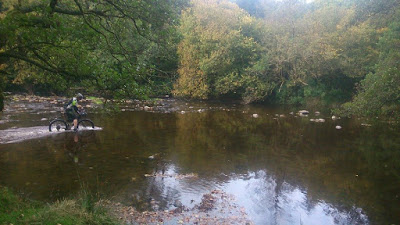 You don't ride the BB200 expecting to keep your feet dry.

Riders started to appear at the finish from the small hours of Sunday morning onwards. By 9.00am two kilograms of bacon and half a gallon of tea had already been consumed. Bacon was a prominent feature throughout Sunday with the last home eating their well deserved butties just before 10.30pm.


I'm sure she's smiling on the inside.

If you want to discover a little about yourself, next years BB200 takes place on October 8th/9th 2016 … you might finish or you might not but you'll be all the richer for trying. Once again, congratulations to all those who took part, hero's one and all.