In an effort to save my typing finger from the pain of RSI, every know and then I thrust the responsibility of product reviewing onto an unsuspecting citizen of Bear Bones land. On this occasion Sean who hails from a little island of the south coast seemed like the ideal candidate … he rides a lot and generally, he doesn't do it slowly. Here's his thoughts on the Aussie Grit 'Flint' Jersey – over to you Sean.

Aussie Grit describe the Flint jersey as "A super comfortable, attractive jersey that offers all the moisture wicking and UV protection you want for that long ride". The arrival of weather that requires moisture wicking or UV protection seems to have taken a long time this year but finally the temperatures have reached the level where short sleeves are appropriate.

The sample jersey was a medium and was a good fit on me. I'm 6ft and a slim built 10 St 10 lb or there abouts and the jersey was a relaxed fit, not too baggy but definitely not racer tight so I'd say their sizing is about right for a general riding jersey you would wear for a long time. The length is also generous so no riding up in use. In fact, given the relaxed fit and length I'm sure the medium would be ok even for riders who are slightly larger than myself.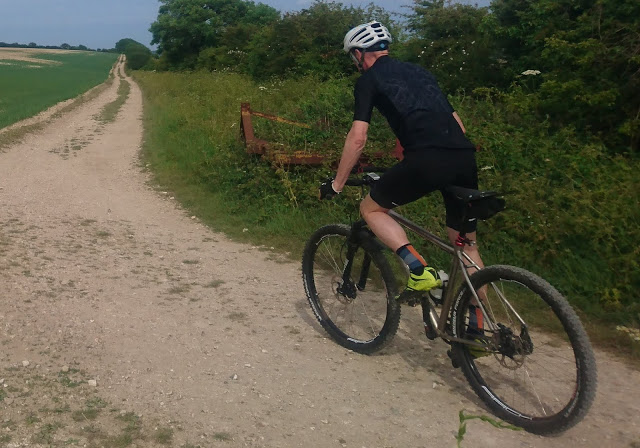 Helmet, shoes … maybe black's not Sean's colour?

The fabric has a soft feel and there was no rubbing, chaffing or pulling so they certainly have the cut right. The side panels are a breathable stretch mesh which aid cooling. Temperatures didn't get above 20 C during my test rides but if you're lucky enough to ride somewhere warmer these should be a bonus. There's also a full length front zip so venting is easy if temperatures really start to rise. Despite the mesh sides even in cooler weather and light wind I didn't notice any chilling through these. In fact the biggest complement I can give the jersey is that I when wearing it I didn't really notice anything about it which is exactly as it should be.

There are four rear pockets and one of these is a zipped waterproof pocket. The pockets were easy enough to reach when riding so they have been set low enough. The waterproof pocket was given a proper test by leaving a hand-written note in it as it went through the wash. Some water had found its way in though so it's not completely waterproof. [PIC 1] If this sounds like an overly harsh test I would add that I have waterproof shorts with a pocket and I've accidently left a receipt in the pocket of these when they went thought the wash and that survived unmarked. The jersey pocket should be waterproof enough to keep you café money dry (although in the UK the introduction of plastic/waterproof notes has made this academic unless you pay for your cake with a £50) and should keep your phone safe from the odd shower.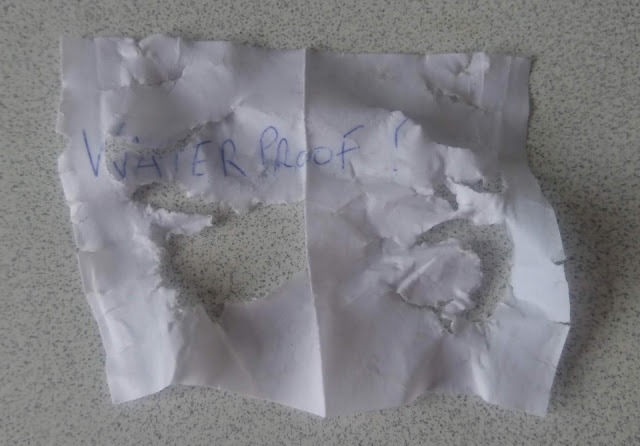 The results of Sean's 'lab' test. Not 100% waterproof but it'll keep your cake money dry.

The jersey is mainly black with a blue trim on the front and a contour line pattern printed on it. I personally prefer my jerseys to be brighter than this for visibility on the road but many like the "stealth" look. Whilst the contour pattern is a nice idea, in reality, from a distance at least, it can look like the salt stains you'd get after a day's hard riding/sweating in the sun. [PIC 2] I rode some of the miles with a rucksack on and the jersey did a good job of wicking the sweat away for my back. There was just the first signs of bobbling of the fabric where the rucksack was but this was very feint and but durability is often the trade-off for such a soft to the touch fabric.

To give it a proper test for bikepacking I took it on an local overnighter. It was worn on both days and I also slept in it. As it was a quick local trip I only had it on for some 15 hours but it remained comfortable throughout. On the second day the rain came (obviously it would rain if I'm testing a short sleeved jersey) and worn under a waterproof with arm warmers I remained comfortable. Again, the fabric seemed to be able to wick away any moisture helping avoid that clammy feeling which can sometimes be an issue under waterproof garments.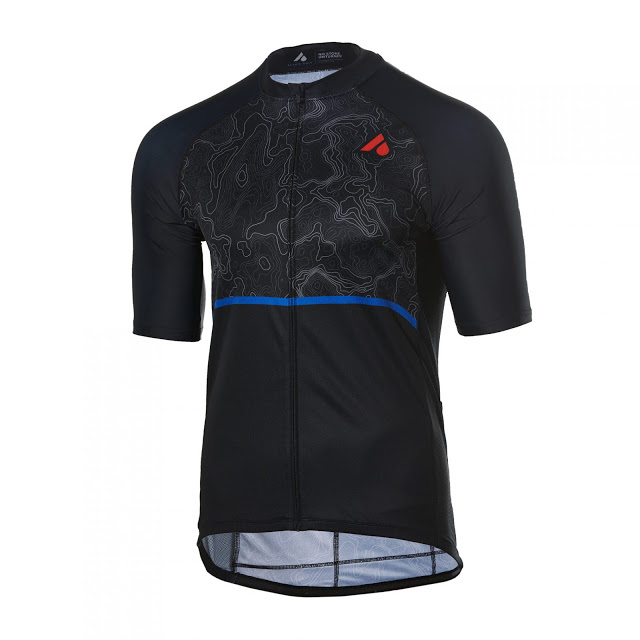 Aussie Grit describe it as "for that long ride" but it's hard to say how long a long ride is? For some, 5 hours on the bike is a big day out whereas for Tour Divide racers they could well be in the same jersey for 20 days. I deliberately didn't wash it between rides and I'd estimate that it had 25 to 30 hours of use before it went in the machine. I didn't notice any odour issues, and more importantly no one else made any comments, so it should be ok on a multi-day trip where washing opportunities are scarce.

To conclude then, the jersey is a good fitting and well made garment and if the colour and styling is to your liking then it should serve well for riding and bikepacking. I'd prefer it in a brighter colour but that's purely down to personal taste.
Thank you very much Sean, you're certainly thorough. The Flint jersey retails at £69 and is available in both men's and women's versions. However, right now it's available for £34 from Aussie Grit Apparel.