When you're trying to minimise what you carry in terms of either weight or pack-size, any items that are dual-use can make a real difference. Using the same pot you cook in, to eat or drink from isn't anything new or revolutionary but surprisingly, it is something a lot of people don't actually do.
Being of the light weight persuasion, my 'pot' of choice has for a number of years been a Snow Peak 450ml titanium 'mug' … relatively small and light but big enough to produce a substantial brew or boil water to rehydrate a meal of some description. We've been all over the place together. We've brewed up behind walls and hedges, deep within forests and on mountain tops, in bothies and bus stops, in the coldest of Winters and hottest of Summers … so, if I love it so much why am I writing about the Mytimug 400?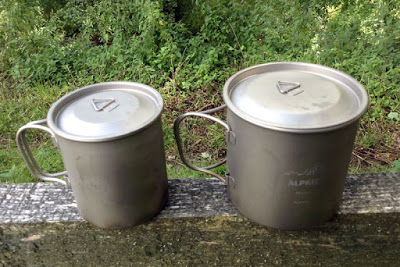 Mytimug 400 and 650. Yes, one will fit inside the other if you want.

One of the drawbacks of the 450ml mug, regardless of manufacturer is that it won't come with a lid. Now, I know that doesn't sound like a big deal but it leaves you either having to make something, source one from China … or if you're very posh, the US. Obviously, if you just want to use your mug as something to drink from, then it really doesn't matter whether there's a lid in the box or not but if you want to use it as a pot, then it does.

The Alpkit Mytimug 400 is unusual amongst the sea of other titanium mugs because firstly, it's only holds 400ml (clue's in the name) but more importantly, it comes with a lid – yay! The reduced capacity is actually turning out to be a good thing, the height remains the same as the larger mugs at 90mm but the diameter has been reduced slightly. Why is that a good thing? Well, it means less weight (73g compared to 76g for a 450) and a slightly smaller, frame bag friendly pack size while maintaining enough capacity to fulfill its role as a dual-use item.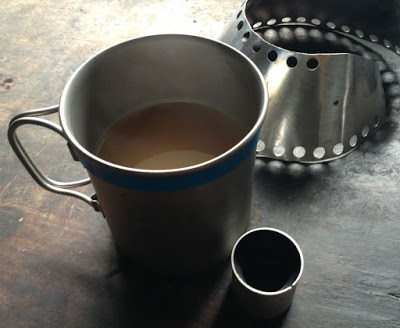 8g stove and Mytimug working in harmony to produce a sub-100g kitchen.
Using something as small as the 400 to cook in isn't for everyone, if you favour boil in the bag meals or occasionally indulge in a DIY full English, then in reality you'll struggle. However, if you're interested in travelling as light as possible, then the Mytimug 400 could form the basis of a compact, ultralight cooking set-up weighing under 100g or less than half the weight of the smallest available gas cylinder … and if that sounds ridiculously light, it's because it is.