It must be three years ago when I first discussed quilts with Alp-Nick at the start of the WRT. He told me that it was something the company were working on but it wasn't a priority and I should expect it to be quite a while before the concept became reality. I put it to the back of my mind and largely forgot all about it … until a few weeks ago.
I feel that I should be completely honest here – when I first saw pictures of the 'Cloud Cover', I was a little disappointed. It wasn't what I'd pictured at all and was quite dissimilar to any other quilt I'd ever used. I couldn't help but think of it as a duvet rather than a quilt. Over the next couple of days, I found myself thinking about the design and the more I thought, the more I wondered whether it might actually prove to be a much more versatile item than the one I'd envisaged three years earlier.
The Cloud Cover has a draw-cord at the top and bottom edges, it has press-studs along its length and although not obvious from the pictures, it's also tapered with the top being 133cm wide and the bottom 94cm. After a 'hands on' play, I'm happy to say, these design features do indeed make it much more versatile than the quilt I'd first imagined in my head.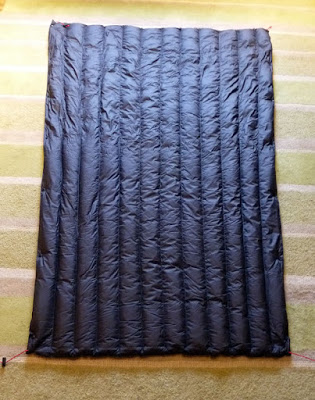 It's a blanket.

With the quilt opened out, it forms what's probably best described as a down blanket. I foresee it being used as an additional layer over the top of another sleeping bag (or two if you have company). However, I can also see it being very useful as insulation before bedtime and the ideal thing to wrap yourself up in while sat round eating, drinking and talking rubbish.


Or is it a quilt?
If you cinch up the bottom draw-cord and fasten 2 or 3 of the press-studs to form a foot-box, then it's quickly transformed into something my brain understands as a 'quilt'.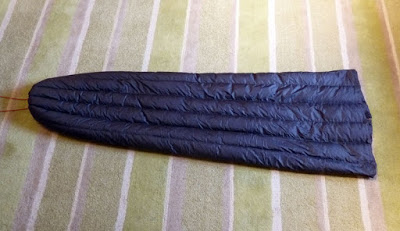 Or maybe a sleeping bag?
Fasten the remaining press-studs and you've formed what is, for all intents and purposes a sleeping bag. Like this, the Cloud Cover would make a brilliant 'liner' bag to boost the rating of something else which is starting to reach its limits.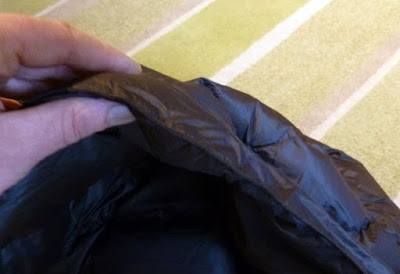 It's actually loftier than you'd think.
The Cloud Cover contains 200g of 650+fp down held in stitch-through baffles that run the length of the bag / quilt / blanket. 200g isn't a vast amount of down but it is comparable to many summer or even 2 season down bags. It's true that stitch-through construction can lead to cold spots but again, it's the standard for lightweight summer bags where weight is just as important as warmth. Another reason often sited for manufacturers opting for a stitch-through baffle, is cost … and cost, is possibly the Cloud Covers trump card.
Sixty five quid! £65 is an almost ridiculously small amount of money to pay when you consider what you're actually getting. At that price, I'm sure most of us could find a reason to own one … stand-alone quilt for summer? Over-blanket for additional winter warmth? Sleeping bag for the kids? The really nice thing is, the Cloud Cover can be all of these things and at £65 you won't be too precious about it. I shall be out and about putting it through its paces in the coming weeks, so expect to hear more about it next month.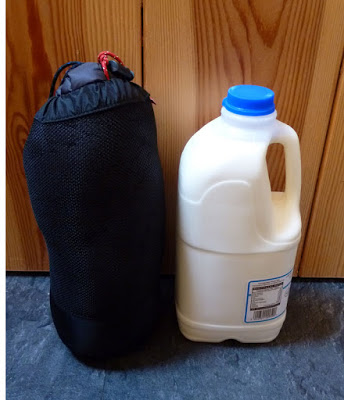 About the same size as 4 pints of milk but much lighter.
Length 185cm, width 133cm tapering to 94cm, weight 460g … and just £65!
Alpkit