A few weeks ago I received a big cardboard box containing a pre-production 2016 Genesis Longitude 650b+. Today, I cleaned it and put it back in the box, ready for its journey home … but what's happened between then and now?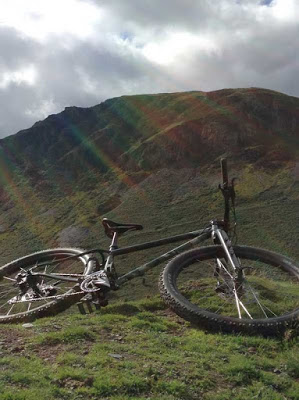 If you don't already know (and if not, why not? I suggest you go and read this), the 2016 Genesis Longitude isn't quite the same as last years model. There's been quite a bit of discussion and debate about the two models with some people bemoaning the seemingly early demise of the previous incarnation but after riding this one, I do wonder whether some people may have missed a point or two. Much of this 'discussion' has centred around the fact that the new one is 650b+ and the old was 29+ … and they wanted 29+. You might think that sounds fair and it would be, if only it weren't for one quite important point … the 2015 Longitude wasn't a 29+ bicycle, it was a bicycle that was capable of running 29+. It didn't come fitted with 3″ tyres or rims wide enough to fully exploit the benefits of plus size tyres. Out of the box, it arrived with large volume Continental X-Kings and rims that allowed them to work at their best but it certainly wasn't 29+ … Obviously there was the option to buy a frame-set and equip it with whatever parts you saw fit, which for some, would probably have included true 29+ wheels and tyres. However, in reality I can't help think that most people would simply try and fit 3″ tyres to less than ideal, narrower rims, in the hope of attaining the '29+ experience' … something, which most people who've tried it agree, results in a less than ideal outcome.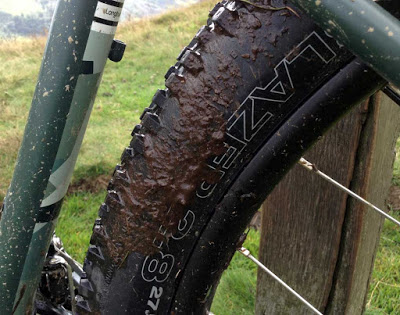 Mud clearance isn't a problem, neither was finding mud to try it.
Componentry … I'm a big fan of things that 'just work' and my drive train allegiances lie in the Shimano camp, so you can imagine just how happy a bunny I was, riding something decked out front to back in Shimano Deore. Both, go and stopping duties are taken care of and at no point did I wish for anything else, other than the components fitted. Okay, Deore might not be at the top of your wish list but no one can deny that it works and not only does it work but it works very well. I was also happy to see three chainrings bolted to the cranks, at the moment it flies in the face of what's popular … or to put that a different way – what's trendy. Remember, this is a bike that's meant to be taken anywhere and everywhere. Given that the rear 10 speed cassette is 11t – 36t and the middle ring's a 30 toother, many riders probably won't trouble the left hand shifter that often but there's likely to be times when the 22t and 40t rings, will prove extremely welcome. Personally, I think their inclusion on the spec' sheet says a lot about the thinking behind the bike … I'm sure it would have been easier and more cost effective for Genesis to follow the almost expected path of 1 x 10 but I for one, am glad they didn't.

When things took a downward turn the Deore brakes did a great job of preventing anything from getting too out of hand. Anyone who's ever suffered from brake fade will no doubt recall that moment, when the joy of descending turned into terror as you realised, that stopping had ceased to be an option. On one occasion, I'd reached what appeared to be a dead end but a little investigation lead me to be peering over what seemed to be the edge of the world. For a second or two, I did wonder whether what I was looking at, was actually rideable. The bike's fitted with sensibly sized 180mm and 160mm discs, which I'm glad to say did a great job of allowing me to reach the bottom of this particular track unscathed and without any 'moments'. I really did make them work, when you're riding down something that's 55 degrees plus, with no discernible run out, there really isn't many options to give your brakes a breather … I think it's fair to say, that the bike comes well specced in terms of providing forward movement and also retarding it.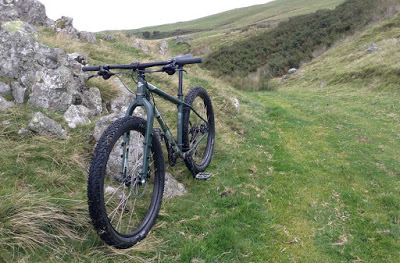 No one enjoys grassy climbs but it performed very well.

Chassis … There's something nice about steel frames. People talk about it a lot, they talk about compliance, comfort and the forgiving nature but I like the word 'nice' … as with so many four letter words, it's ability to convey a message goes way beyond its stature. This is a nice frame, there's nothing pretentious about it but it does have some well thought out, practical touches – tapered headtube, sliding dropouts, rack mounts (although they were missing on this one), shimmed dropper compatible seatpost size, two cage mounts (one under the downtube) and a standard 135mm spaced backend. Even with the 2.8 TrailBlazer, there's plenty of clearance, so things shouldn't get clogged up even in the claggiest of winter conditions and perhaps there's the possibility of squeezing in a bigger tyre for those who believe there's a benefit to be had – see, what did I tell you, it's a nice frame.

The fork isn't steel and nor is it carbon, it's aluminium. You may think that seems like an odd move, I did. Compliance, comfort and forgiving aren't words you usually associate with aluminium. There are reasons why the fork is aluminium, I won't bore you with them but I will tell you that it is most definitely rigid. It's not a bad fork, it's a good fork, combined with the through-axle and tapered steerer, the thing tracks brilliantly, there's no braking judder or flex under any conditions but the trade off is stiffness. Those who already sport forearms like Popeye will probably notice just how rigid the fork is – as I've already said, it is stiff. However, if this is your first foray into the world of fully rigid bikes, then chances are they'll behave exactly as you anticipated and you won't think twice about it. Obviously, the large volume tyre helps cushion you from much of the feedback but it can't remove it entirely. Surprisingly, on rough, rocky surfaces it was fine and felt as smooth or even smoother than many other rigid bikes, which must be a benefit of the tyres and to a lesser degree, the steel frame. The places I 'noticed' the fork, were those where the front of the bike had to deal with a 'direct hit', such as drops and steps. Nothing nasty or untoward happens but you do feel it. I don't think it's a deal breaker or even comes close and it certainly wouldn't prevent me from investing in the bike … I've ridden far more 'rigid' steel forks before and I'm sure the effects could easily be lessened with a more compliant handlebar or even just slightly softer grips.

Something the fork does have plenty of, is mounts, there's a three bolt cage mount on each leg and rack mounts for those who prefer that way of doing things … the bike even arrives with a pair of Gorilla cages, which I think is a nice touch. Another point of note, is the forks are spaced at 110mm, this is the new 'Boost' standard and actually makes a lot of sense but it's something you'll need to remember if you want to swap wheels, fit a dynamo hub, etc.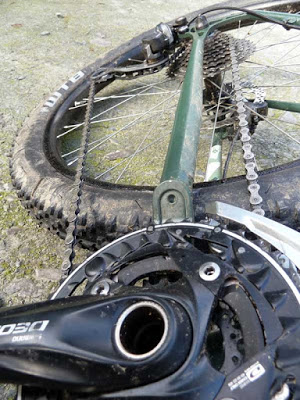 Shimano Deore front, middle and back.
How does it ride? … It rides like a bike. I know that sounds flippant but it isn't meant to be, in fact it's a massive compliment. It's one of the easiest bikes to ride, that I've ever ridden. It doesn't do anything strange, there's no weird foibles you need to get accustomed to and it doesn't force you to ride in a certain way. I'm usually quite fussy when it comes to setting bikes up but aside from adjusting the saddle and altering the angle of the brakes I didn't touch the Longitude. Had it been mine, then I'd possibly have trimmed the 740mm bars down by 60mm and fitted a slightly shorter stem but that says more about my own odd proportions, than it does about the bike or the parts fitted to it.
I've always been a little sceptical about 650b, everyone I've ever ridden has been nearly impossible to distinguish from something fitted with 26″ wheels. This on the other hand, feels very much like a 29er, an agile 29er, one with lots of grip and a strange ability to almost float across the ground. If I had to describe it in one word, I'd probably pick – neutral. I know that might sound like a dull word in an industry full of 'gnarly', 'rad' and 'stoked' but trust me, in the real world, where bicycles actually get ridden from A to B, it's a very desirable trait.
Possibly the most striking thing on the bike are the tyres. It seems that the WTB TrailBlazers are set to become 'the' tyre and after riding them I can see why that might be. They don't give you the same unstoppable, roll over anything feeling that a 3″ 29+ tyre does but neither do they carry the weight penalty of the 3″ tyre. There's more than enough grip whether you're braking, climbing or cornering and very little noticeable drag. Obviously, you do need to play around with pressures to get them working at their optimum but that's the same for any tyre and let's be honest, is actually part of the fun. I found we were both happiest at around 10 – 12psi front and back … had they been set up tubeless, then I might have explored the limits a little further but they weren't and even if they had been, I'm not sure going lower would have made things better.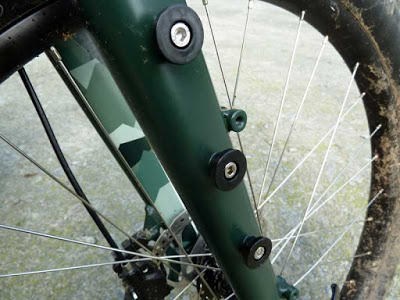 Cage mounts … water, lunch or shopping goes here.
Last years Longitude was aimed at those of us who wanted to cover miles, carry our own gear, sleep under a hedge then repeat it all the following day. I believe that this latest incarnation is also aimed at riders with those aspirations but I feel it's also capable of doing much more should you wish. It's a bike designed to broaden your horizons but not just in the context of how you go but also to a degree, in where you go. If you're looking for a bike to transport you into the wilds for a few days, the Longitude would be a good choice but if you also want a bike that's happy buzzing round a trail centre, then it's probably ideal.
Albert, who designed both models, told me he designed this because he believed it would be a better bike than the last one and I think that for 80% of riders, in 85% of situations, he's succeeded. If you can leave your 'bigger must be better' mindset behind and along with it your lust for 29+ tyres, you'll find that the new Longitude retains most of the benefits of 29+ but has managed to shed nearly all of the associated downsides … in the real world it makes a lot of sense.
Available as a full bike or frame-set sometime around mid-November.