Although I'm a great fan of peace and quiet and the natural sounds of the great outdoors, I do occasionally enjoy a bit of background noise. Sometimes it might be music, other times a podcast or an audio book, it doesn't really matter because up until recently the problem has always been the same … trying to actually hear the thing. It's safe to say that the inbuilt speaker of most devices just isn't up to the job. Okay, so you can use earphones but I don't like the way they isolate you from your surroundings and besides, I've got a nasty habit of getting the wires tangled up or caught on something. There's always the old trick of standing your phone/ipod/whatever in your pot, it does make a difference but the sound always seems to lack a little 'something'.
I was introduced to this particular solution while on a bothy trip at the end of last year. It was a very pleasant evening with lots of chat and heavy cheese consumption and someone suggested a little music to accompany our post Christmas cheer. A phone appeared followed a few seconds later by one of these … an X-mini, Mini II speaker. I cast it a quick glance but didn't really pay it much attention, I'd seen (and more importantly heard) similar things before and had been left largely underwhelmed.
However, 30 seconds later I was sold, for something that only has a 2.5W output, the sound this thing produces is extraordinary, it's not tinny in the slightest and it doesn't distort at higher volumes either … the cheese mountain diminished, the fire got lower but the tunes continued.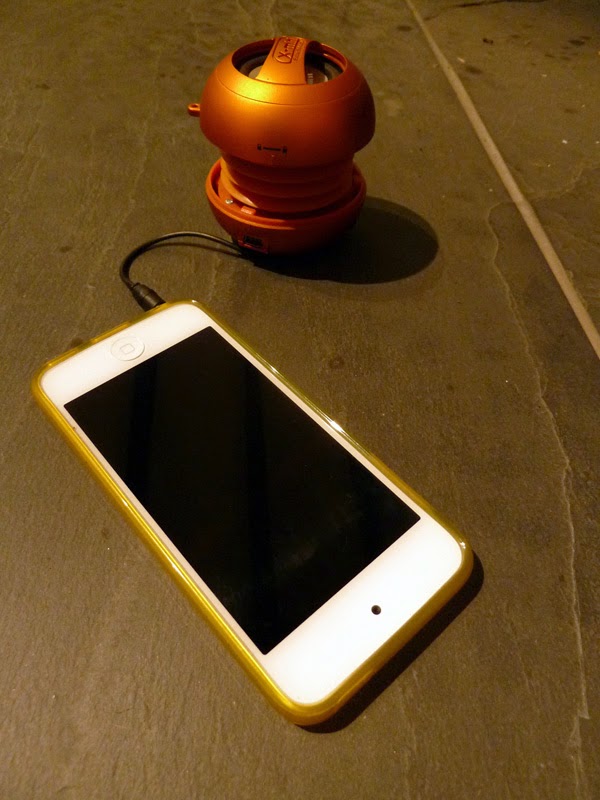 Get any bothy rockin'.

When it's closed up, the speaker is about the size of a slightly squashed tangerine. When you want to use it, give it a little twist and the 2 halves open to reveal what I can best describe as a 'bellows'. Around the base you'll find an on/off switch, a volume control, micro-usb charging port and an audio jack-plug socket (which allows you to piggy back additional speakers should you so wish). Underneath the speaker there's a short coiled lead that plugs directly into your phone … plug it in, turn it on, press play and away you go.

I've found that it takes around 3 hours to fully charge the speaker via the included lead and a computer and because it charges at 5V, it could be charged with a dynamo. I can't say quite how long the fully charged speaker will continually play before it runs out of power … I've run it for a few hours each day for 4 or 5 consecutive days and it still had some charge left.

Although it could really be considered a 'luxury' item, at 86g wrapped up in its little bag, it might be one worth carrying … it'll certainly help provide some atmosphere at your next bothy cheese and wine party. oh and remember – Jungle is massif, or so I'm lead to believe.

Mini II speaker – Available from all over the internet.