A good number of months ago there was a post here about something called the Thermartex blanket. It was a 'first look' affair in which I promised to go away and see whether a seemingly thin, lightweight piece of material could actually help you stay warm. Well, nine months on … I'm back.

I have to say that this is possibly one of the most difficult or maybe the most difficult review I've ever undertaken. Why? Because testing something like the Therartex blanket is highly subjective, we all react differently to temperature, when one person feels warm someone else feels cold and trying to get consecutive days with the the same conditions is nearly impossible in the UK.

Before I took the blanket out on my travels, I thought I'd try some semi-scientific testing in an attempt to discover how well I could potentially expect it to work. I took a zero rated sleeping bag and allowed it to fully loft, then I placed a hot water bottle inside, roughly in the same position your chest would occupy. Besides a heat source I also placed a remote thermometer pick-up in the valuables pocket inside the bag … and waited. The thermometer reading gradually increased then plateaued, I set a timer and sat there waiting to see how long it would be before the temperature inside the bag returned to it's starting point. The piece of paper with my scribblings on has long since been lost to my chaotic 'filing system', so I can't give you the specific number of minutes and seconds but it was around thirty five minutes … but as we'll see, the actual figures don't really matter.

After letting everything cool down, I repeated the 'experiment' … you know what's coming … but this time I placed the Therartex blanket over the sleeping bag, my thinking was simple, maybe too simple. In the test without the blanket, you could feel that the outer of the sleeping bag was fairly warm, which would indicate a certain amount of heat was finding its way through the insulation of the bag and 'escaping'. My reasoning was that the blanket's heat reflecting properties would hold that heat in, obviously being on the outside of the bag it couldn't prevent heat from passing through the insulation but it should 'hold' it between bag and itself and prevent it from disappearing into thin air, which in turn would slow the speed at which the inside of the bag cooled down … right?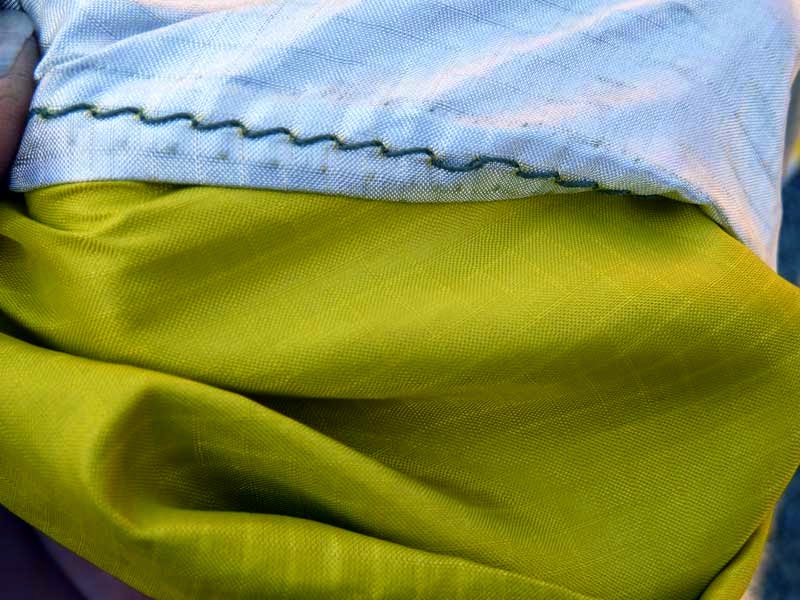 Silver side is the outside … I was surprised too.

No … I spent an entire day conducting the same test and every time the results were the same, regardless of whether the blanket was in place or not … it seemed to make little or no difference. To put it mildly, I was a bit surprised.

Obviously, I wasn't having much luck with a scientific approach, so decided to make my next test something a little more real world based … a night out was in order. Sleeping kit was selected knowing that it would only just be warm enough for the conditions, I left the blanket at home and off I went. Only just warm enough turned out to be spot on, although I wasn't actually cold, there were a couple of occasions I woke feeling chilly … things were certainly borderline. Two days later the forecast promised exactly the same conditions, so once again I packed my kit but this time I included the blanket. The blanket was the only addition, I rode the same bike on the same route, I ate the same food, I slept in the exact same spot … I even went to bed at the same time. When I woke up it was morning, I hadn't stirred at all during the night, no chilliness, no nothing … it could have been a fluke but somehow it didn't feel like it, things had certainly felt noticeably warmer.

'Surprised' had now been replaced by confused, I had questions and I needed answers. I sent an email to Thermartex and the reply I received rekindled my surprise … Why? because they weren't at all surprised by the findings of my initial experiments! A few emails passed between us and a promise to send me a full set of test data once it had been compiled by an independent testing facility.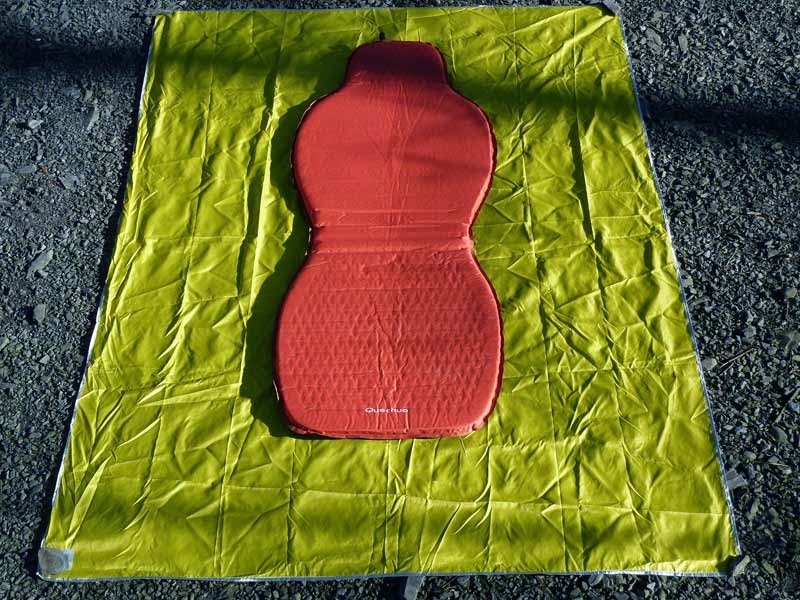 It's quite a size when it's laid out.

Fast forward a few weeks and an email dropped into my inbox, I opened the attachment then quickly wondered off to make a brew. The folk in white coats had been nothing if not thorough … it was going to require a serious coat of looking at. In an effort to try and keep this remotely interesting, I shan't go into the specifics of the lab findings but just give you the general gist.

Firstly, the tests showed that the blanket does indeed work as intended and secondly, how well it works is greatly affected by conditions. The colder it is (outside), the more efficient the blanket becomes and the higher the thermal properties of your sleeping bag / clothing, the greater the benefits from adding the blanket … it sounds ever so simple when I put it like that and it probably helps explain why my initial indoor tests produced the results they did. The whys and wherefores are quite complicated so I'm not even going to attempt to explain them here, just trust me when I say, the testing lab had a much more sophisticated hot water bottle than I did.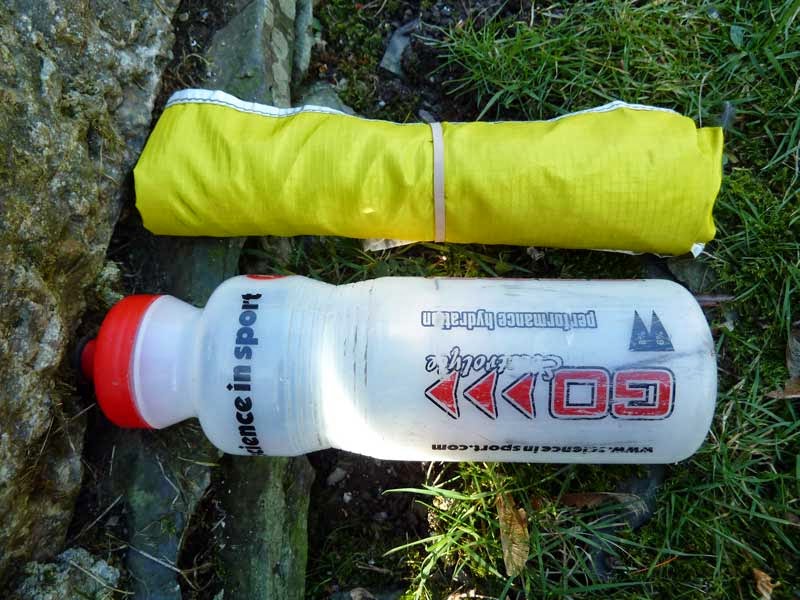 Although, not that big when it's packed away.
The blanket weighs 125g* and can be folded, rolled or more likely, just stuffed somewhere you've a bit of a gap that needs filling. Once unfurled it's actually quite a size, at a push you might actually cover two bodies with it. The first time I used it, I did wonder whether it would stay put throughout the night, I tend to move around quite a lot, so thought my continual turning-over might deposit it onto the ground at the side of me. I needn't have worried, even if it does move a bit, it's more than big enough** to keep you covered over, in all the times I've used it, I've yet to wake up without it in place … obviously if it's windy, tuck it under yourself. However, of late I've been using the blanket inside my bivvy bag, not to prevent it moving or blowing away but to help minimise any condensation. Although breathable, the blanket probably isn't as breathable (I've no figures for this) as the top of your bivvy bag and on occasion I have found more condensation at the foot of my bivvy than I would have expected given the conditions. Layering the blanket between sleeping and bivvy bag seems to address the issue as it leaves the top of the bivvy free to breath unhindered … it's not a big deal, just something to be aware of. To make the task of getting into my sleeping bag / blanket / bivvy bag sandwich easier, I've attached a small piece of velcro to each corner … I stick the corners together and slide the resulting sleeve over my sleeping bag before popping it in the bivvy.
A few people have asked whether they could use the blanket as a groundsheet and the answer largely depends on what you're hoping to achieve. If you want it to act purely as a barrier between you and the ground, then go right ahead. If you're thinking that it might supplement your sleeping mat then you'll probably be disappointed. The blanket is designed to reflect heat that's being radiated, most of the heat you lose to the ground is via conduction which is something the blanket can't help with as it doesn't have any insulating properties … a piece of thin foam or bubble-wrap will serve you better in that situation.
I've used the blanket quite a lot over the last 'few' months and I've always felt that there was a definite benefit. I wouldn't suggest that it's a substitute for a decent sleeping bag but if you're looking to push a bag down towards it's lower limits or extend your 2 seasons into 3, then it's a very cost effective way of doing it. Besides helping to 'boost' your sleeping bag, the blanket is also very good at keeping the chill off on those evenings when you're sat about playing the 'who's going to be the first to slope off to bed' game. You might even consider packing one on day rides instead of that squashed (and fairly pointless) foil blanket you keep in the bottom of your bag.
NOTE:
Quite a bit has happened since I started testing the blanket … besides the Berlin wall getting knocked over, Columbus finding America and the Roman empire falling, the blanket has undergone a few changes.
The colour is now bottle green, **it's slightly bigger, *a bit heavier @ 200g, 10% warmer and the ripstop base material is now a higher quality and sourced from the UK.
Thermartex