We had our first look at Alpamayo luggage quite a while ago. At the time, I banged on about attention to detail and how incorporating it into luggage design makes the life of a bikepacker a more enjoyable and hopefully, less frustrating one. Well, since then, both the Alpamayo front harness and accessory bag have accompanied me on a variety of trips, so I thought it was about time we took another look.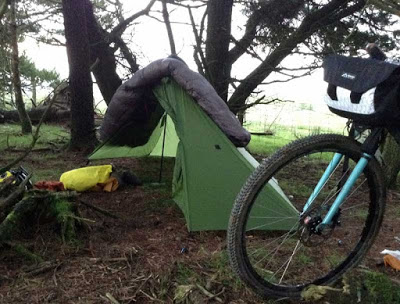 Another ride, another forest, another morning.
Handlebar luggage tends to be split into two fairly distinct camps. Firstly, there's the type that could be described as a bag with straps. The 'bag' generally features a roll-top closure and once stuffed, the whole thing fastens to the bars by way of the attached straps. It might be best to think of the second type as a bag holder or perhaps a bag platform, something that fastens to the bars and you then attach a separate dry bag to it. Neither is right or wrong and one isn't necessarily better than the other, although in my experience, the latter are often more stable when things take a rough turn. The Alpamayo harness is very much a bag platform and a very stable one.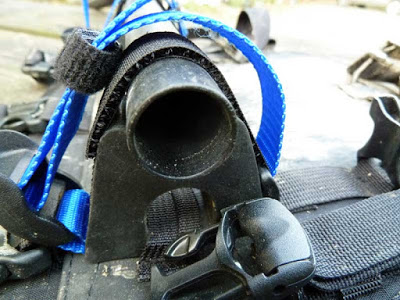 Not as complicated as you might at first think.
I have to say, when you first look at the rear of the harness, it does look slightly complicated but in reality, fitting it is actually very simple. You'll notice in the picture above that the handlebar is sitting in a 'rubber' spacer. These spacers are bonded to the harness so (a) you won't lose them and (b) you don't need three hands to fit the thing. With the spacers resting snugly against the bar, you first tighten the velcro straps (the bar above is being held by the velcro strap). Now, thread the blue strap around the back of the handlebar and through the buckle. Give it a good old tug and secure any flapping strap with the little velcro loop. Once you've done both sides, turn your attention to the bottom of the harness where you'll find another strap. It's very cunning and is designed to fasten round your head-tube while preventing the harness from rubbing against it.
Your harness is now secure – very secure. I'll put my neck on the line here and go as far as saying, no matter what or where you're riding, the harness will not move. I'm sure the previously mentioned rubber spacers play a part here as they're shaped to fit around the handlebar and also because whatever they're made from, appears just soft enough to actually 'grip' the bar but unlike foam spacers, rigid enough to keep the harness where you put it.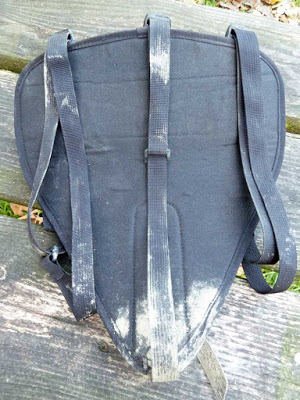 3 straps to keep everything nice and secure.
With the harness in place it's now ready to accept a dry-bag of your choice. There's three straps to hold it in place and they offer plenty of adjustment, so any bag from 5 litres up to "what are you taking?" should fit comfortably. Although it appears to be quite long (335mm end to end), once fitted the harness doesn't protrude much above the top of the handlebars, so there's no issues with fitting bar mounted lights, gps, etc. With a bag fitted, the 'additional' length wraps round the bottom of the dry-bag offering a degree of extra support and as you can see above – a useful barrier from water, mud and grime.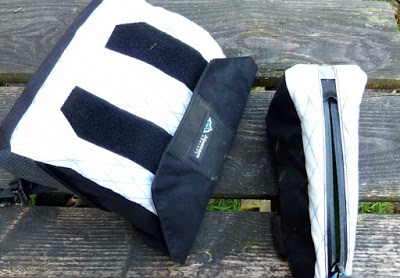 Waterproof accessory bag and 1 litre top-tube bag.
Should you require a little more carrying capacity, then you can attach an additional 5 litres with an accessory bag. It fits directly to the harness via four quick release buckles but can also be fitted to other manufacturers harnesses with some Alpamayo connector straps. All four straps are adjustable and all can be tensioned independently which makes for a very secure and precise fit. Something the accessory bag doesn't have is a zip. Instead, the opening is secured with a roll-top closure. This is a good thing – it helps to keep the contents securely compressed, it can't break or jam and perhaps best of all … allied with the bags waterproof liner, it makes the entire thing fully waterproof. To cap things off, there's two small mesh pockets on the outside, ideal for stashing wrappers or whatever. The capacity might be listed as 5 litres but I think it's a generous 5 litres and can easily swallow much more than you might imagine, so just bear that in mind when packing, as in use, the bag will be forward of your front axle which isn't the best position for anything heavy.
The other item I've been trying, is the 1 litre top-tube bag … it's similar to many other designs yet different enough to make it the most stable top-tube bag I've ever used – nuff said.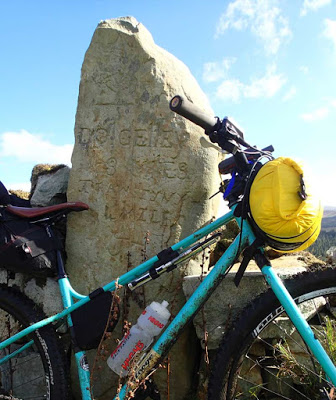 Mike and bike, somewhere in the wilds.
I thought I'd let someone else finish this review off, so over to Mike and his take on the harness.
I borrowed an Alpamayo harness for the Bearbones 200 and afterwards I went out and bought one – the design really impressed me. I headed to Scotland and the Cairngorms for five days where I could really give myself and the bike a good hammering. The Alpamayo harness was replacing a worn out Wildcat Gear harness which is bombproof but in my mind has slight flaws – mainly the effect it can have on cable routing but I should say, this is minor niggle given how well it performs on the trails.
This trip was going to be a great test for the Alpamayo and it proved to be outstanding, the harness never moved over four days. I didn't find myself having to synch up or re-tighten the straps at any point. I hit some pretty big downhills and on a fully rigid bike you can imagine the gear gets a hard time but it was fine. There's no problem with cable routing at all, the in-built spacers meant the cables stayed well out the way of my frame too. The only rub I got was on the front of my head-tube where I hadn't taped it well enough prior to setting off. If I were to ask for any alterations or additions to the harness, there would only be two things and they're fairly small issues.
1/ I'd like a sunglasses strap on there like Wildcat Gear have done – it comes in very handy
2/ I'd also like a 'dirt sleeve' of some sort, again like Wildcat have come up with to offer more protection to the under side of the dry bag.
3/ This is actually mine not Mikes – the addition of some kind of divider inside the accessory bag would be useful.
Overall it's a cracking harness, well thought out and performs like the best of them!!
Harness £60 and Accessory bag £50 from
Alpamayo