As a bikepacker or even, a would be bikepacker, the issue of weight can't have escaped you. Anyone who's ever puffed and wheezed their way up a one in four or required assistance to lift their two wheeled behemoth over an unweieldly gate, will testify to the fact that weight and its reduction, is a very important consideration and a pursuit worthy of further investigation.
There will be those who take a different stand on the matter. Some people – usually between mouthfuls of Ginsters, will tell you that riding a heavily laden bike is in some way an aid to their strict training regime, although it's unlikely you'll ever recall seeing them on any start line since they came seventh at the primary school egg and spoon race, some thirty years ago. Others will use their bikes heft to justify any shortcomings in their own performance … a cunning ploy and a similar tactic occasionally employed by those riding fat bikes and single-speeds. In fact, anyone with a heavily laden, one-geared fat bike, might never have to ride it in public. Simple ownership, may be enough to deflect any misgivings their peers might be harbouring and remove all responsibility for their actions from their aching shoulders.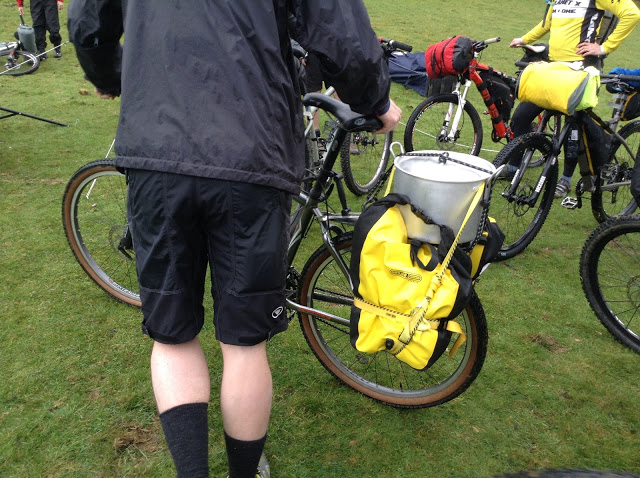 TLS packing system … sadly not being deployed.
Generally, no amount of reasoned argument or scientific explanation will persuade either of these two camps that the path to bikepacking enlightenment, is not a heavy one … just do yourself and your back a favour and make sure you're safely out of harms way should they come to a locked gate whilst in your company.
However, there is a group of people who's immense burden isn't induced by a dismissive attitude towards reducing weight. They can see the benefits all too clearly but for one reason or another are unable to shed the excess pounds. It might be a belief that reducing their pack weight will cost them dearly in monetary terms or perhaps it's a deep rooted fear that less weight will lead directly to less comfort? Although clearly wrong, I can see why someone might come to these conclusions and in turn, find a programme of weight loss a difficult thing to embrace … But I'm happy to announce that help is finally at hand for anyone who finds themselves in this awkward position.
Following a long and highly laborious period of experimentation and detailed analysis, we believe that we've finally discovered the secret of travelling light. As I'm sure you can imagine, it's a highly complex subject full of equations, little squiggles that no one quite understands and lots of numbers, graphs and other clever things. Over the last few months, we've taken all this highly detailed information and distilled and condensed it into what we believe, is a fool-proof packing strategy that will help anyone reduce the amount of weight attached to their bicycle. The boffins in the lab have christened it the TLS system and with the aid of 'John' the imaginary bikepacker, I'd like to give you an example of how the system works in practice.
In time honoured fashion, John has laid all his kit out on the living room floor before packing it for his forthcoming two night trip – the result is listed below.
If John had adopted the TLS packing system, then only the items in red would be on his list (please note, the list does not include the clothes he'll be wearing, food or water). As you'll see, there's quite a difference between the two sets of equipment.
Tarp, guylines and poles – 560g

Pegs x 12 (4 spare) 180g

Pegs x 9 – 135g

Groundsheet – 190g

Bivvy bag – 320g

Sleeping bag – 860g

Sleeping bag liner – 225g

Sleeping mat – 472g

Self inflating pillow – 180g
Liner shorts – 1 pr – 298g
Over shorts – 1 pr – 310g
Socks – 2 pr – 120g

Socks – 1pr – 60g

Base layer top – 175g
Base layer bottom – 190g
Micro fleece top – 280g

Down jacket – 410g

Insulated hat – 130g

Buff – 35g

Crocs – 195g
Cycling gloves – 105g

Stove – 80g

Fuel – 185g

Lighter – 12g

Fire steel – 43g

450 ml mug – 88g

750 ml pan – 146g
knife, fork, spoon set – 70g

Spoon 18g

Multi-tool – 80g

Pocket knife – 136g
Leatherman – 78g
Inner tubes x 2 – 610g

Inner tube x 1 – 305g

Puncture repair kit – 68g

Quick link – 4g

Tyre boot – 60g

Cable ties and tape – 60g

Pump – 235g

Co2 x 2 and inflator head – 83g
Micro towel – 90g
Small bottle of liquid soap – 35g

Toothbrush / paste – 65g

First aid supplies – 88g

Phone – 235g

Battery pack – 490g
USB cable – 25g
Whistle – 13g
Foil blanket – 52g

Head torch – 210g

AA batteries x 4 – 80g
Wallet – 210g
Keys – 300g
Total weight 9166g Total weight 4585g
I'm sure you'll agree that a fifty percent weight saving is truly remarkable, especially when you consider that there's been no additional financial outlay and no noticeable reduction in comfort or practicality. The TLS system really does deliver on all its promises and can help anyone shed the excess lard from their kit … and if anyone's wondering what the initials TLS stand for, it's quite simple – Take Less Shit.