Hello again weight watchers – last time, I promised to return armed with a few real life kit lists and here they are. They're taken from this years Welsh Ride Thing and give a fairly detailed view of what each rider was carrying … the weights stated at the side of the riders name are for EVERYTHING including bike and all water / food carried from the start.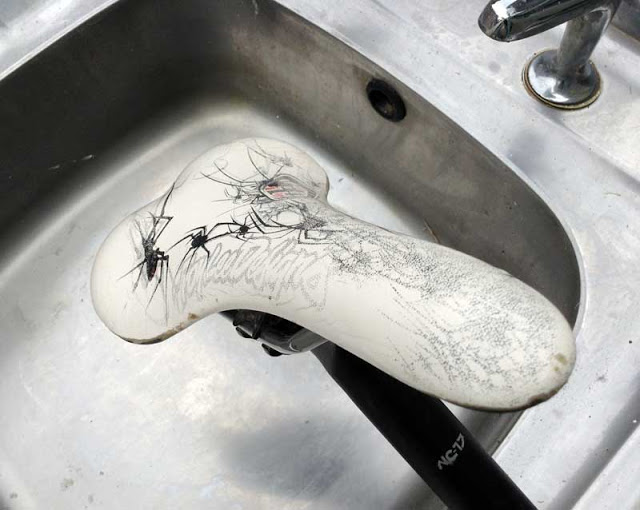 I'm not going to conduct an autopsy on the lists, just read them and see how they'd compare to your own but it is obvious that taking more does result in a heavier bike. What's also clear is that, weights of 40lb can be achieved without cutting corners or reducing levels of overnight comfort or safety … decent shelter, proper mat, a capable sleeping bag and warm clothing can all be packed and carried.

If you consider that over half the bikes at this years 'weigh in' tipped the scales at over 50lb and the heaviest was 80lb, you might start to wonder just what actually gets carried ;o)

Chew – Singular Swift 39.5lb
Front harness and 8L drybag:
Mug + stove + meths + lighter
2 pasta sachet ready meals

Taylor – DMO Element 29er 42lb
Tools/spares/lube/tube/etc
Cook kit/fuel (400ml cup/BB 8g stove)
Small pack of bog roll and wipes
Printed copy of route(6 pages of double sided A4)
Sea 2 summit packable backpack for collecting food/sweets/alcohol on the way to camp
Enlightend Equipment 4deg quilt
Smartwool long sleeved top
Cheap Ronhill Trackster copies
Food (2 x porridge's, 1 x mains. The rest was bought from shops/pubs/visitors centres).
USB charger from dynamo hub for phone charging
Six moons Designs MK1 Lunar Solo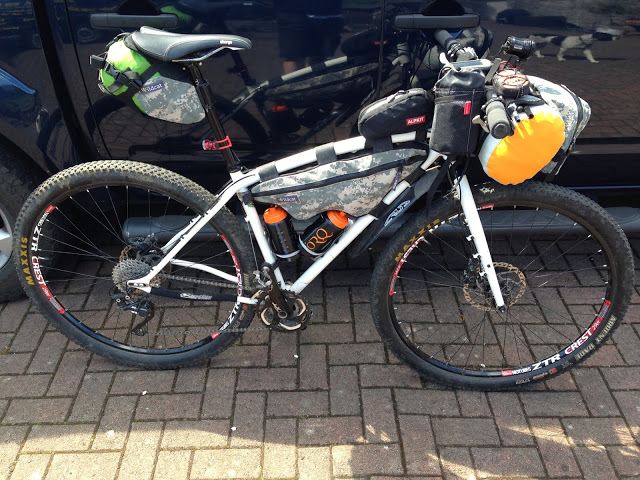 42lb up and dressed

Si Gair – Singular Gryphon 45lb
Wildcat Tiger seat harness / Alpkit 8L drybag:
Bear Bones 22g meths burner
Snow Peak Ti mini solo cookset 830ml + 330ml mugs
Highland Flask w. 250ml cognac
1x expedition foods dehydrated meal
2 x porridge with honey & currants
Wildcat Mountain Lion front harness / Alpkit 8L drybag:
Regular Neo Air sleeping mat
PHD Duvet jacket used with half bag for sleeping
Running shorts with liner
Goretex 3/4 waterproof trousers
Silnylon rucksack for supplies
2 x 1:50k maps in map case
Charging cables for phone & GPS
20 x isotonic tabs for water
Pump

Si Darby – Genesis Fortitude Race 52lb
Old model Revelate bar harness with 13 litre dry bag:
LifeVenture sleeplight 750 synthetic sleeping bag
Vango Adventure tarp with 4 steel pegs
Orange plastic survival bag as a groundsheet
Alpkit small Fuel Pod containing:
various other snack foods
Wildcat Gear Medium Tiger seatpack harness with 13 litre dry bag:
Berghaus Freeflow 20 rucksack:
Two multi-tools (with different tools on)
Water purification tablets
Spare AA lithium batteries for GPS
Power Monkey auxiliary power supply for phone
Enough food for whole WRT
OS paper maps covering whole route with route highlighted
Exposure Joystick Mark 9 front light
Some random clip on rear LED light
Garmin Dakota 10 GPS unit